Jet boat - Shotover Jet Queenstown
Current Special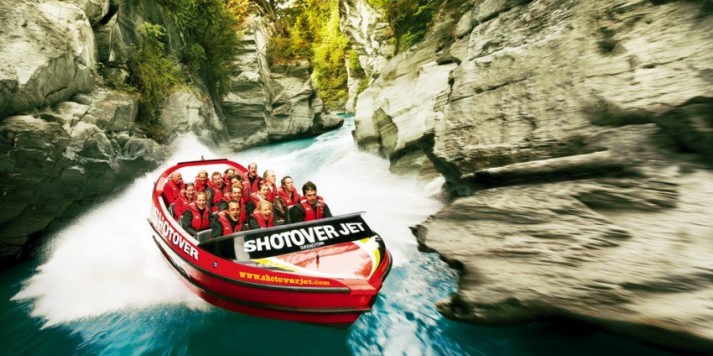 from NZD$115.00
Shotover Jet Boat Queenstown
Description
As the Shotover jet boat careens wildly down the Shotover river, suppress a scream as you clutch white-knuckled at the hand rails and feel the adrenaline course through your veins. Right from the start, as the engine gives a mighty roar and the boat picks up speed shockingly quickly, you know you're in for the ride of your life. As you race down the Shotover River and into the dramatic Shotover Canyon, zigzag past outcrops before holding on for dear life as the boat performs the Shotover Jet's signature move—a hair-raising 360 degree spin. In between, your captain will point out noteworthy sights, pausing briefly before once again catapulting the boat into action. Shotover Jet Queenstown has been dubbed the world's most exciting jet boat ride for a reason. We dare you to prove us wrong.
Trip Includes
Return transfers from inside The Station Information Centre building in central Queenstown, close to your Queenstown Accommodation
25 minute exhilarating jetboat experience
Duration
25 minute jetboat ride (1.5 hrs round trip from Queenstown including transfers)
Departures
Every 30 minutes during daylight hours
Check in is inside The Station building located on the corner of Shotover and Camp street, central Queenstown
Departs daily all year
Other Information
Children 3-5 years are free (infant)
Minimum height to ride the jetboat is 1 metre (3ft)
Dress warmly, sunglasses are recommended
There are free lockers next to the boats for you to secure valuables
Photos of your jet boat experience are available in the retail shop immediately after your ride
Spray jackets are provided on request to help keep you dry
Not suitable for pregnant women
The Shotover Jet base is located 10 mins drive from central Queenstown and all trips include free transfers from town
Special Offer
Book the Sunrise Jet, the first jet of the day to receive a $20 discount per adult and $15 discount per child. Please note seats are very limited so booking in advance is required to secure this rate
Upgrade this activity to one of the following combos:
Sunrise Jet Adult: NZD$115.00
Sunrise Jet Child (5-15yrs): NZD$60.00
Adult: NZD$135.00
Child (5-15yrs): NZD$75.00
Family (2ad+1ch): NZD$345.00
Family (2ad+2ch): NZD$345.00
Family (1ad+3ch): NZD$345.00
Genuine Customer Reviews powered by
Service rating: excellent
Friendly and helpful Customer Service personnel. Shoutout to Belinda who helped with numerous queries.

Product rating: excellent
Entertaining and exhilarating. Duration of ride is just nice.
Service rating: excellent
Excelent

Product rating: excellent
Excelent servies
Service rating: good
very good

Product rating: excellent
this was my 3rd time on the jetboat and was amazing as ever - team/driver was awesome!
Service rating: excellent
Really easy to use and very accommodating. And their service was very prompt.

Product rating: excellent
So fun!!
Service rating: excellent
It was really easy to book all my activities and there were no problems

Product rating: excellent
It was great fun....but freezing!
Service rating: excellent
Easy to Use website

Product rating: excellent
Fun experience.
Service rating: good
Booking online was easy with plenty of info on all of the activities on offer.

Product rating: excellent
Well organised, professional, good fun
Service rating: excellent
They were very helpful providing all the activities I wanted in queenstown
Product rating: excellent
Service rating: excellent
Easy to use

Product rating: excellent
Great
Service rating: excellent
The staff is friendly and helpful

Product rating: good
exciting, staff takes his time to explain
Service rating: excellent
Excellent idea, easy to use website, would use again.

Product rating: excellent
Wow what a blast, a smoothly run operation from start to finish, will be recommending to all family and friends.
Service rating: excellent
Easy to book and everything went smoothly.

Product rating: excellent
Highly recommend
Everything Travel Group Reviews
Wow! What a fabulous time I had on the Shotover Jet. I didn't imagine I would find it as exciting and thrilling as I did, given that I have grown up with jet boats but these guys really do know their stuff and their skills at manouvering these powerful machines really are impressive. From the driver who picked us up and drove us to the river to the lady that gave us our life jackets and over coats, the photographer that took our photo and then our jet boat driver Nick they were all outstanding in their jobs and made the experience a very enjoyable and memorable one. Not only did Nick have the crew in stitches of laughter he also knew his stuff about the Shotover River and gave us all a very insightful and interesting run down on the history behind Shotovoer Jet and the gold mining era. The infamous Shotover Jet 360 degree spin was awesome and one that our crew never got sick of. Nick was very accomomdating to the crew's excitement and continued to spin wherever he could. I advise all going to Queenstown to tick the Shotover Jet off your list. You will be so glad you did and it will make you want to go back for more. Thanks Nick and the Shotover Team for such an awesome experience.
Value for Money
Thrill Factor
Wow Factor
Fun Factor
The Shotover Jet is the most well known jet boat ride in New Zealand and an iconic Queenstown activity... and rightly so! The boats wizz & spin down the Shotover river through kilometres of narrow rocky canyons pausing only briefly to allow the knowledgeable driver to offer some local insight into the history of this once prolific gold mining river. Shotover Jet is a big company, thrilling hundreds of tourists every day but they run a professional, personal and smooth operation so you wont feel like just a number. There are cheaper and longer jet boat rides around NZ but none offer the same high speed, white knuckle experience. This is simply an activity you have to do!
Value for Money
Thrill Factor
Wow Factor
Fun Factor
Latest Questions about Jet boat - Shotover Jet (Queenstown)
Me Again! Kerry-Ann Levey

we have booked for 26th at 11.00 am 2 adults, 2 children under 15 years, one 17 year old and now our grandchild wants to come. He is over a meter in height but do you take 4 year olds and if the answer is yes then can you add him and his mum. I can send my credit card details once you email confirmation.
We have a family group consisting of 8, 5 over 15 and 3 under 15, what deal can we get for our group for a booking on 09 Jan 2016?
Hi can we enquire if there is a pick up service from our accommodation in queens town for the shot over jet? Secondly, if we select the 9am jet, does that mean we are picked 1.5 hours before or the entire trip is 1.5 hours to and fro from hotel to shot over and back.
What time is the "sunrise jet" how early?
Hi, how much would the professional photos cost?
Does it work on each shot for per family pics?
Thank you
Hi. Just wondering what are the departure times for shotover jet boat? I'm planning to book skydive at 8.30am so can we do this after that?

Thank you

Regards,
Angeline
Hi!
Can my 1 yr old daughter join us in this ride?
How fast does it go? km/h?
hi,

how busy are you this time of year - do we need to book in advance?

thanks - belinda
hello, im just wondering what is your opening and closing times??
im pregnant for 3 months now, can i be on the shotover jet?
If my plane arrive at Queenstown Airport on 1525, and I go to city by public transport, which time slot would you suggest me to book?
Hai,

Would like to know your official opening and closing hours in winter(june).Thank you.
what age does a child go up to?do u have to have a parent with you?
Hi we will be in queenstown form the 11th feb until 16th was just wondering if we should book before we come or can we organise it when we get to nz???
Does the jet boat operate in the rain?
Summer / 4:06am
Easy to book
1 Select

your activities

2 Secure

online payment

3 Instant

email confirmation

4 Flexible

to make changes