Easy to book - Secure Online Payments - Instant email confirmation - Flexible to make changes
Aerobatic Flights - X Flight Auckland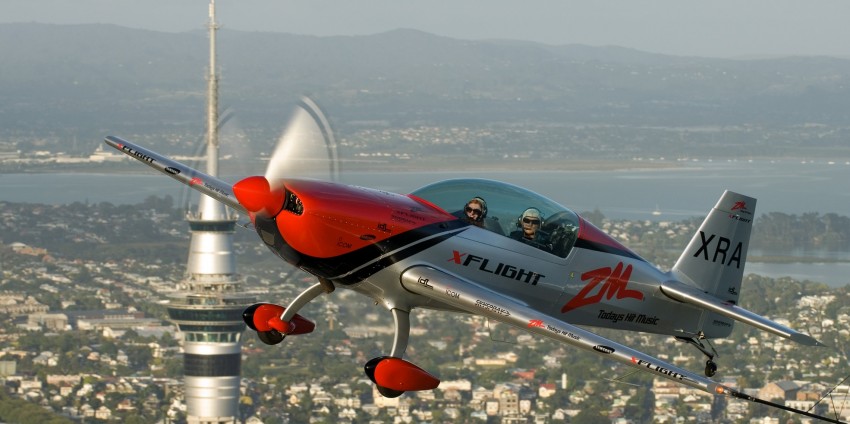 from NZD$295.00
Aerobatic Flights - X Flight
Description
Ever felt the need… the need for speed? XFlight are Auckland, New Zealand's premiere aerobatic flight experts. If you ever had dreams of becoming a speed demon pilot, or just want to see the 'City of Sails' from the air at 300kms per hour, then you will love spending some time in one of the world's most elite aerobatic aircraft, the Extra 300.
Because of the amazing performance ability of the EXTRA 300, your pilot will be able to deliver an experience more thrilling than any other aircraft in the world! Famous for its stellar performance in the Red Bull Air Race, the EXTRA 300 is the top two seat certified aerobatic aircraft on the globe. With a capability of soaring speeds of over 400km per hour, and certified to handle over 10 G's in flight; these babies are built for thrills.
Your pilot will be just as impressive, as all pilots at XFlight are fully trained and highly experienced commercial pilots, who are qualified as Aerobatic Flight Instructors. As a bonus, each pilot is also an experienced aerobatic competition flyer, meaning that not only can they fly you upside-down, but they can teach you how to do it too!
If you are a thrill-seeker aficionado, you will be totally blown away by the high speed, high G manoeuvres as you zip through the clouds, upside-down, before plummeting towards the earth (safely!). Your physical tolerance will be tested in a way that will make rollercoasters seem like a child's merry-go-round. If you are a little more timid, your understanding pilot will glide you like a butterfly and ensure that you are comfortable all the way – the level of endurance is totally up to you.
There are four different aerobatic flight options to choose from.
Basic - 12 mins flying
Enjoy loops, rolls and dives in the Extra 300. This is a great option for thrill-seekers who aren't quite sure if flying is their cup of tea (although, we know you'll want to do it again!).
Sports - 16 mins flying
Hold on tight for some electrifying acrobatics, including vertical and 'Zero G'. This option cranks up the speed and the G's for some real, adrenaline pumping thrills.
Advanced - 20 mins flying
Welcome to 'Negative G'. This option is exclusively for those adrenaline junkies who know they have the need for speed. Definitely not for nervous folk!
Unlimited - 25 mins flying
This option gives you the ultimate thrill ride! The full power of the Extra 300 is unleashed and you are taken through an entire airshow routine. This option is ideal for those who love heart stopping, eye-popping terror!
Trip Includes
Aerobatic flight of your choice
Duration
Allow 3.5hrs round trip if travelling from Auckland city
Departures
Every hour from 9am to 5pm
Departs from West Auckland Airport, 76 Green Road, Parakai, 60km north west of Auckland city
Operates all year
Other Information
Flights depart from the West Auckland Airport, 76 Green Road, Parakai, 60km north west of Auckland city
Bookings are essential
Under 18 year olds need guardian consent
Max height is 193cm (6'4"), max weight is 120kgs (264lbs)
Aerobatic Flight:
basic NZD$295.00
sports NZD$395.00
advanced NZD$495.00
unlimited NZD$995.00
Latest Questions about Aerobatic Flights - X Flight (Auckland)
I don't have a hire car, how do I get to the X Flight base?
Comments

rating
96% of new customers that used Everything New Zealand to provide advice and securely book their NZ activities have let us know they've had a good or excellent experience with us. Thank you.