Easy to book - Secure Online Payments - Instant email confirmation - Flexible to make changes
Kayaking - Queenstown Sea Kayaks Queenstown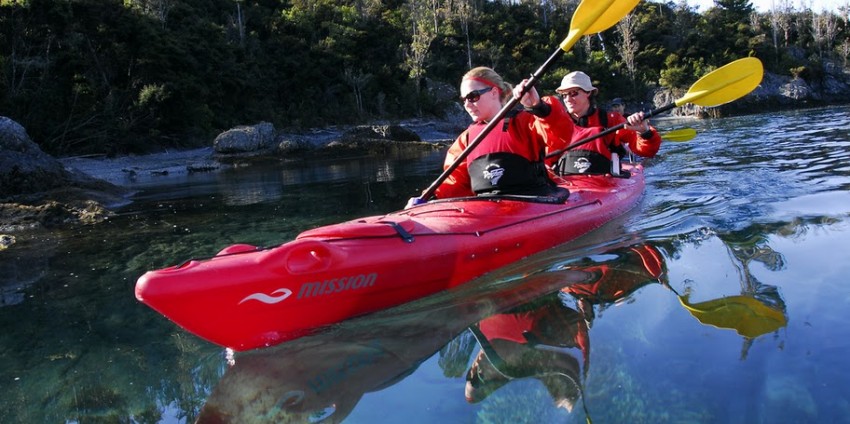 from NZD$199.00
Sea Kayak on Queenstown's Lake Wakatipu
Description
The stunning scenery of Queenstown is even more beautiful when viewed from Queenstown Sea Kayaks.
Queenstown Sea Kayaks are proud to be Queenstown's first sea kayak company. Kayaking offers an excellent way to experience New Zealand's astounding natural environment. Safety is of utmost importance, and all kayaks have all the necessary safety features, offer great stability and are easy to handle in varied lake conditions.
Kayaking in the Queenstown area must be tailored to the weather conditions of the day, and depending on prevailing winds and movement of water, different trips will be recommended. The guides will inform you on the day of your adventure which tour you will embark on. Half day and full day options are available. Here are some of the trips you can enjoy:
Queenstown Bay to Kelvin Heights
This trip takes you from scenic Queenstown Bay past the lush gardens and lovely Kelvin Grove. Circle around the Deer Park Heights shore, which was used as a filming location in the Lord of the Rings. Paddle to the Kawarau River mouth and watch jet boats speed by. Explore the Willow "Islands" before heading back to Queenstown.
Queenstown Bay to Sunshine Bay
Explore Sunshine Bay and more. Enjoy incredible views of Cecil Peak and Walter Peak, as well as the magnificent Remarkables mountain range. Marvel at the incredible exposed tree roots of the Rock Rooted Ratas which bring to mind the legendary tree roots of Angkor.
Queenstown Bay to Jacks Point
Paddle along the shore of the lake in the vicinity of Queenstown Bay to the lush gardens. Go round the bend and cut across to the beautiful Kelvin Heights golf course. Proceed onwards to Jack's Point and gape at breathtaking scenery of the lakes and mountains.
Queenstown Bay to Hidden Island
Suitable for intermediate paddlers, this trip will have you crossing the lake and paddling to Hidden Island, which cannot be seen from Queenstown. View the historic Earnslaw, making sure to keep a safe distance as the vessel cannot stop suddenly. Pause for a cup of tea or coffee at Hidden Island. This trip is highly recommended and enables you to enjoy the full extent of the lake's beauty.
12 Mile Delta
Explore a special part of Lake Wakatipu featuring ancient fossils that were once buried deep in the ocean, a deep connection to fascinating Maori history and tales, stunning native bushland, colourful local birds, pristine beaches and lime kilns.
Cecil Peak Farm to Table Bay
This trip takes you across the lake away from town. After crossing a large swathe of water by kayak, explore the beaches which are popular picnic spots amongst the locals.
Moke Lake
Visit one of Queenstown's best loved picnicking and swimming spots at Moke Lake, just 15 minutes by car from Queenstown and nestled amidst verdant farm land and lush native bushland. The waters of the lake are warmer than those of Lake Wakatipu, are cosily sheltered and present an excellent option when weather does not permit paddling to Lake Wakatipu.
Whats so great about us?
We offer a variety of options, for beginners and higher level kayakers
We offer many excursions allowing our clients to enjoy a variety of scenery
Full safety and operational brief before taking to the water
Expert historical and flora/fauna commentary
Quality equipment
Trip Includes
Kayaks, paddling wear, buoyancy aid, spray skirt & hot drinks
Informative guides
Optional lunch with Full Day tour
Duration
Half Day - allow 4 hours
Full Day - allow 8 hours
Departures
Half Day - 9am, 1pm & 5pm
Full Day - 9am
Departs One Mile Creek Car Park, Lake Esplanade
Operates daily during summer (Oct - Apr)
Other Information
Child rates apply (under 12yrs). Minimum age is 8 years old
Exclusive and group packages available on request
Please prepare for the sun, bring sun block and suitable clothing
Highly trained & knowledgeable guides
Sea kayaks are used
All safety and kayaking equipment provided
Half Day:
adult NZD$199.00
child (under 12yrs) NZD$179.00
Full Day:
adult NZD$249.00
child (under 12yrs) NZD$179.00
family (2ad+2ch) NZD$650.00
Optional Extras:
picnic lunch (full day tour only) NZD$10.00
Genuine Customer Reviews powered by
Service rating: excellent
Really easy to use and very accommodating. And their service was very prompt.

Product rating:
This activity was cancelled and I was unable to reschedule.
Service rating: excellent
Very easy to use, great that we only got one charge to convert money and we could find all the activities on one page!

Product rating: excellent
Without a doubt the best experience in New Zealand! Ben is an incredible guide- funny, easy to get along with, knowledgable and incredibly easy going! He taught us so much about Queenstown, and changed the tour to suit us exactly (even pulling out a fishing rod when we wanted to fish!). He tailored the speed and length of the tour to suit our fitness levels, and made the whole day amazing, right down to the cakes at lunch time.
Thank you so much Ben for making our kayaking so enjoyable, keep up the great work and we'll see you in winter to hire some bikes!
Service rating: good
Good service to book activitys through

Product rating: excellent
Very experienced guide that was able to monitor guests strength and ability level and create a experience suitable to their needs. The weather took a turn for the worse and the guide had a back up route home to ensure we were kept safe. Safety was number one priority! Also very knowledgable on the local area. Had a great time!!
Service rating: excellent
Simple. Reliable. Clear.
Product rating: excellent
Latest Questions about Kayaking - Queenstown Sea Kayaks (Queenstown)
Are you open for June 2016?

I'm planning to book half day and not sure if you will be open. Also what are the met up points for June?

thanks
Is it possible or even practical to bring a camera to take photos from the kayak?
Comments
Do you operate in August?
Comments
Is there a minimum age for the Kayak?
Comments

rating
96% of new customers that used Everything New Zealand to provide advice and securely book their NZ activities have let us know they've had a good or excellent experience with us. Thank you.