Lake Cruises - TSS Earnslaw Steamship & High Tea Queenstown
15% off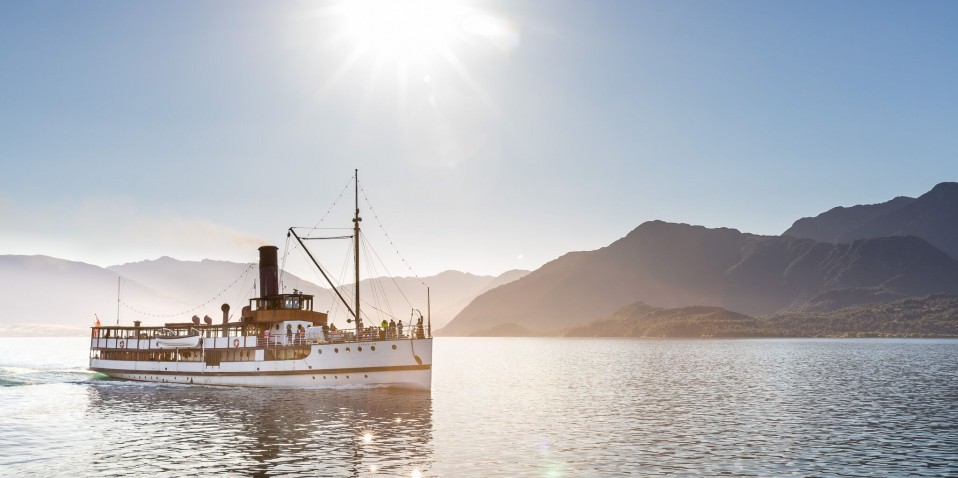 Queenstown Lake Cruise on the Earnslaw including High Tea
Description
The grand old TSS Earnslaw, which has earned the affectionate nickname of the 'Lady of the Lake', is a favourite amongst the people of Queenstown. Since 1912, the vessel has been sending goods to inaccessible settlements and carrying passengers on the lovely Lake Wakatipu. Taking a cruise on the TSS Earnslaw enables you to view breathtaking scenery from the decks of a wonderful vintage steamship.
Soak in the nostalgic atmosphere as you board the steamship, catch sight of stokers adding fuel to the fireboxes and listen to the puffing of the steam engines. In between gasping at stunning views of Lake Wakatipu, you will have ample time to tour the bridge and decks of the TSS Earnslaw, visit the engine room and view displays on history in the Gallery. You might even like to join a singalong session accompanied by the TSS Earnslaw's resident pianist.
This cruise includes a stop at Walter Peak High Country Farm, where you can disembark and enjoy a walk around the farm, feed the farm animals and explore the award-winning gardens. Your return journey on the TSS Earnslaw will also include a delightful high tea.
High Tea Sample Menu
$45 per adult, includes glass of bubbles
$25 per child, includes juice or soft drink
Cheddar cheese scone
Dates and Lemon scone
Served with cream and raspberry preserve
Smoked salmon bagel, cream cheese, horopito, watercress
Cucumber, shiso cress butter, Szechuan peppercorn, rye bread
Manuka smoked ham, swiss cheese, wholegrain mustard, brioche loaf
Green tea and yuzu citrus eclair
Chocolate cupcake, salted caramel frosting
Coconut and passionfruit cake, roasted pineapple GF
Lemon posset with elderflower shortbread
Vanilla macaroon, hazelnut praline GF
Additional gluten free options available, ask your host
Water Peak BBQ Lunch & Lake Cruise
Add to your lake cruise by participating in a guided visit to the farm, which includes a delicious barbecue lunch (available from the end of August). To find out more please click on the following link: Walter Peak BBQ Lunch & Lake Cruise.
** WINTER 2020 - KIDS GO FREE (4 July - 11 October 2020)**
Up to 2 kids go free (4-18 years old) when travelling with 1 full fare paying adult.
Trip Includes
Return cruise to Walter Peak (45 minutes each way)
Visit the Walter Peak Station
Feed the animals
High Tea
Duration
Departures
Cruise, Walter Peak & High Tea - 12pm
Departs from the Steamer Wharf on Queenstown's lakefront
Other Information
Includes a 1 hr 30 minute cruise across Lake Wakatipu to Walter Peak High Country Farm
On the 'cruise only' option passengers do not disembark at Walter Peak (not applicable in winter 2020, all guest will disembark)
Child rate is 5 -14 years (4yrs & under are free)
The Earnslaw is on an annual survey during June (during this period a launch will substitute for day tours)
Customers booking the Farm Tour also receive morning or afternoon tea (not available in winter 2020)
Ask us about the Real Journeys 20% Multi Purchase Discount off selected Real Journeys products
Normal Retail Price
Cruise & High Tea :

adult NZD$115.00
child (5-14yrs) NZD$55.00
1 adult 1 child (Kids Go Free) NZD$170.00
All prices shown in NZD$.
Genuine Customer Reviews powered by
Service rating:
Ticket had all the information I needed. Trip was as described and the high tea was a real treat!

Product rating:
Lovely trip! Beautiful cruise and a wonderful high tea - more than plenty for two! Enjoyed the sheep dog demonstration and farm animals. Plenty of toilets!
Service rating:
Amazing experience ...I would recommend this for anyone and everyone . If you only get to do one thing then do this cruise its well worth the money and the afternoon tea is a delight the animals and the boat itself is nothing I have ever experienced before

Product rating:
Amazing experience
Service rating:
Booked a trip with specific time. Arrived prior to check in but was told we were on a later time. Luckily tour operator was able to correct to the original booking.

Product rating:
Very enjoyable trip with a great farm show and wonderful staff
Service rating:
It was very easy to book and everything was accurately completed.

Product rating:
The ship was amazing and luckily the weather could not have been better. The staff we friendly and helpful. It was a very enjoyable way to see this magnificent area. We included the farm tour and enjoyed it tremendously. We would highly recommend this tour.
Service rating:
After paying for our booking we discovered that children under 5 yrs old were free but we had paid $35 for 2 children when one boy was only 4 years old
When we collected the tickets the office advised that we needed to contact your organisation for a refund.
Can you please action this refund to the credit card used for the payment.
If any further details required please contact me on mobile 0-274 906986.
Thanks,
Wayne
Product rating:
Service rating:
easy purchase and efficient service
Product rating:
Service rating:
I found Everything New Zealand operated my purchase and ticketing very well. I would be happy to use the service again. I found the experience (Lake Cruise-Earnslaw) very poor but I can go into that later

Product rating:
I have always wanted to do this cruise and to experience a slice of nautical history in a stunning environment. However when I arrived I was made to wait behind a group of not less than 100 people who appeared to be on a tour group. There was no clear access for me to get to the ramp onto the ship as this group was blocking it and not ready to board as they were partaking some other activity. As for the cruise...I believe the ship was overloaded. There was an Amway group, with all seats taken...standing room only for everyone else and people were standing on feet and had little room to move freely.I was unable to hear the commentary at all, and as there was none on the return journey from Walters Peak (where most of the passengers disembarked) I heard none of the history nor announcements. The boat literally listed to the side when they all went to the ramp to disembark. I felt annoyed that the group could not have had a separate journey/cruise for themselves...or that we weren't told as paying customers that we would be jammed in like sardines when we had paid good money for the experience. Very frustrated.
Service rating:
I'm very thankful to your team, fast response of my ticket purchased. Really enjoy the farm tour!
Product rating:
Service rating:
Loved the Earnslaw boat trip. She is a lovely old steamer & I was very lucky with the weather.
The Skyline gave fantastic views of the town, lake & surrounding mountains from the viewing gallery & the buffet dinner was wonderful.

Product rating:
Lovely lake cruise on a lovely old steamer on a perfect day
Service rating:
A pleasant experience from start to finish and a good way to explore on our last day in Queenstown.
Product rating:
Service rating:
No hassle. Friendly staff.

Product rating:
The steamship cruise was excellent. But the farm tour was not as extensive as expected.
Service rating:
So easy to use & to deal with & with definitely use again

Product rating:
Nice gentle trip & helped us relax & see the awesome lake & views of Queenstown from a totally different view
Service rating:
Great service quick response to e mails
Product rating:
Service rating:
Good service.

Product rating:
We enjoyed the cruise and the farm tour.
Service rating:
The response was 10 out of 10. I was successfully able to propose to my new fiancee thanks you guys

Product rating:
It was beautiful and I proposed to my new fiancée so thank you from the bottom of my heart
Service rating:
EXCELLENT CUSTOMER SERVICE
KNEW THEIR SERVICES

Product rating:
BEAUTIFUL STEAMSHIP LOVELY CRUISE WELL ORGANISED
Service rating:
Booked online. Very smooth transaction

Product rating:
Had a wonderful time
Service rating:
All the bookings I made were fantastic.

Product rating:
Was a great trip - farm tour was good.
Service rating:
Excellent service

Product rating:
Great trip really exciting
Service rating:
very friendly staff. I felt very proud as a kiwi to know that our overseas visitors have such an amazing range of experiences to try with a fantastic company. Well done guys

Product rating:
magic boat with magic scenery
Service rating:
good friendly staff and well organised, will certainly use again.

Product rating:
very good trip, well organised and well maintained equipment.
Service rating:
Good trip, all went smoothly

Product rating:
Nothing to fault. Friendly staff, All good
Service rating:
Great customer service. Had to change dates and was done without a problem.

Product rating:
Great way to relax and enjoy a nice meal with a scenic view over the lake.
Service rating:
the young man we spoke to on line here before we left was so helpfull he set up our week in queenstown, spaced our tours so we could fit it all in, had the best time.

Product rating:
this is a must do, great
Service rating:
Excellent service.

Product rating:
Amazing!! Food was outstanding at the farm.
Service rating:
Very efficient follow up with e-mails after booking. Would use again.

Product rating:
We thoroughly enjoyed the whole experience
Service rating:
absolutely wonderful

Product rating:
Just amazing A wonderful experience
Service rating:
Fast, capable responses.

Product rating:
Very touristy--but I am a tourist! Fun, scenic and good value, although the steam-table food was mediocre. Service by all those young people was outstanding.
Service rating:
service was ok. Didn't have a problem

Product rating:
There were a few things that didn't live up to expectations. Some I guess couldn't be helped. Our table was placed in the middle of the room and in the way of everyone. There were only three of us. There wasn't enough food. Main only had bites of meat no one wanted left and dessert was cleared of everything!
Left feeling very hungry. The tour was good loved the farmers display. But at the end when we were encouraged to go to the shop we headed out and found lambs, deer, amazing cattle without it being mentioned they were there.
Service rating:
Every thing planed went smoothly

Product rating:
Was a really good trip and good food
Service rating:
abc.

Product rating:
abc.
Service rating:
Easy booking and good service
Product rating:
Service rating:
it was a glorious day we would have enjoyed no matter what the weather

Product rating:
we were exceptionally lucky in having a beautiful day but I think we would have enjoyed the day anyway
Service rating:
A very efficient organisation.

Product rating:
Fantastic cruise. The tour of the High Country Farm was outstanding, accompanied by a very impressive lunch.
Service rating:
..

Product rating:
We enjoyed it. We are NZers, and found it very touristy, but felt proud of the experience being offered to tourists. Recommend it for all city dwellers who are interested in NZ farming . The farm tour was informative and accurate (we are farmers so we know!) and congratulate Gordon on an excellent commentary and demonstration.
Very impressed with the Earnslaw upgrade; what a marvellous vessel.
Service rating:
No`complaints

Product rating:
No complaints
Service rating:
Great Service

Product rating:
Great evening trip
Service rating:
great website for finding everything in one place
Product rating:
Service rating:
Excellent to deal with

Product rating:
Great tripas it was as advertised
Service rating:
Belinda took her time to help arrange and re-arrange all my activities for the day and it was very much appreciated. Great service.

Product rating:
great cruise. ship was still in amazing conditions and the views of the lake were spectacular. the farm/estate were gorgeous as well. i also did horse riding on the farm and it was heaps fun. would've liked for it to be longer and for the instructor to take greater care for the novice riders so the more experienced ones can do more on the trek (trotting, riding at a faster pace etc).
Service rating:
The service I was given was very satisfactory and I was impressed with the efficiency of the staff
Product rating:
Service rating:
We had a wonderful time on this trip. The journey on the lake cruise aboard the TSS Earnslaw Steamship was most enjoyable and The Homestead was such a beautiful location. We thoroughly enjoyed the BBQ lunch, very good value for money, and the views while eating this on the terrace were amazing. We also enjoyed the demonstrations with the sheep etc.
Product rating:
Service rating:
excellent
Product rating:
Service rating:
Very good. Prompt response and helpful when I phoned in when concerned about the weather forecast.
Product rating:
Service rating:
Was fantastic will highly recommend

Product rating:
Fantastic our group found it very enjoyable
Service rating:
We are really enjoy it. Good prices

Product rating:
We really enjoy it.
Service rating:
Great!

Product rating:
Great!
Service rating:
Very efficient

Product rating:
Great trip albeit for the short time.
Service rating:
Great service.

Product rating:
Fantastic experience and great dining. We especially appreciated the gluten free friendly meal at the station.
Service rating:
Prompt confirmation and easy to use.

Product rating:
Awesome cruise, thanks.
Service rating:
People are very nice, friendly and helpful.

Product rating:
The trip was very nice and we were lucky that the weather was great. Animal farm : It would be better to have more animals and perhaps, a bit of cleaning, washing and shedding sheep and also the bull were so stinky. Feeding animal was great and we liked hand wash stations after the feeding. Nice afternoon tea to warm body up. Cheers
Service rating:
Process was smooth and easy
Product rating:
Service rating:
The service is just normal.

Product rating:
In order to protect the natural environment, the steamship should stop operation and be replaced with modern ship to minimize air pollution!!!
Everything Travel Group Review
Experience the majestic sites of Queenstown by looking back at the land from the comforts of the iconic Earnslaw. I highly recommend combining your cruise with a visit to Walter Peak Station, one of the magnificent high country stations in the region. A great way to make the most of the picturesque setting Queenstown has to offer. The "Lady of the Lake" will be enjoyed by all ages.
Value for Money
Wow Factor
Latest Questions about Lake Cruises - TSS Earnslaw Steamship & High Tea (Queenstown)
Is the substitute boat to walter peak travelling each day until the earnslaw is back and running AND
Is there the BBQ option available for either lunch or tea with the substitute boat trip
Hello we are a family of 4 looking to take a lake cruise on the ernslaw when we are in Queenstown between the 9 - 11 of July. Will the ernslaw be back up and running then and what is the cost?
Hello. A friend and I are embarking on a cycling holiday from Queenstown. We would like to book a one way trip across to Walter Peak to start our tour. What is the cost for a one way cruise? How do we book this?
Hi Earnslaw, we are cycling around the mountain in late November and will require transport on your boat from Walter peak back to Queenstown on Friday 29 Nov. please let us know what time departures are on that day in the mid to late afternoon, and cost as well. Thank you!
Is there a lunch cruise on 5 or 6 of July?

I am visiting Queenstown for my big birthday.
Comments
Hello, is it ok to take a pram on board ?
Comments
I and my wife will be visiting NZ in April 19. I am about to book TSS cruiz. Just wanted to know wjat kind of food is served in dinner. This will help me to either book cruiz with dinner or I can manage my own. Hope you will have option of dinner or it is compulsory? If mandatory, do you serve special food on request?
Comments
Hello - I was wondering if there is also a NYE cruise. I have read about it but can't find any recent information. Thank you!
Comments
What is the cost for an adult with cruise and barbeque at lunchtime
Comments
Do you have anything special planned for the evening of 31 Dec 2013 or is the trip the same as any other evening?
Comments
Hi, I am wondering do we have to arrive the port exactly at six o clock. Is it possible to be fifteen minutes late before departure? Since I don't see any information for the departure time.
Comments
Hi, is there access and facilities for a wheelchair?
Comments
I am interested in booking for the cruise and dinner for New Years Eve (31st Dec). What is the cost for 2 pax?

Thanks,
Angela
Comments
Can i bring a 6 month old infant on the cruise and farm tour?
Comments
Comments
Does the costs for the steamship include return fares?
So for example, if I decide to take the cruise+horse trek option, after the horse trek, would I be cruising back to the starting point?
Comments
Hi, Is there a Cruise option for Christmas Day 2012?


Comments
Where is the departure point in Queenstown?
Comments
We'd like to book Steamship+farm+BBQ lunch for tomorrow. But I'm concerned if we have enough time to catch this trip from Airport as we take flight JQ279 from Auckland and estimated arriving at 8.45am tomorrow, then we have to take a rental car at the airport. Thanks, Jim
Comments
Hi there, We are a party of 4 adults and we expect to be in your area on or about Thursday 20th September. We are looking to book the daytime cruise, farm and BBQ.
As we will only be in the district for a couple of days, what happens if the weather is really bad and the trip is cancelled ?
Would we get a refund ?
Comments
hello! We are coming to NZ in Oct just wondering if we did the evening cruise if it was daylight savings? Didn't want to book and be in the dark on the farm and miss all those spectacular views!! Also do the bbq lunch and the evening tour have bar facilities on the farm?
We will have a booking of 15 adults, do you offer any group discounts?
Comments
hi there,i am planning to come down in october and i was wondering if you do these cruises all year round particully on sundays? and if so is there still a ten am departure as your web page suggests? when i went to book it only had a 12pm departure option. . . .?
Comments
I was wondering if you there would be a New Years Eve dining option on the Earnslaw this year and if so what the details/prices are? Thanks!
Comments
Hi Just wanted to check that the TSS earnslaw will be back in the water on the 2nd July. It is something I have always wanted to do!
Comments
Hi, do you take persons confined to a wheelchair on your TSS Earnslaw Lake Cruises?
Comments
Hi there
On another website I saw there is a special for kids in July that they are free? Is this the same for you guys? Also on the cruise + farm tour, is there an option for afternoon tea instead of bbq lunch on the 12noon cruise? or can you purchase food once at Walter Peak? Got a 7yr old and a 4yr old travelling in July with me and I know they will be hungry
Comments
We will be visiting in September, will the dinner cruise be operating on the TSS Earnslaw?
Comments
Hi am disapointed to read in your Q&A that the Earnslaw is out of action during June. We are visiting then haven't been for 18yrs my one disire was a trip to Walter Peak Station for lunch is there any other way of getting there.
Comments
Arriving on 31 May will Steamship be operating
Comments
Hi. will be in Queenstown in late August and would like to know what options are available with the cruise at that time, Thanks Sandra.
Comments
How much walking is involved with the Walter Peak bbq lunch etc? (1 pax with walking stick)
Comments
Hi
Is the cruise and evening dinning available on the 31st May?
Comments
Just wondering how much for my daughter for cruise only, she is 3 yrs old. thanks.
Comments
Upgrade this activity to one of the following combos

rating
94% of new customers that used Everything New Zealand to provide advice and securely book their NZ activities have let us know they've had a good or excellent experience with us. Thank you.