Easy to book - Secure Online Payments - Instant email confirmation - Flexible to make changes
Skyline Queenstown Queenstown
Current Special
Skyline Queenstown Gondola Ride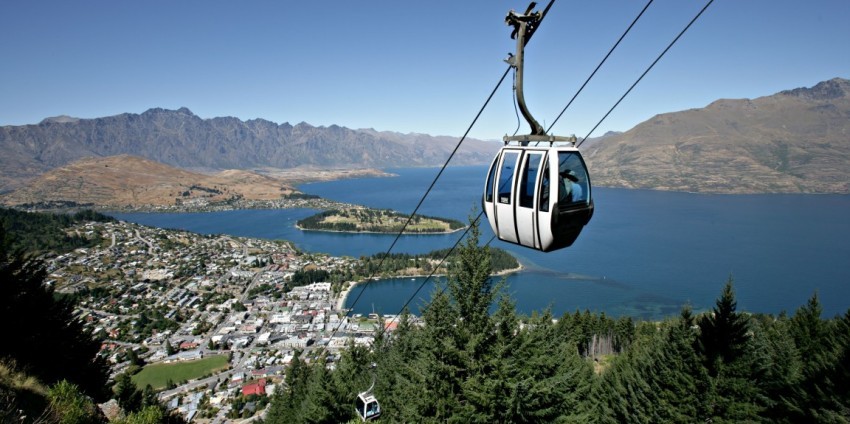 from NZD$47.00
Skyline Gondola, Luge & Restaurant Queenstown
Description
For one of the most memorable experiences you'll have in Queenstown, dine amidst breathtaking views at the Skyline.
Enjoy stunning views that take you all the way from Coronet Peak to the magnificent Remarkables, moving onwards to Cecil Peak and Walter Peak as you cross Lake Wakatipu. This is a cable car ride you will never forget.
Each table will enable you to admire some of the most incredible views you have ever witnessed in your life while partaking in a luxurious six course buffet meal filled with the best New Zealand cuisine that gives you great value for the price.
Dinner & Lunch Buffet (must be pre booked)
Your tastebuds will be tantalized by a sumptuous six course buffet in an easygoing environment that is perfect for couples and groups. The seating layout utilises an ingenious tiered design that will enable up to 320 people to enjoy unobstructed views of the amazing scenery through windows that stretch from floor to ceiling. Lunch and dinner are served on a daily basis at the fully licensed restaurant and live entertainment is available each evening. Dinner begins at 6 pm daily, while lunch begins at 12 noon every day.
Kiwi Haka Show
Experience the wonders of mystical Maori legends and culture. Watch a very special live show featuring fascinating song and dance performances and witness the intimidating haka and poi dances courtesy of Queenstown's favourite Kapa Haka group.
Luge Rides
A luge ride in Queenstown is incredible fun and suitable for people of all ages and levels of fitness and ability!
Race downhill, zigzagging past trees and careening round bends. You can go as fast or as slow as you like and can pull in any time to take a rest and admire the stunning scenery around you. Satisfy your need for speed on the advanced track or take a leisurely ride around the scenic track. When it's over, take the chairlift all the way up for a second go! The Skyline Luge offers you 800 metres of unadulterated adventuring.
You'll want to go over and over again! Book all your rides in advance to enjoy cost savings if you don't want to pay the full price of $11 per ride which you'll be charged if you buy your tickets on site.
Trip Includes
Gondola Ride
Optional dinner or lunch (6 course buffet)
Optional luge rides (can't be booked with dinner)
Optional Kiwi Haka Maori cultural show (can be booked with dinner)
Duration
Allow as much time as you want (Gondola closes at around 10pm)
Dining Times
Lunch - 12pm, 12.30pm & 1.30pm
Dinner - 6pm, 6.30pm & 8.30pm
Haka Show & Dinner - 5.15pm, 6pm & 7.15pm
Haka Show - 5.15pm, 6pm & 7.15pm
Luge - open from 9am until sunset
Meet at the base of the gondola building at least 30 minutes before your dining time. You can go up as early as you like to enjoy the views, grab a drink before your meal, have a go on the luge or watch the bungy & paragliding
Operates all year
Other Information
Child rates apply for kids aged 5 - 14 yrs. Kids under 5 years old travel free
You do not need to book if you just wish to ride the gondola ($27 for adults & $15 for kids)
There is free parking at the Gondola base
Kiwi Haka is an authentic and powerful spiritual journey of Maori culture and customs
The Kiwi Haka show is 30 minutes in duration & operates several times each evening. It can be booked in conjunction with your evening dining or just with the gondola ride
Luge rides operate at the top of the gondola during daylight hours & can be pre booked to save money otherwise they are approx $11 per ride when paid for at the top
Luge riders who are under 110cm will need to ride in tandem with an adult, and only on the Scenic or Intermediate tracks. Additionally, only infants who are able to walk and support their own body weight are able to ride with an accompanying adult
Advanced bookings advised as this restaurant is very popular
The Skyline Gondola is open Christmas Day & New Years Eve. There is a special lunch & dinner available on Christmas Day & a special New Year's Eve dinner available on the 31st December. To see the prices or to book please click on the Book Now button & select either the 25th or 31st December to view the options available & prices
Check out the new Skyline star gazing tour
Upgrade this activity to one of the following combos:
Gondola & 1 Luge Rides:
adult NZD$47.00
child (5-14 yrs) NZD$34.00
Gondola & 2 Luge Rides:
adult NZD$49.00
child (5-14 yrs) NZD$37.00
Gondola & 3 Luge Rides:
adult NZD$52.00
child (5-14 yrs) NZD$42.00
Gondola & 5 Luge Rides:
adult NZD$56.00
child (5-14 yrs) NZD$46.00
Gondola & Lunch:
adult NZD$65.00
child (5-14 yrs) NZD$40.00
Gondola, Buffet Lunch & 2 Luge :
adult NZD$85.00
child NZD$55.00
Gondola, Buffet Lunch & 3 Luge :
adult NZD$90.00
child NZD$60.00
Gondola, Buffet Lunch & 5 Luge :
adult NZD$98.00
child NZD$70.00
Gondola & Dinner:
adult NZD$85.00
child (5-14 yrs) NZD$43.00
Gondola Dinner & Haka Show:
adult NZD$127.00
child (5-14 yrs) NZD$73.00
Gondola & Haka Show:
adult NZD$77.00
child (5-14 yrs) NZD$52.00
Genuine Customer Reviews powered by
Service rating: good
Loved zip lining and the luge was disappointed that we couldn't clay bird shoot as it was fully booked

Product rating: excellent
Great views well run a must do
Service rating: poor
Once we reached skyline we noted that not all available options were listed in Everything Queenstown website.

We ended up paying more through Everything Queenstown website than we would have if purchased directly
Product rating:
Service rating: excellent
Each person who dealt with us was very nice and very efficient. Also I have food intolerances and everything was done to help me so that I knew which dishes I could eat or needed to avoid. I was most impresses that the Head Chef came out took me around describing the ingredients of each dish.
Table service was very efficient and the people were lovely.
Product rating:
Service rating: excellent
The booking is easily accessed and we can seek help by online chat easily. The experiences from the activities purchased are amazing.

Product rating: excellent
The dinner is good and the haka show is amazing also.
Service rating: poor
Buffet dinner was average. The sashimi tuna was not fresh. Other than the grilled beef and lamb, rest of buffet not worth the price.
Product rating:
Service rating: excellent
Loved the Earnslaw boat trip. She is a lovely old steamer & I was very lucky with the weather.
The Skyline gave fantastic views of the town, lake & surrounding mountains from the viewing gallery & the buffet dinner was wonderful.

Product rating: excellent
Fantastic views from the viewing gallery of the town, lake & surrounding mountains.
The buffet dinner was wonderful
Everything Travel Group Review
What more can I say the Skyline Luge is one of the great Kiwi inventions. There are two 800m tracks (slow, fast) which are both well designed and allow you to race your friends or just cruise at your own pace. One thing I noticed was the wide range of people on this from very small children to grandparents and they all had huge smiles on their faces - everyone likes this product. Its not expensive and a great activity to do with friends and family. They say in their marketing "Once is never enough" it's actually such a true statement, I could have stayed up their all afternoon if I had more time!
Value for Money
Thrill Factor
Fun Factor
Latest Questions about Skyline Queenstown (Queenstown)
Hello, I am visiting in January 2018 - am planning to do the gondola, dinner, haka show and the luges but see there is no package for that to include the luges. Can it be arranged or do I have to buy the luges separately?
Hi, may I know if skyline restaurant serve halal food. Thank you.
Comments
Hi can we take multiple times of gondola ride a day? We're planning to do Luge in the afternoon and come up again for dinner and star gazing tour at night as the dinner starts pretty late in October.
Comments
Hi,why there is no have gandola ride+dinner+luge ride package?
Comments
Hiya how long does gondola take to get from top to bottom thanks?
Comments
Hi Just wondering if have bought a gondala package with luge rides.. we are also now thinking to book a zip line tour.. would th ticket I have be enough to get us to the zipline tour? then obviously pay for the zipline tour..?when we finish the zipline can we then do the luge rides. is that laot to do in one day?
Comments
Hi, just wonder if there is a track for people to walk up to the Skyline complex, instead of taking the gondola. Cheers.
Comments
How far away is the gondola from the city centre.
Comments
Is the dinner buffet halal?
Comments
Hi, does one have to pay for parking at the bottom of the gondola? We want to spend the day around the skyline doing the activities up there but am not sure about whether we need to pay for parking at the bottom of the gondola.
Comments
Hi. I'm interested in gondola, dinner and hakashow package. But I'm wondering if I book those one at 6pm, what time do I have to move to see the Hakashow and where should I go?
Comments
Hi, what time does the gondola and luge open in the morning?
Comments
I was wondering what the price for the gondola ride dinner and luge ride would be ?
Comments
Hello
I am visiting Queenstown during the winter festival from the 19th till 25th of June, how early to I need to make a reservation for Gondula and dinner, to make sure I don't miss out. Not sure what night it will be
Comments
this many be a silly question but, if you buy 2 luge rides do you have to take the gondola up again for the second? so essentially you ride the gondola up twice and never down because the luge is at the bottom?
Comments
Hi, I was interested in gondola, luge and dinner. Do you guys have a combo for that by any chance?
Comments
Do you have a special seating for New Year's Eve
Comments
Do I need to make a reservation ?
Also what sort of deal would I be looking at if there were four people for dinner, gondola, luge and even possible haka show?
This would also be for a birthday!

Thank you,
Comments
Does the price of the Gondola Ride include the trip up from the bottom and return ride back down?
Comments
Hi

I am staying in Queenstown over Christmas this year and I was wondering whether the Skyline offers a Christmas Day package including dinner? If so , or something similiar, can you advise the price and how to book?

Many Thanks

Laura
Comments
I am already booked on the high 5 package, so don't need the gondola ride to the top. How much would it be to add dinner at the restaurant to this combo?
Comments
Hi, I want to book 2 adults for dinner but will be doing zip trek beforehand, which will take us back to the bottom, can we take the gondola more than once without paying again?


Comments
I woul like to book the gondola, 5 luge rides but also time it around the 5.15 Haka Show - we can't find any combos to fit this. Thanks Joanne
Comments
hi there,
What type of foods are at the buffet lunch? Are there seafood and vegetarian options?
Comments
is the package for Gondola Lunch & 2 Luge for $69: means gondola rides, 2 luge rides (per adult) and lunch buffet? thanks!
Comments
hello.

thank you for your reply. I just need to clarify the gondola lunch and 2 x luge rides package. if i booked for 3 person does it mean that each one of use will get the gondola, lunch and 2 luge rides?

regards,
-wan-
Comments
hello.
my friends and I are interested to book the gondola lunch and luge package. but there are three us. could you suggest any package for three people and how much will it cost.
hope to hear from you soon.

Regards,
-Wan-
Comments
Hi, is it safe for my 2 yr old son to ride the luge with me? I'm just worried about the safety of this as we haven't done one before. Will there be straps and will there be tracks for beginners and I guess 'experienced' luge drivers? thanks!
Comments
I would like to book gondola, lunch and luge for our family but have a five year old and I am unsure if he can go on luge alone
Comments
Can I book a package of a gondola ride, a late afternoon luge ride, the twilight zipline ride and buffet dinner for April 6? Is Easter Weekend in Queenstown a busy holiday weekend?
Comments
What time is the last ride
Comments
Hi - Can young kids (he'll be 3) go on the luge with an adult? And are they allowed into the restaurant for lunch?
Comments
Is there a package for Gondola, 2 luge rides and lunch or do you have to go the lunch package plus 2 X $10 luge rides?
Comments
is the gondola and restaurant wheel chair friendly ?
Comments
How long does the gondola ride take from bottom to top?
Comments

rating
90% of new customers that used Everything New Zealand to provide advice and securely book their NZ activities have let us know they've had a good or excellent experience with us. Thank you.