Easy to book - Secure Online Payments - Instant email confirmation - Flexible to make changes
Star Gazing Tours - Earth & Sky Lake Tekapo
Highly Recommended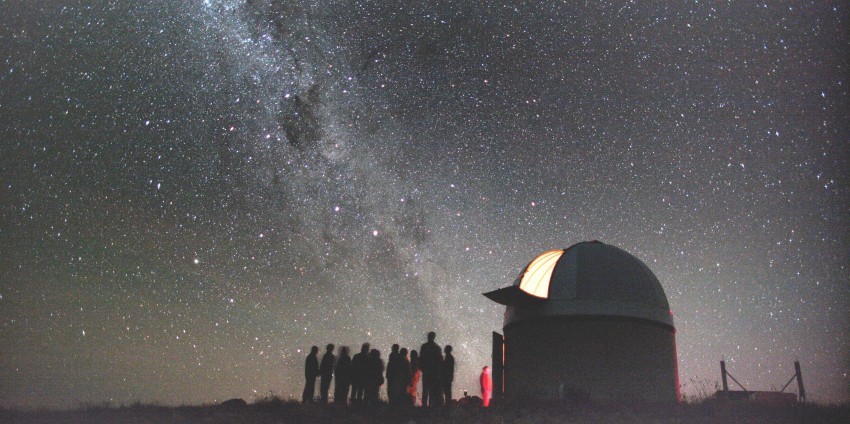 from NZD$150.00
Star Gazing Tours - Earth & Sky
Description
Earth & Sky is a home-grown New Zealand business. Based in the charming little township of Lake Tekapo on New Zealand's South Island, Earth & Sky is passionate about sharing with visitors the beauty and wonder of the skies above.
Guided night time tours to the Mount John Observatory and stargazing, all led by friendly, knowledgeable and experienced guides, are available through Earth & Sky.
Lake Tekapo is situated in the Mackenzie District in the Canterbury Region, an area that has received international acclaim for its remarkably clear skies, due in part to the absence of light pollution. Each year, tens of thousands of visitors make the pilgrimage to Lake Tekapo to participate in the most enchanting stargazing session of their lives. Not only do visitors have a chance to see amazingly dense blankets of stars, they might also witness celestial phenomena such as aurorae and meteor showers.
Earth & Sky embraces visitors from all four corners of the globe and guides who speak English, Mandarin and Japanese are readily available. English and Japanese speaking guides are available at all times. Visitors who require guides who speak other languages should enquire ahead of time to avoid disappointment.
Ascend Mount John on foot or drive your own or a rented vehicle and marvel at the breathtaking landscape from the summit. There is a $5 toll at the bottom of Mount John observatory gate if heading up on your own. Enjoy a sumptuous breakfast or lunch at the tranquil Astro Cafe with its breathtaking views of Lake Tekapo 300 metres below. Earth & Sky runs Day Tours with a variety of activities on offer, from marvelling at the biggest telescope in New Zealand to learning about the groundbreaking research carried out in the world's stargazing capital.
Little Star Tour - 1 hour 15 mins
Stargazing excitement for astronomers of all ages! This is our newest tour to the summit of Mt John and is only available during the winter months. The Little Star Tour has been designed especially for families with younger children who want our famous stargazing experience but not the late night. Join us at the summit of Mt John and take the opportunity to peer through our telescopes and explore the darkening sky while enjoying a hot chocolate from the Astro Café. As this tour delves straight into stargazing it only runs when there are stars to be seen! This is perfect for families and has something for everyone. - This tour is weather dependant.
Mount John Twilight Tour – 2 hours
Take in the stunning view from Mt John after the Sun sets below the Southern Alps. You will have a chance to visit the world's southern-most optical research facility. New Zealand's largest telescope and explore the working environment of astronomers. Enjoy a delicious treat in our Astro-Café while enjoying a short multimedia presentation; then join us outside to peer through telescopes and explore the darkening sky. This tour has something for everyone!
Mount John Night Observatory Tour – 2 hours
Join us on our famous observatory tour on Mt John! Come see the wonders of the southern night sky, and experience the thrill of peering through powerful telescopes. When the stars are hidden from view, take a journey with us to discover the nocturnal world of an astronomer: see a range of research equipment that is out-of-bounds to the general public and experience the working environment of an astronomer.
If you have a DSLR camera a professional Astro-photographers can set up your camera to take pictures of the night sky (as long as the weather permits) If cloud cover is obstructing your view of the stars on a particular night, discover the secret life of the astronomer. You will become privy to the inner workings of the observatory, which are ordinarily not revealed to the public.
The experiences you will have on the Mount John Stargazing Tours are one of a kind, on earth as well as in the universe!
Trip Includes
Transfers from Tekapo township
Informative guides
Observatory tour
Star gazing (night time tours only)
Duration
Twilight Tour - allow 2 hours
Night Observatory Tour - allow 2 hours
Little Star Tour - allow 1 hour 15 minutes
Departures
Twilight Tour - departs just before sunset (summer months only)
Night Observatory Tour - departs shortly after twilight (can be as late as 11pm)
Little Star Tour - departs at sunset (during winter months only)
Departs from the Earth & Sky office located at the western car park beside 4 Square supermarket, Lake Tekapo
Operates daily all year (except for December 25th)
Other Information
Please note the night time tours at Mt John depart according to the time of sunset. The departure time noted at booking is not accurate & you will need to phone the day before your tour to confirm the exact tour time
If you are keen to see the stars and the night sky in all its glory then book the Night Observatory Tour. You will not be disappointed!
Please note the Mt John Night Tour still goes ahead if there is cloud cover but instead the tour will be more of a behind the scenes experience
Child (up to 17yrs) rates available
Children under the age of 8 are not permitted on the Twilight Tour or Night Tour
Children under the age of 5 are not permitted on the Little Stars Tour
The Twilight Tour is only available during summer
The Little Stars tour only operates during winter. If you have children & are visiting during summer then there is another tour called the Cowans Tour that runs most nights & is suitable for kids 5 & older. Please email us for more information & to book
Please remember to wear warm clothes, especially during the winter months
The Astro cafe is open all day and serves tasty food & drinks
Maximum of 11 people per guide
Night Observatory Tour:
adult NZD$150.00
child (8-17yrs) NZD$85.00
Twilight Tour:
adult NZD$150.00
child (8-17yrs) NZD$85.00
Little Star Tour:
adult NZD$120.00
child (5-17yrs) NZD$63.00
Latest Questions about Star Gazing Tours - Earth & Sky (Lake Tekapo)
How do you define the winter months? Thanks, Heather
Comments
Can I ask for more Information on the CowanTour? We have 3 adults and 2 children aged 7 & 8.
Comments
Hi
We are coming down to Tekapo on Friday. Do you think there will be any chance of seeing the Southern Lights on Friday or Saturday ? Which day would be best to book for the tour ? Thanks
Hi what time does the 2 hour long night tour of Mount John Observatory start for tonight? Also, is there a cafe with food over there before the tour?
what time does the Mt John Night Observatory Tour start around 17 November 2017? Since I will arrive to Christchurch airport around 4.00 pm then i will drive directly to lake tekapo at 7.30 pm) I am not sure that I will take the bus Mt John Observatory Tour in time or not. Moreover, Is it dangerous to drive from lake tekapo to Mt cook after the Mt John Observatory Tour finishing on 17 Nov 2017?
HI guy's. .is there vacancies for 2 adults on the night tour for the 24 th of this month? ..
Thanks Ray..
Hi we are a family of 6 which includes 2 adults, 1 senior and 3 children ages 9, 7 and 5. We understand that your little star tours only operates in the winter months but we will only be in NZ in the month of december. Is there a tour or a variation whereby my young ones can experience stargazing in the month of december as I understand that it is you spring/ summer month.
Comments
For the Little Star tour what times do they start ?
Comments
We are staying in Queenstown. How do we get to Lake Tekapo? Can you pick us up? Two people.
Comments
How far in advance do I need to book for Mt John Night Tour
Comments
What's the difference between the Mt John Night Observatory Tour & Twilight Tour?

Comments
Hi there,
Is under 5's free on the Little Stars tour?
Comments
Hi Could you please clarify what a "Little Stars Tour" is? You have very good feedback but the cost is very expensive. I would love to bring my star gazing grandchildren hopefully this would be a way for them to experience it. Many thanks Joy priest

Comments
what nights can you put your cameras
on the telescopes
Comments
My husband and I will be holidaying in your area late Dec 2014 to early Jan 2015. We would like to do the night observatory tour and want to know before we book accommodation if you will be open to do the tours in those days or will you be closed for the holiday break? Depending on your days of being open will be when we book our accommodation. Thanks very much.
Comments
We will be visiting lake Tekapo for one night in December and would like to do the night observatory tour however with 3 children, youngest of whom is 8 yrs old I am worried it will be too late and they will get bored ... If I book the sunset tour will we still be able to view stars through the telescope once it gets dark?
Comments
My family will be staying at Tekapo 2,3,4 Jan. Can I buy vouchers for two adults and one child for them as a Christmas gift?
Comments
Hi

We are going to Tekapo this weekend and have a voucher to use for start gazing which we would like to do on 1 September (night tour). What is the cancellation policy is we book now - the only reason we would cancel is if the weather wasn't very good.
Comments
Are you operating on 15/9/12 for a night visit?
Up to how many people can you take?
What happens if it is cloudy?
Many thanks
Ruth
Comments
I am hoping to visit some time in March 2013, I will have a Canon 60D with me - what would I need to connect to your scopes if there was a chance to use it (I have a T adaptor that I use with my scope in the UK).
Comments
I have been told that the "Southern Lights" might be able to be "predicted" around 24hrs prior to ocurring. Is this correct? Can we book is there a website to monitor this and check the weather forcast? Accordingly, can we book at VERY short notice as will fly from Auckland. Thanks :)
Comments
Hi can we just drive up and ssee the observeratery and have someting to eat in the cafe?What does your cafe serve for adults and kids.
Comments
I would like to give my husband and our daughter a gift voucher for the night tour. The dates I am looking at are Sept 29th or 30th
Comments
What happens if you have prebooked and then the weather doesnt allow viewing?
Comments
Hi there,

I am from auckland, and plan for a 2 or 3 days trip to Lake Tekepo to see Aurora Australis, when is the best time to go there during the year? and should I fly to Tiramu or Christchurch, or Queenstown then drive to Tekepo?

Thanks a lot

Elva Chan
Comments
Hi. What if we have booked a particular night time tour and the weather is bad, also is it adviseable to prebook or can we book on the day?
Comments
Hi, I was wondering if the nighttime Star gazing tour is suitable for someone in a wheelchair (me)
Comments
Hi my name is Fin Pringle-Booth i am interested in booking a night tour for some friends of mine as a gift. i was wondering if i was to book a night tour if you get to do star gazing during that and also i would like to ask if i was to book it if i had to book it for a specific date or if i could get a sort of booking that could be moved to when is suitable for them? also are there any specific astronomical events in the next 6 months that would be worthy of a special trip? thank you
Comments
I am flexible as to when to take the night tour. Can you suggest the best night,(in the near future) when I should book this?
Comments
Hi!
We are a family of 5 (2 adults, 3 kids), and are staying in Tekapo fo2 4 nights from July 2nd.
We would like to do the Observatory Night Tour, but are wondering if it's best to book ahead to secure a place, or wait until we get there so we can pick the best night/weather.
Can you please advise?
Many thanks,
Jodi (from Adelaide, Sth Australia)
Comments
Can we just drive up in the evening to see the night sky from the top of the road or cafe?
Comments
When is it most likely to be able to see the Aurora from Mt John
Comments

rating
95% of new customers that used Everything New Zealand to provide advice and securely book their NZ activities have let us know they've had a good or excellent experience with us. Thank you.