Easy to book - Secure Online Payments - Instant email confirmation - Flexible to make changes
Star Gazing Tours - Earth & Sky Lake Tekapo
Current Special
Highly Recommended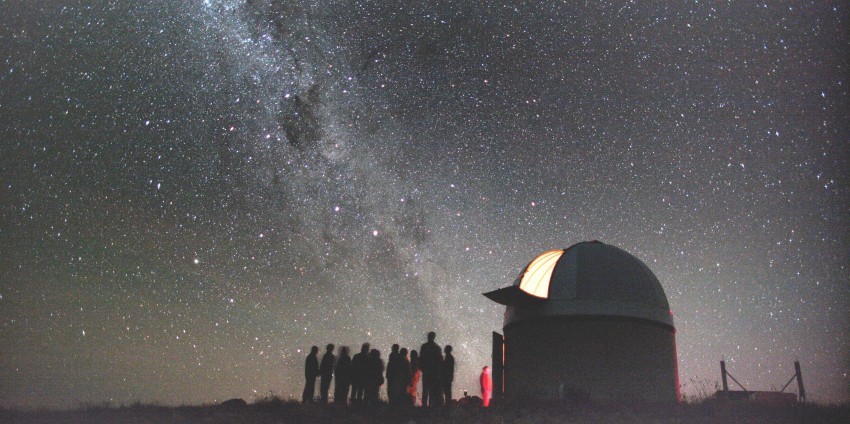 Lake Tekapo Star Gazing Tour
Description
Earth & Sky is a home-grown New Zealand business. Based in the charming little township of Lake Tekapo on New Zealand's South Island, Earth & Sky is passionate about sharing with visitors the beauty and wonder of the skies above.
Guided night time tours to the Mount John Observatory and stargazing, all led by friendly, knowledgeable and experienced guides, are available through Earth & Sky.
Lake Tekapo is situated in the Mackenzie District in the Canterbury Region, an area that has received international acclaim for its remarkably clear skies, due in part to the absence of light pollution. Each year, tens of thousands of visitors make the pilgrimage to Lake Tekapo to participate in the most enchanting stargazing session of their lives. Not only do visitors have a chance to see amazingly dense blankets of stars, they might also witness celestial phenomena such as aurorae and meteor showers.
Earth & Sky embraces visitors from all four corners of the globe and guides who speak English, Mandarin and Japanese are readily available. English and Japanese speaking guides are available at all times. Visitors who require guides who speak other languages should enquire ahead of time to avoid disappointment.
Ascend Mount John on foot or drive your own or a rented vehicle and marvel at the breathtaking landscape from the summit. There is a $5 toll at the bottom of Mount John observatory gate if heading up on your own. Enjoy a sumptuous breakfast or lunch at the tranquil Astro Cafe with its breathtaking views of Lake Tekapo 300 metres below. Earth & Sky runs Day Tours with a variety of activities on offer, from marvelling at the biggest telescope in New Zealand to learning about the groundbreaking research carried out in the world's stargazing capital.
Little Star Tour - 1 hour 15 mins
Stargazing excitement for astronomers of all ages! This is our newest tour to the summit of Mt John and is only available during the winter months. The Little Star Tour has been designed especially for families with younger children who want our famous stargazing experience but not the late night. Join us at the summit of Mt John and take the opportunity to peer through our telescopes and explore the darkening sky while enjoying a hot chocolate from the Astro Café. As this tour delves straight into stargazing it only runs when there are stars to be seen! This is perfect for families and has something for everyone. - This tour is weather dependant.
Mount John Twilight Tour – 2 hours
Take in the stunning view from Mt John after the Sun sets below the Southern Alps. You will have a chance to visit the world's southern-most optical research facility. New Zealand's largest telescope and explore the working environment of astronomers. Enjoy a delicious treat in our Astro-Café while enjoying a short multimedia presentation; then join us outside to peer through telescopes and explore the darkening sky. This tour has something for everyone!
Mount John Night Observatory Tour – 2 hours
Join us on our famous observatory tour on Mt John! Come see the wonders of the southern night sky, and experience the thrill of peering through powerful telescopes. When the stars are hidden from view, take a journey with us to discover the nocturnal world of an astronomer: see a range of research equipment that is out-of-bounds to the general public and experience the working environment of an astronomer.
If you have a DSLR camera a professional Astro-photographers can set up your camera to take pictures of the night sky (as long as the weather permits) If cloud cover is obstructing your view of the stars on a particular night, discover the secret life of the astronomer. You will become privy to the inner workings of the observatory, which are ordinarily not revealed to the public.
The experiences you will have on the Mount John Stargazing Tours are one of a kind, on earth as well as in the universe!
Trip Includes
Transfers from Tekapo township
Informative guides
Observatory tour
Star gazing (night time tours only)
Duration
Twilight Tour - allow 2 hours
Night Observatory Tour - allow 2 hours
Little Star Tour - allow 1 hour 15 minutes
Departures
Twilight Tour - departs just before sunset (summer months only)
Night Observatory Tour - departs shortly after twilight (can be as late as 11pm)
Little Star Tour - departs at sunset (during winter months only)
Departs from the Earth & Sky office located at the western car park beside 4 Square supermarket, Lake Tekapo
Operates daily all year (except for December 25th)
Other Information
Please note the night time tours at Mt John depart according to the time of sunset. The departure time noted at booking is not accurate & you will need to phone the day before your tour to confirm the exact tour time
If you are keen to see the stars and the night sky in all its glory then book the Night Observatory Tour. You will not be disappointed!
Please note the Mt John Night Tour still goes ahead if there is cloud cover but instead the tour will be more of a behind the scenes experience
Child (up to 17yrs) rates available
Children under the age of 8 are not permitted on the Twilight Tour or Night Tour
Children under the age of 5 are not permitted on the Little Stars Tour
The Twilight Tour is only available during summer
The Little Stars tour only operates during winter. If you have children & are visiting during summer then there is another tour called the Cowans Tour that runs most nights & is suitable for kids 5 & older. Please email us for more information & to book
Please remember to wear warm clothes, especially during the winter months
The Astro cafe is open all day and serves tasty food & drinks
Maximum of 11 people per guide
Normal Retail Prices
Night Observatory Tour:

adult NZD$175.00
child (8-17yrs) NZD$94.00

Twilight Tour:

adult NZD$175.00
child (8-17yrs) NZD$94.00

Little Star Tour:

adult NZD$120.00
child (5-17yrs) NZD$63.00
All prices shown in NZD$.
Genuine Customer Reviews powered by
Service rating:
Everything worked like it was supposed to.

Product rating:
A bit expensive for a fairly straightforward tour that wasn't especially revelatory. Everything went well and everyone was very nice, but overall it was just a bit meh.
Service rating:
Well organised and very interesting... just a couple of disappointing things ... felt that the tour group was too big and one of the guides was grumpy and less than helpful.

Product rating:
Was a bit pricey given the number of patrons jammed on the bus.
Service rating:
Booking easy and organised. When there was a weather issue one of my party dropped out and there was no problem getting a refund.

Product rating:
Despite a super moon washing the Milky Way out, the guides were entertaining and enthusiastic, showing lots of the sky through various telescopes.
Service rating:
Our viewing experience was cancelled. We had hoped to get at least a tour of the observatory despite the overcast skies but waiting around for a full cancellation. The staff were pleasant with everyone's questions -- thank you.

Product rating:
Our viewing experience was cancelled. We had hoped to get at least a tour of the observatory despite the overcast skies but waiting around for a full cancellation. The staff were pleasant with everyone's questions -- thank you.
Service rating:
Information was great, night was stunning but telescopes seemed under gunner to provide much interest.

Product rating:
Telescopes too small. Great information though.
Service rating:
The Mt John stargazing tour was fantastic, with knowledgeable guides, excellent facilities and fortunate conditions.

The booking process was let down by Everything New Zealand as I was unable to book the tour for the same day on their site despite there being availability on the tour (as I later found out at the Earth and Sky office). I got around this by booking for the following day and then calling Earth and Sky to change the booking (which ENZ would have charged $15 for the flexible option!). Simple fix for you guys and would save me a lot of time!

Product rating:
Excellent tour, knowledgeable guides, great facilities and helpful staff to rearrange my booking. A bit pricey but very good experience.
Service rating:
Booked 2 places but later advised only one place available. Couldn't go.
Product rating:
Service rating:
Amazing experience. Staff were amazing

Product rating:
The staff were so knowledge
Service rating:
You booked the wrong tour; I didn't pick this up as the reporting time on the Ticket voucher was 6.00pm as was for The Little Star Tour. There was no mention of the booking fee on line or on the Ticket Voucher. The voucher just had the Total as $462 and under it was 'Paid in full'. I presume the booking fee was the extra $15 charged to our Visa account, $477. So the 'Paid in full' is untrue. We'll never use Everything again for Anything
Product rating:
Service rating:
Fast, efficient service and good communication

Product rating:
The tour would have been very good and the staff looked after us up Mount John but my Dad should never have been allowed to go. We should have been told it was not a suitable trip for someone with limited ability to walk unaided
Service rating:
晚上去山顶看到了南十字星,星座,景色非常美,值得一看。

Product rating:
Amazing Genius Star Tour.
Service rating:
Thoroughly enjoyed, guides so enthusiastic you can't help catch some of there excitement about astronomy.
Would have preferred smaller group possibly so you could spend more time looking through scopes

Product rating:
Always good to learn something new guides so enthusiastic
Service rating:
What an amazing night! The guides were so great - informative and friendly.
We would love to do it again except we live 18 hours away.
Product rating:
Service rating:
Great service from Everything Travel Group. Our tour didn't eventuate but you guys took the first step to contact us. Appreciated the immediate full refund. Could look for you guys again for future tours. Thank you.
Product rating:
Service rating:
Good communication etc

Product rating:
Great product, knowledgeable people and fantastic gazing - but I think it was a little too pricey on a time at the actual observatory basis. 1/2 an hour more would have felt more satisfactory.
Service rating:
Nice touch getting a reminder a couple of days before the tour

Product rating:
One of the best tours I have ever been on.
Service rating:
we were away and without email access so didn't get confirmation email sent a few days before our Mt John trip. Our booking form which I printed out when received in November had incorrect booking number which caused considerable angst and consternation and significant costs in phoning Tekapo the day before our trip. Still given it was sorted relatively quickly, I've scored this as good.

Product rating:
Very interesting, gave us things to think about and look at, but too many people on it, so time available to look in telescopes was limited. Might be a good idea to bunch people into groups with a leader. Enthusiastic presenters.
Service rating:
your staff were very helpful and accomodating. they were patient in answering all our queries.

Product rating:
the staff are very knowledgeable and they look after the visitors very well.
Service rating:
It was a shame it was a cloudy night - which I know you can't do anything about!

Product rating:
Staff were helpful and friendly and the tour of the observatory was interesting. The cloud did clear for a few minutes and so we did have a little bit of time to do some star gazing.
Service rating:
Great!

Product rating:
Guides were great and we were very lucky to have a cloudless night. We enjoyed the whole experience. The 2 hours flew by!
Service rating:
Bad weather the first night but no trouble to postpone until the second night.

Product rating:
The BEST tour and place to be and excellent guides with good and
appropriate information. LOVELY!!
Service rating:
Very professional

Product rating:
Very good. The guides are ver professional and actively encouraged to ask question
Service rating:
Awesome

Product rating:
Brilliant tour would recommend to anyone visiting Tekapo, amazing experience and my partner got to see Saturn on her birthday which was awesome!!
Service rating:
Fantastic tour. Well organized with very professional commentary,
Definitely I highly recommend this to everyone.

Product rating:
No criticism at all. Looking through the telescopes, amazingly unforgettable.
Well worth it.
Service rating:
Good

Product rating:
I confirmed the booking in the morning by telephone, reached there on time and finally tour was cancelled due to bad whether though I will get refund but spent money/time on accommodation and travelling to get there, all in vein.
Service rating:
Prompt service and understanding staff.

Product rating:
The tour was cancelled due to a local community event which also didn't take place due to weather conditions.
Service rating:
had to cancel 1 ticket a few weeks prior to date and that was no problem. However initial booking overlooked the fact that we were seniors and had a different rate.

Product rating:
Fantastic, learned so much and it was great to see such passionate people doing the tour.
Service rating:
Easy to book.

Product rating:
Excellent experience - unforgettable.
Service rating:
Excellent service. No issues at all.

Product rating:
Wonderful tour. Guides were highly competent, knowledgeable and excellent communicators. I would thoroughly recommend the tour to anyone. The "Valentines Day" extra touches were much appreciated.
Service rating:
Excellent service and knowledge

Product rating:
What an experience!
Service rating:
Ok. Quick. Efficient.

Product rating:
Very knowledgable. Friendly. Caring.
Service rating:
Brilliant, incredibly quick responses to email, very helpful and professional

Product rating:
It was informative, exciting in the dark and inspiring. Great to experience such a academic and fascinating field, and the time they took to explain things for us. Unfortunately the cloud cover was 70% and astrophotography emphasized on the website was not really mentioned. All in all a very special experience.
Service rating:
I think the customer service at the counter should be improved.
Product rating:
Service rating:
What a great tour.

Product rating:
We were kept warm and comfortable at all times.
Service rating:
good

Product rating:
I lost the bit of paper that gives me access to flickr to get the hight photo, what do I need to do to get a copy
Service rating:
Booking went smoothly

Product rating:
I thought this was overpriced. I can see the stars just as well from my own garden and three quick looks through telescopes wasn't worth $130. I really didn't need the bus driver to explain to me opening and shutting a gate! The guides were very good and well informed.
Service rating:
Everything so easy to book highly reccomended

Product rating:
So many stars and great guides. Not to be missed
Service rating:
Very easy to navigate website and booking was a breeze!

Product rating:
We were very lucky that the sky was perfect ! No moon, no wind !! The guide we had was good too! He had a very funny, animated way of explaining stuff and very entertaining ! Too bad we couldn't see what he looked like !
Service rating:
Easy to use booking system, all good.

Product rating:
Good value for money. Friendly and informative staff, and lucky with the weather.
I would recommend it to anyone.
Service rating:
The service was good.

Product rating:
Everything from the pick up and the personal service was great and what I expect in NZ but...I see stars often so cannot imagine the feelings of those from over countries who don't. I think that a bit more education about the tour and what people are going to view would make the tour more meaningful. A 3d video or 4d of our planets and perhaps more insight into how much distance and time is involved travelling to outer space would help people understand. When I pay and visit displays tours overseas they may not have so much authentic content but they are more interactive and have the wow factor! Imagine putting on 3D virtual glasses and walking around the moon or flying off into space in a rocket. A great build up and then being able to appreciate looking at the stars and planets. We are all part of the universe and I would have liked to have experienced more of that. I feel that Tekapo has a great opportunity to become a world class attraction but needs to improve.
Service rating:
Easy, good communication about plans.

Product rating:
Unfortunately, total cloud cover, but still really great trip with lots of information from enthusiastic and knowledgeable folk. Learned a lot. Both loved it and will be back on a clear night.
Service rating:
Okay although the times weren't correct. Although its an estimated time, Earth Sky has times basically set. 6pm is not close to 7pm.

Product rating:
Amazing. Very informative and staff were excellent. Saturn and the Moon were amazing.
Service rating:
Helpfull and available

Product rating:
Knowledgeable and entertatining
Service rating:
THE VOUCHER WAS PAID FOR MONTHS IN ADVANCE. NOT MY PROBLEM IF PRICES HAVE INCREASED. I SHOULD NOT HAD TO PAY THE EXTRA $20.- AS THE VOUCHER DID NOT EXPIRE TILL THE 16TH JUNE. THAT IS WHY I SCORE IT POOR OR SHOULD IT BE "BAD". I WOULD NOT BOOK WITH EVERYTHING NZ AGAIN.

Product rating:
LOVED IT. EXCELLENT NIGHT TO WATCH THE STARS.
Service rating:
..

Product rating:
Highly professional delivery from the guide. We learned a lot. We are NZers and were proud of the service and experience delivered for tourists.
Service rating:
Considering the booking was made many months in advance from the UK, the
communication by email was helpful and efficient.

Product rating:
I'm sorry to say I was hugely disappointed. I had been looking forward to it for months, so it was unfortunate, and not the organisers' fault that in an outstanding NZ summer, we were unlucky to have an overcast sky for the night booked. But over and above that, I thought we were going have the opportunity to view the southern hemisphere through a large astronomer's telescope, and was very disappointed that we were only "shown" that marvellous piece of equipment, and were only able to look through the portable commercial type that the public can buy in shops. I think Earth & Sky should make that clear on their information, as the ticket price is not cheap.
The next morning I climbed Mt. John to view the glorious panorama over Lake Tekapo and beyond to the Alps and the MacKenzie country ... made up for the night before.
Service rating:
Know very little about this group as we booked at earth and sky

Product rating:
Group too large, very long quese making you obliged to move away without the opportunity to take your time to gaze at the amazing veiws
Latest Questions about Star Gazing Tours - Earth & Sky (Lake Tekapo)
Hi there,
My husband and I were wanting to do this tour with our 4 year old daughter between the 12-14th March, but just noticed your age guidelines?? Is this strict with the ages? If she was to be asleep in her pram or awake I feel like she would thoroughly enjoy this experience aswell.
Look Forward to your response
Comments
Do you offer the Manderin tour for star gazing tour?
Comments
what happens if you book a night and the weather is bad so you can't see the stars?
Comments
How do you define the winter months? Thanks, Heather
Comments
Can I ask for more Information on the CowanTour? We have 3 adults and 2 children aged 7 & 8.
Comments
Hi
We are coming down to Tekapo on Friday. Do you think there will be any chance of seeing the Southern Lights on Friday or Saturday ? Which day would be best to book for the tour ? Thanks
Hi what time does the 2 hour long night tour of Mount John Observatory start for tonight? Also, is there a cafe with food over there before the tour?
Hi we are a family of 6 which includes 2 adults, 1 senior and 3 children ages 9, 7 and 5. We understand that your little star tours only operates in the winter months but we will only be in NZ in the month of december. Is there a tour or a variation whereby my young ones can experience stargazing in the month of december as I understand that it is you spring/ summer month.
Comments
For the Little Star tour what times do they start ?
Comments
We are staying in Queenstown. How do we get to Lake Tekapo? Can you pick us up? Two people.
Comments
How far in advance do I need to book for Mt John Night Tour
Comments
What's the difference between the Mt John Night Observatory Tour & Twilight Tour?

Comments
Hi there,
Is under 5's free on the Little Stars tour?
Comments
Hi Could you please clarify what a "Little Stars Tour" is? You have very good feedback but the cost is very expensive. I would love to bring my star gazing grandchildren hopefully this would be a way for them to experience it. Many thanks Joy priest

Comments
what nights can you put your cameras
on the telescopes
Comments
My husband and I will be holidaying in your area late Dec 2014 to early Jan 2015. We would like to do the night observatory tour and want to know before we book accommodation if you will be open to do the tours in those days or will you be closed for the holiday break? Depending on your days of being open will be when we book our accommodation. Thanks very much.
Comments
We will be visiting lake Tekapo for one night in December and would like to do the night observatory tour however with 3 children, youngest of whom is 8 yrs old I am worried it will be too late and they will get bored ... If I book the sunset tour will we still be able to view stars through the telescope once it gets dark?
Comments
My family will be staying at Tekapo 2,3,4 Jan. Can I buy vouchers for two adults and one child for them as a Christmas gift?
Comments
Hi

We are going to Tekapo this weekend and have a voucher to use for start gazing which we would like to do on 1 September (night tour). What is the cancellation policy is we book now - the only reason we would cancel is if the weather wasn't very good.
Comments
Are you operating on 15/9/12 for a night visit?
Up to how many people can you take?
What happens if it is cloudy?
Many thanks
Ruth
Comments
I am hoping to visit some time in March 2013, I will have a Canon 60D with me - what would I need to connect to your scopes if there was a chance to use it (I have a T adaptor that I use with my scope in the UK).
Comments
I have been told that the "Southern Lights" might be able to be "predicted" around 24hrs prior to ocurring. Is this correct? Can we book is there a website to monitor this and check the weather forcast? Accordingly, can we book at VERY short notice as will fly from Auckland. Thanks :)
Comments
Hi can we just drive up and ssee the observeratery and have someting to eat in the cafe?What does your cafe serve for adults and kids.
Comments
I would like to give my husband and our daughter a gift voucher for the night tour. The dates I am looking at are Sept 29th or 30th
Comments
What happens if you have prebooked and then the weather doesnt allow viewing?
Comments
Hi there,

I am from auckland, and plan for a 2 or 3 days trip to Lake Tekepo to see Aurora Australis, when is the best time to go there during the year? and should I fly to Tiramu or Christchurch, or Queenstown then drive to Tekepo?

Thanks a lot

Elva Chan
Comments
Hi. What if we have booked a particular night time tour and the weather is bad, also is it adviseable to prebook or can we book on the day?
Comments
Hi, I was wondering if the nighttime Star gazing tour is suitable for someone in a wheelchair (me)
Comments
Hi my name is Fin Pringle-Booth i am interested in booking a night tour for some friends of mine as a gift. i was wondering if i was to book a night tour if you get to do star gazing during that and also i would like to ask if i was to book it if i had to book it for a specific date or if i could get a sort of booking that could be moved to when is suitable for them? also are there any specific astronomical events in the next 6 months that would be worthy of a special trip? thank you
Comments
I am flexible as to when to take the night tour. Can you suggest the best night,(in the near future) when I should book this?
Comments
Hi!
We are a family of 5 (2 adults, 3 kids), and are staying in Tekapo fo2 4 nights from July 2nd.
We would like to do the Observatory Night Tour, but are wondering if it's best to book ahead to secure a place, or wait until we get there so we can pick the best night/weather.
Can you please advise?
Many thanks,
Jodi (from Adelaide, Sth Australia)
Comments
Can we just drive up in the evening to see the night sky from the top of the road or cafe?
Comments
When is it most likely to be able to see the Aurora from Mt John
Comments

rating
95% of new customers that used Everything New Zealand to provide advice and securely book their NZ activities have let us know they've had a good or excellent experience with us. Thank you.