Easy to book - Secure Online Payments - Instant email confirmation - Flexible to make changes
Zorb - Globe Riding Rotorua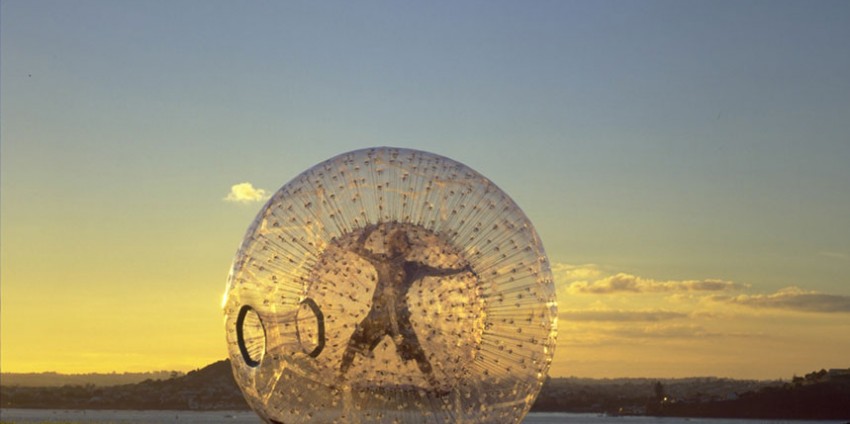 from NZD$39.00
Zorb - Globe Riding
Description
ZORBING – it sounds like some type of futuristic extreme sport, but it's really quite simple and a total 'ball of fun'. Zorbing – or Globe Riding, Sphering or Orbing, as it is also known – involves you turning yourself into a human load of washing, inside a huge inflatable ball, that is 'gently' flung down a hill. If this sounds like your type of thing, you're in luck!

Globe riding ultimately involves rolling down a hill within an inner capsule, suspended in the centre of an inflatable plastic orb. Dwane van der Sluis and Andrew Akers, who also coined the ZORB brand name, invented this thrilling activity in New Zealand, in 1994. Since then, Zorbing has become as much a 'must-do' in New Zealand as bungy jumping or jet boating. Within New Zealand, ZORB Rotorua is the only site that offers Globe Riding, and people from all over the world have travelled to Rotorua specifically for the pleasure of being chucked down a hill in a ball.
ZORB Rotorua offer many options to suit whatever ZORBING preference you have. The ZYDRO (wet) ride and the ZORBIT (dry), solo, with friends, sliding, tumbling, zigzag or straight and narrow – the options and combinations are endless. This family friendly activity (6 years and above) is an excellent choice for a day out and always ensures a 'rolling' good time for everyone!
ZYDRO
The ZYDRO is the most requested option and involves getting wet. You enter the ZORB, followed by a few litres of (warm in winter, cold in summer) water, before embarking on your hillside ride. This option is very popular with groups, as you can have two extra people in the ZORB with you on a straight track. Alternatively, a solo ZYDRO is just as fun and you can choose either a zigzag track or a straight. Expect plenty of sliding, spinning, slippery (but not rough tumbling) action!
ZORBIT
Dubbed by ZORB staff as the 'Astronaut in training' ride, the ZORBIT involves being strapped securely into a specially designed safety harness within the ZORB orb. This means that – unlike the ZYDRO – you will tumble along, head-over-heels, all along the straight track. With three ride variations available, you can be sure that each ZORBIT experience will be unique. Experience a combination of weightlessness and G-force as well as pure, thrilling fun on the ZORBIT!
Trip Includes
Zydro (wet) or Zorbit (dry) ride or both!
Photos of your experience (exta cost or free with Zultimate)
Duration
Allow 1 hour including travel time from Rotorua
Departures
Every hour during daylight hours
You will need to get your own way to the Zorb base located 10kms from Rotorua township on State Highway 5 next to the Agrodome. You can drive yourself or catch the local bus that departs every 10 minutes from town
Operates all year
Other Information
The Zorb Rotorua site is located on the corner of Western Road & State Highway 5, Ngongotaha, 10 minutes drive from Rotorua. If you don't have a car there is a "City Ride" bus that leaves central Rotorua every 15 minutes and is only NZ$2.20 each way & will drop you right outside our door! You need to take bus Route 1: Ngongotaha to get here!
Minimum age is 6 years old
ZYDRO ride: maximum weight solo is 130kgs, maximum weight multi (up to three people) is 250kgs
ZORBIT ride: minimum height requirement is 1.6m, maximum weight restriction is 100kgs
Operates in all weather conditions & perfect on a rainy day
Bring a change of clothes & a towel if you are doing the Zydro ride
Zorbit (10yrs+):
solo (per person) NZD$39.00
Zydro (6yrs+):
solo (per person) NZD$39.00
tandem (per person) NZD$29.00
triple (per person) NZD$26.00
Genuine Customer Reviews powered by
Service rating:
The people who run the Zorbing didn't even know she was coming. They asked me, the person who booked this for my niece, who did I book it through because they had no record of the booking. Also, it was supposed to be a dry Zorbing but it was wet.

Product rating:
The place had no knowledge of her being there. It was supposed to be a dry Zorbing and it wasn't

rating
95% of new customers that used Everything New Zealand to provide advice and securely book their NZ activities have let us know they've had a good or excellent experience with us. Thank you.