Sailing - Harbour Sailing Cruise Auckland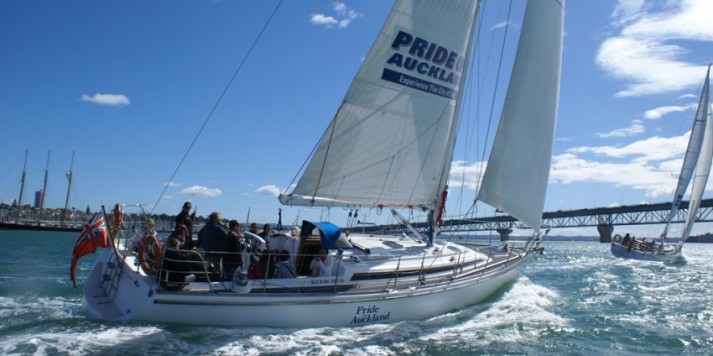 from NZD$75.00
Sailing - Harbour Sailing Cruise
Description
Considering a night out in New Zealand? Then don't look past a glorious evening aboard one of Auckland's most impressive yachts, floating along one of New Zealand's most beautiful settings – the world renowned Waitemata harbour. This exquisite event – hosted by The Pride of Auckland, as well as one of New Zealand's best chefs, Peter Thornley – is going to have your tastebuds singing and your eyes gleaming. The specialty menu is fit for royalty, without the price tag, and contains some of the freshest, most delicious seafood and New Zealand fare available. The super impressive, purpose built yachts – from within The Pride of Auckland fleet – glide along the calm waters of Waitemata Harbour, giving you spectacular panoramic views of this stunning area.
If you're more of a day tripper, then The Pride of Auckland also have you covered; with a lunchtime cruise, you can enjoy an exquisite picnic lunch box and a hot drink, specially prepared by the award winning Kermadec Restaurant. Superb view, mouthwatering food, delicious drinks, great service and sparkling water – what more could you ask for?
Dinner Cruise Menu
Bread, Soft rolls & butter
Entree
Crystal bay prawns, romesco condiments, Roasted lipstick pepper, hazelnuts and smoky paprika, lemon dressing
or
Baby Caesar salad, romaine lettuce, quails egg, croutons, white anchovy and crunchy bacon, shaved parmesan, Caesar dressing
or
Salad of char grilled lipstick pepper, shallot, courgette, whipped fiddlers hill goats cheese, romaine lettuce, olives and balsamic dressing.
Main
Breast of free range chicken on orzo, toasted almonds, parsley, mint, board bean, cucumber salad
or
Big Glory bay salmon, chargrilled fennel, lemon and butter roasted perla potatoes, served with bowls of mixed leaf salad for the table, sherry vinaigrette
or
Orzo, toasted almonds, parsley, mint, lemon, broad bean, cucumber salad with chargrilled fennel.
Dessert
Vanilla crème brûlée with Scottish shortbread
A licensed cash bar is available on board. The bar carries a selection of premium New Zealand beers, wines and soft drinks.
Trip Includes
Cruise & commentary
Coffee & tea (picnic lunch optional)
Dinner (dinner cruise only)
Safety brief
Duration
Harbour Cruise - allow 1.5 hours
Dinner Cruise - allow 3.5 hours
Departures
Harbour Cruise departs at 1pm & 3.15pm in summer (1pm only Apr - Oct)
Dinner Cruise departs at 6pm
Departs from Explore NZ Kiosk, situated alongside Snapdragon Restaurant, Viaduct Harbour
Operates daily all year
Other Information
Children under 5 years old travel for free
No previous sailing experience is necessary
Tea, coffee or milo (hot chocolate) & a licensed cash bar available on board
The bar carries a selection of premium New Zealand beers & wines & soft drinks
Please dress comfortably. We recommend wearing soft soled shoes & to bring an extra jersey/jacket along, sun protection & of course, don't forget your camera!
Harbour Cruise:
adult NZD$75.00
child (5-15yrs) NZD$55.00
Harbour Cruise (+lunch):
adult NZD$90.00
child (5-15yrs) NZD$65.00
Dinner Cruise:
adult NZD$120.00
child (5-15yrs) NZD$85.00
Genuine Customer Reviews powered by
Service rating: excellent
We had fantastic time

Product rating: excellent
Very wonderful
Service rating: good
they were very helpful and organised

Product rating: good
loved the sailing and the staff were very nice. Meal tasty
Service rating: excellent
Good

Product rating: excellent
Really good, enjoyed the experience
Latest Questions about Sailing - Harbour Sailing Cruise (Auckland)
Hi,
Is the dinner cruise on a sail boat?
Thanks,
Lisa
Hi There

I am looking for a quote for business xmas function.

What is max number of guests as am trying to book for 35

Is date 14/12/12 available for a dinner cruise?


Spring / 3:03am
Easy to book
1 Select

your activities

2 Secure

online payment

3 Instant

email confirmation

4 Flexible

to make changes