Easy to book - Secure Online Payments - Instant email confirmation - Flexible to make changes
Skyline Rotorua Rotorua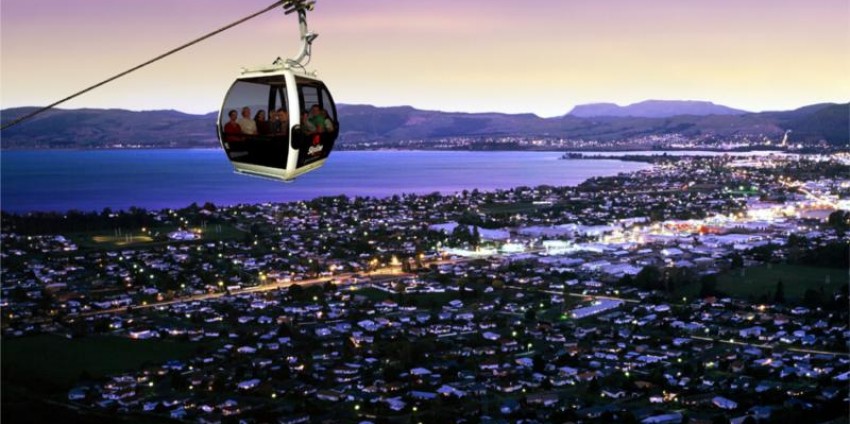 from NZD$59.00
Skyline Rotorua
Description
The Cableway Restaurant is a gem on the outskirts of Rotorua; the fully licensed restaurant and bar grants you all the glory of New Zealand's majestic views, combined with delicious local cuisine.
This fine dining experience is held in a supremely surreal atmosphere. Enjoy the glorious 180 degree, panoramic views of the surroundings; including the city skyline, the crystal clear beauty of Lake Rotorua and the imposing views of Mt Tarawera.
The Gondola ride to your destination will leave you in awe at the beauty of the surrounding nature-meets-city views. The gondola ride is a thrilling experience in itself, let alone the fine dining awaiting you at the top.
Cableway Restaurant – Best of NZ Buffet
Open for lunch or dinner, the Cableway Restaurant was designed with sensational style and a stunning atmosphere in mind. This setting heightens your senses, ensuring you enjoy all the qualities of the outstanding New Zealand cuisine. The spectacular seafood on offer includes seafood chowder, delicious NZ prawns and shrimp, freshly steamed mussels and perfectly grilled salmon. If you prefer your meals to contain a bit of red, the Bay of Plenty lamb cutlets will have you drooling, or try the grilled sirloin steak, grilled chicken, roast kumara with cashews... the list goes on! For desert, there's marinated berries, native pavlova, gateaux, ice creams and an assortment of pastries. Yum!
Luge
Also included in this awesome experience is the one of a kind luge ride – the world first, and specifically built for Rotorua. This thrilling gravity driven ride will have you screeching with joy, all the way down the varying terrain. Have a go of one or all three luge tracks, before or after your dining experience. The unique three wheeled cart has a thrilling steering and braking system, granting the rider full control. This entire unique experience is perfect for groups, couples or the whole family.
Includes
Gondola Ride
9 course buffet lunch or dinner
Optional luge rides
Duration
Allow as much time as you want. (Gondola closes at 9pm)
Dining Times
Lunch - 11.30am & 1.30pm
Dinner - 5.30pm to 8pm
Luge - open until sunset
Meet at the base of the gondola building at least 10 minutes before your dining time. You can go up as early as you like to enjoy the views, grab a drink before your meal or have a go on the luge
Operates all year
Other Information
You do not need to book if you just wish to ride the gondola
Free parking at the Gondola base
Luge rides operate at the top of the gondola during daylight hours
Check out our latest activity - Stargazing at the Skyline Gondola
Advanced bookings advised as this restaurant is very popular
Gondola & 5 Luge Rides:
adult NZD$59.00
child (5-14 yrs) NZD$49.00
Lunch & Gondola :
adult NZD$64.00
child (5-14yrs) NZD$35.00
Dinner & Gondola :
adult NZD$85.00
child (11-14yrs) NZD$45.00
Latest Questions about Skyline Rotorua (Rotorua)
Hi is it possible to drive to your restaurant, or can a wheelchair be used on the gondola
Comments

rating
90% of new customers that used Everything New Zealand to provide advice and securely book their NZ activities have let us know they've had a good or excellent experience with us. Thank you.