Easy to book - Secure Online Payments - Instant email confirmation - Flexible to make changes
Dolphin Swim - Dolphin Eco Experience Bay of Islands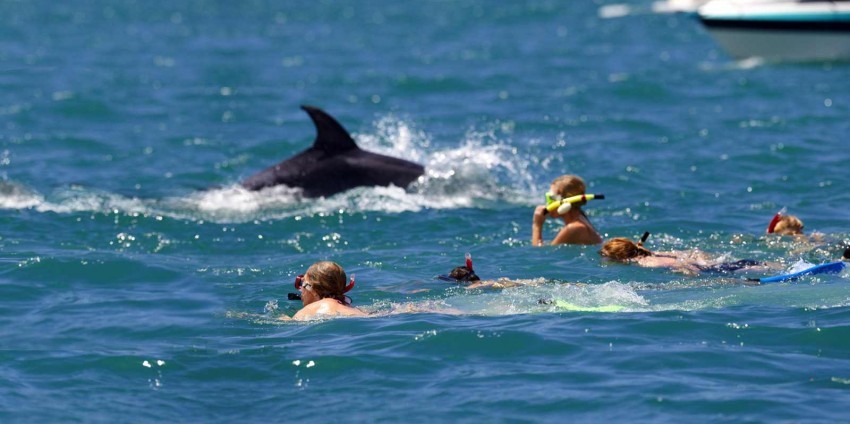 from NZD$115.00
Dolphin Swim - Dolphin Eco Experience
Description
As you slip into the warm, clear water and move away from the boat, you spot one. No, you spot three. Suddenly, you are being encircled – grey skin and flashing dorsal fins move deftly around you. Your heart rate rises and your breathing quickens. You consider your life so far and realise you only have one regret… WHY didn't you do this sooner?!?
That's right; your swim with the dolphins at the Bay of Islands will be exciting, exhilarating and totally life changing (and nothing like being encircled by sharks!). Not only will you be able to experience the joy of frolicking with our fine-flippered friends in their own environment, but the Bay of Islands Dolphin Eco Experience will also allow you to experience the beauty of the secluded Bay of Islands area. This area is home to these beautiful marine mammals all year round. The warm, clear aqua environment is a perfect habitat for the local bottlenose and common dolphins, as well as orca, baleen whales, seals, penguins, fish, water birds and other marine animals – all of which you may see on the Bay of Islands Dolphin Eco Experience.
Your half-day dolphin cruise on the 'Tutunui' – a purpose-built dolphin watching vessel – will depart from Paihia wharf (with a stopover in Russell, if you would prefer to depart from there). From there, the knowledgeable and experienced crew will seek out the dolphin pods by looking for the splashing that indicates their presence. You too will be taught what to look for, so that you have the opportunity to be first to spot them. When the dolphins are found, you can slide into the water from the low viewing deck and snorkel with these amazing animals. Swimming with the Bay of Islands dolphins is truly a memorable experience, so don't be surprised if you want to go back again and again!
Lifetime Dolphin Viewing Guarantee
If for any reason the dolphins or whales cannot be viewed during a Bay of Islands Dolphin Eco Experience, they will offer you a 'go again for free' voucher for another Dolphin Eco Experience (subject to availability).
Trip Includes
Bay of Islands eco cruise & commentary
Swim with dolphins in the wild
Wetsuit, snorkel, mask & fins
View dolphins, whales & other wildlife
Low viewing deck & underwater microphones
Limited passenger numbers
Dolphin Viewing Guarantee
Duration
Departures
8am & 12.30pm
Departs from Paihia wharf
You can also board the boat in Russell at 8.10am or 12.40pm if requested
Operates during summer only (Nov-Mar)
Other Information
Child rates apply (under 15yrs)
Please advise at the time of booking if an infant is travelling with you
Children under 8 years are not permitted to swim but can still do the cruise
Children 8-12 years must be supervised by a parent or guardian at all times
Bring with you a hat, sunscreen & camera. If you plan to swim bring a towel & wear your swimsuit under your clothing for convenience
Snorkel, mask, fins & wetsuit are provided
All passengers who wish to swim with dolphins must be able to swim competently in open water unaided
Please advise the crew of any medical condition that could affect your swimming ability in open water
If you don't wish to swim with the dolphins then we recommend you book the Hole in the Rock Dolphin Cruise which caters to spectators rather than swimmers
You can also depart from Russell rather than Paihia of you prefer. Please let us know if this is the case
Dolphin Swim:
adult NZD$145.00
child (8-14yrs) NZD$87.50
Dolphin Watch:
adult NZD$115.00
child (under 15yrs) NZD$57.50
Genuine Customer Reviews powered by
Service rating: good
see below

Product rating: good
This trip was too rushed and had too much driving. It would have been better to stay in Ayers Rock resort and go to the places individually. The bus was a piece of junk and very uncomfortable.
Service rating: good
Awesome

Product rating: good
Was great to see dolphins frolicking around the boat
Service rating: excellent
Easy to use

Product rating: excellent
Great tour, great guide. Loved it all
Service rating: good
we don't like to pay before to get the confirmation for the tour.

Product rating: excellent
But we didn't appreciate : lazy guide unhappy, not enough food, quick stops, the fact to pay an extra $25 for the park fee and $15 for the sleeping bag.
However, the places were monumental, wonderful.
Service rating: excellent
Easy to book and a great trip.

Product rating: excellent
This was the highlight of my 3 week trip. Mark was a great guide and the experience was great. My only comment would be that the sleeping bags that we rented could have been washed or aired out prior to use as they smelled pretty ripe.
Latest Questions about Dolphin Swim - Dolphin Eco Experience (Bay of Islands)
Hi! My partner and I are travelling with our elderly mother and we would like to do the dolphin swimming tour. Is there a possibility that she could just come on the boat so she can watch up, and if so what would her fare be. We look forward to hearing from you. Also can you advise the availability of the morning tour on 2nd December. Many thanks
Comments

rating
96% of new customers that used Everything New Zealand to provide advice and securely book their NZ activities have let us know they've had a good or excellent experience with us. Thank you.