Glowworm Cave Combos - Discover Waitomo Waitomo
34% off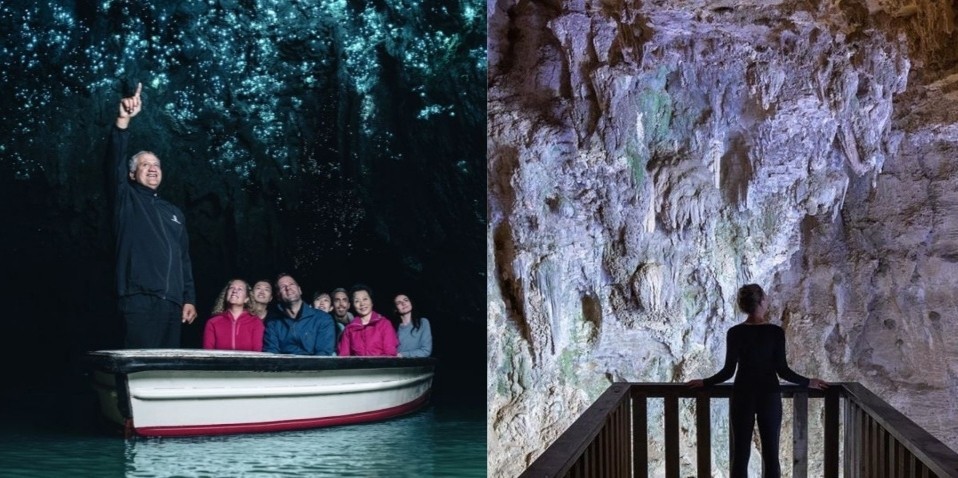 Glowworm Cave Combos with Discover Waitomo
Highlights
Experience more than one incredible cave
Visit thousands of glowworms at Waitomo Glowworm Caves
Discover ancient cave formations
Learn about the cultural and natural history of the caves
Description
Get the most out of your visit to Discover Waitomo with a package to explore more than one unforgettable cave in Waitomo. Choose between the Most Popular Combo, Twin Cave Combo and Triple Cave Combo for an incredible experience at Discover Waitomo.
Discover Waitomo is home to beautiful caves steeped in cultural and natural history. Visiting the Waitomo Glowworm Caves is a must-do experience, with the Arachnocampa Luminosa species of glowworm only found in New Zealand. Combine this with another glowworm cave, an intimate cave featuring beautiful formations, or both!
Most Popular Combo
The Most Popular Combo is a tour of both the Waitomo Glowworm Caves and Ruakuri Cave, the best glowworm caves in New Zealand. Marvel at ancient cave formations and decoration in the upper level of the Waitomo Glowworm Caves before gliding along an underground river gazing up at a ceiling of glittering glowworms. Then head over to Ruakuri Cave for incredible photo opportunities with more glowworms. Throughout this combo you will learn stories about the Maori chief who first discovered Waitomo Glowworm Caves and discover more about glowworms up close and personal on the tour through Ruakuri Cave.
Twin Cave Combo
For a fascinating tour through Waitomo Glowworm Caves and Aranui Cave, the Twin Cave Combo is the package for you. Start with a magical guided walk through a forest and learn about New Zealand's natural landscape from your knowledgeable guide at Discover Waitomo. Through a hidden entrance you will find the most intimate and delicate of the Waitomo caves, Aranui Cave, featuring magnificent natural limestone formations and giant stalactites. Then head back to Waitomo Glowworm Caves to visit a beautiful glowworm wonderland by boat and learn about the cultural and natural history of the caves.
Triple Cave Combo
The Triple Cave Combo combines Waitomo Glowworm Caves, Ruakuri Cave and Aranui Cave for the complete Waitomo Glow Worms experience. Float underneath a curtain of glowworms on an underground stream in the Waitomo Glowworm Caves with your knowledgeable guide. Then head through a beautiful native New Zealand forest to find the secret Aranui Cave, showcasing exquisite cave formations and stalactites. Top off your visit with an underground walk surrounded by glowworms in Ruakuri, the perfect time to take photos!
Trip Includes
Combination of multiple cave tours at Discover Waitomo
Visit the Waitomo Glowworm Caves plus a choice of 1 or 2 more incredible caves
Knowledgeable guide
Boat ride on an underground stream through the Waitomo Glowworm Caves
Duration
Most Popular Combo - allow 2.5 hours
Twin Cave Combo - allow 2 hours
Triple Cave Combo - allow 3.5 hours
Departures
Tours depart from 9:00 am - 4:00 pm
Departs from Waitomo Glowworm Caves Visitor Centre at 39 Waitomo Village Road
Operates daily all year
Other Information
Additional tours may be added in summer, please enquire
Bring a warm jacket and comfortable shoes
Boat tour capacity is up to 23 people
Children under 4 years go free but must be booked in
Child rate is for children 4-14 years
Photography is not permitted inside the Waitomo Glowworm Caves
Photography is permitted in Ruakuri Cave and Aranui Cave
Caves average at a temperature of 16-17 degrees year round
Waitomo Glowworm Caves does not have wheelchair access
Normal Retail Prices
Most Popular Combo:

Adult (15+ years) NZD$148.00
Child (4-14 years) NZD$61.00

Twin Cave Combo:

Adult (15+ years) NZD$122.00
Child (4-14 years) NZD$56.00

Triple Cave Combo:

Adult (15+ years) NZD$209.00
Child (4-14 years) NZD$89.00
All prices shown in NZD$.


rating
93% of new customers that used Everything New Zealand to provide advice and securely book their NZ activities have let us know they've had a good or excellent experience with us. Thank you.