Hot Air Balloons - Sunrise Queenstown
17% off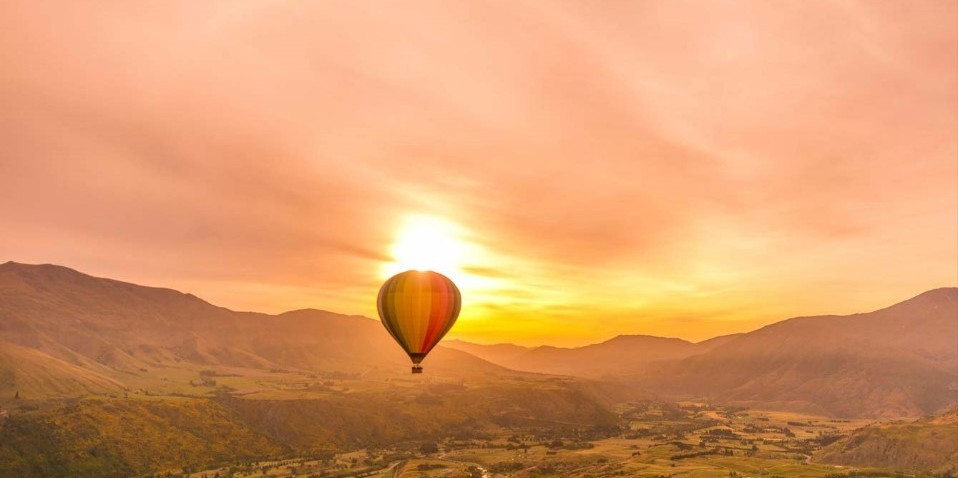 Hot Air Balloon Ride at Sunrise above Queenstown
Description
The experience of lifting off in a hot air balloon and floating effortlessly over an amazingly textured landscape made up of New Zealand's rivers, lakes and mountains is absolutely sublime. Sunrise Balloons operates flights that typically take you into the valleys in between Arrowtown and Queenstown. View from the air some of the stunning locations used in the filming of the Lord of the Rings trilogy.
Upon landing, be pampered by a glass of champagne at the landing site. Lord of the Rings fans will be pleased to know that sites such as the Ford of Bruinen, the Gates of Argonath, Dimrill Dale and the Pillars of the Kings can be viewed from the hot air balloon. Mt Earnslaw, which can be seen in the filmic rendering of Isengard, can also be seen.
Trip Includes
Return transfers from accommodation
1 hr scenic flight balloon flight
A champagne celebration when you land
Certificate as a momento of the flight
Duration
Allow 3.5hrs round trip from Queenstown
Departures
Early morning (before sunrise between 5am & 8am depending on season)
Pick up from your hotel or central Queenstown
Operates daily all year round
Other Information
Flights routes may vary due to weather and at the pilot's discretion
Maximum weight of 136kg per person
Dress warmly as it can be very cold early in the morning
Sunglasses are strongly recommended
Child rates apply for 4 -12 year olds
Normal Retail Prices
Adult: NZD$595.00
Child (4-12yrs): NZD$395.00
Family Pack :
Private Charter (2-15 people): NZD$8032.50
All prices shown in NZD$.
Genuine Customer Reviews powered by
Service rating:
The service was superb! Warmth hospitality.

Product rating:
Value for money! Everyone must try!
Service rating:
I didn't make it to play hot air balloon due to bad weather.

But i give them 4 thumbs up because its really easy to reschedule or refund.

And so easy to contact by call or email.

So wether you do it or not. You won't have any regrets !!!

Product rating:
I WILL DO IT AGAIN IN THE NEAR FUTURE !!!!!
Service rating:
Everything is good.

Product rating:
Easy to booking and the process is user friendly.
Service rating:
Helpful support to answer my enquiry, and I have made some changes of my booking with very quick response and action.

Product rating:
Around 15 mins late pick up. Thought we would rise before sunrise. But overall experience is great, and we had a fun time to collect the air balloon together
Service rating:
It was okay. We said we wanted to go on Monday if the weather was no good on Sunday - and was told that was okay but when I phoned 4.30 am Sunday and was told it had been cancelled that day I was quite bluntly told - by a lady who had been quite curt previously - that there were no places available on Monday. I was also told that our money would be refunded which hasn't happened yet.

Product rating:
It would be appreciated it if you could please refund our money ASAP as the balloon trip was cancelled by the company
Service rating:
The Travel Group were ok, processing my refund in reasonable time. Withheld $35, I'm left to assume for admin costs

Product rating:
The receptionist was extremely rude to me. Made me feel like dirt and tried to refuse to pick us up because I was free camping even though it was perfectly legal in my self contained van in a designated spot. She was not in the least apologetic when twice cancelling our ballooning 'due to weather'. The first time was indeed windy but the second time there was barely a breath of air and the way she spoke to me made me believe she never intended to fit us in. I ended up booking with a different company in Christchurch for nearly half the price
Service rating:
Really good. Had a few dramas with weather but they were very helpful.

Product rating:
Got cancelled on a day with perfect weather....
Service rating:
Belinda was absolutely helpful in suggesting alternative activites for my cancelled ones! Truly appreciative of her help.

Product rating:
Also went on a scenic helicopter ride at Milford & the alps!
Service rating:
No problems

Product rating:
Wonderful trip. Most professional operators and magnificent scenery.
Service rating:
Everyone has been very helpful
Product rating:
Service rating:
Great flexibility in arranging my payment. Also provided a backup telephone number, which proved useful--and thanks for that response.

Product rating:
Very professional team of operatives. Great experience, even in less than great weather.
Service rating:
Everything was amazing

Product rating:
I loved it.
Service rating:
Excellent in every way. the refund was prompt as we could not do this activity due to incompatible weather three mornings in a row when I called at 4.45am.

Product rating:
We did not end up going on our hot air balloon ride and the weather three mornings in a row was not suitable and we had to cancel.
Service rating:
Absolutely excellent service. Great website very useful and my questions got answered really fast. Will recommend others!

Product rating:
Stunning experience.
Service rating:
great service from pre booking to booking to follow up
Product rating:
Everything Travel Group Review
This is something everyone has to do at least once in their lifetime! Ok, the 4.30am wake up call is a bit hard to handle (suggest not drinking the night before) and it's not the cheapest activity in town, but this was without doubt one of the most amazing experiences of my life. I don't think I'll ever see a sunrise like this again! We flew to 8000ft in a very gentle breeze for just over an hour over golf courses, lakes and picturesque farmland; throw in a tasty champagne breakfast and friendly and informative staff... wow...speechless!!
Suggestions: Due to its weather dependent nature (flies on average every other day) I'd suggest booking this for the beginning of your stay in Queenstown so that you can reschedule for another day if necessary. You're also best to book in advance as this is a very popular activity and there are limited spaces available.
Value for Money
Wow Factor
Latest Questions about Hot Air Balloons - Sunrise (Queenstown)
can we take our 2 year old baby boy in hot air balloon??
Comments
We are a group of 20 people , want a clarification $545 is per person or per balloon.
In case it's per balloon, how many people can be accommodated comfortably..

Comments
I have a infant around 15 mths. Is it possible to take the hot air ballon? We are going ard may
Hi there,

I am a flight attendant for Qantas and will be flying in Saturday morning, and was wondering if you do industry rates? And if so how much?

Thank you
Duration of the sun rise hot air ballon
Comments
Can a handicap person sit in Hot Air Balloon? The person can walk with clutches.
Is it easy to get in and out of the hot air balloon?
We are planning a trip to Queenstown on 23 December, do you have seats for two persons on 24 December , 25 December or 26 December? Holidays period?
Comments
is it always in the morning, If our flight lands around 10 am, is there any other time in the day, we could book a trip.
Comments
What time would the start be for the of end of April to go up in a hot air balloon. If we book in and the weather is bad what happens?
Hi, I'm heading to queenstown with a friend tomorrow for a week, is the baloon sunrise operating at this time of year, unsure of where we are staying as yet.
Comments
how long in advance must be start booking the balloon ride?


Comments
Hi,
I wish to book a Hot Air Balloon ride for the 9th of July.
I was wondering if you still operate during winter, if so do you have place free for this date?
Thanks! =)
Angela
Comments
We are a family of 16 people, this group includes 1 child. What is the best if we want to go hot air ballooning? We will be in Queenstown between 23-29th Dec
Comments
I was wanting to propose to my girlfriend..how many people do you have on the balloon? was looking at the 17th-18th March.
Comments
Is it possible to charter a balloon and or is there a discount for 6 people?
Comments

rating
94% of new customers that used Everything New Zealand to provide advice and securely book their NZ activities have let us know they've had a good or excellent experience with us. Thank you.