Hot Pools - Onsen Queenstown
10% off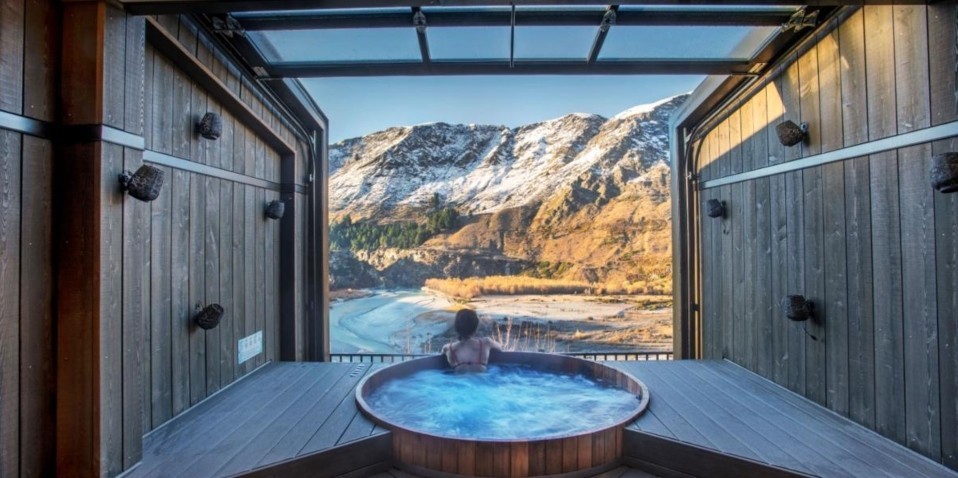 Exclusive Onsen Hot Pools Queenstown
Highlights
Exclusive use of cedar hot tubs
World-renowned breathtaking views overlooking the Shotover River
Accommodates up to 4 adults
Gold Qualmark award
Description
Relaxing in an Onsen Hot Pool as your cares melt away is all the more sublime when you have unmitigated views of Queenstown's breathtaking scenery at the same time.
Soak in the stunning views and breathe in the crisp mountain air while your body is immersed in the healing waters, invigorating massage and stimulating warmth of the private pools.
All Onsen Hot Pools are situated in private bathing rooms lined with fragrant cedar, each equipped with its own changing area and shower. All rooms offer scenic views of majestic mountains.
When you've gotten used to your surroundings, the front wall and roof can be retracted by pressing a button, enabling you to turn your soak into a sublime al fresco experience. When night falls, the lights can be dimmed, enabling you to view a symphony of stars overhead. Should you wish to close the room again, just press the button once more. You also have the option of leaving the wall and roof in their original positions while enjoying the scenery through the gaping picture windows.
Up to four adults can be accommodated in each room. This is an ideal activity for individuals, families and couples. Bookings can be made in blocks of one hour.
Evening pools (after sunset) include a lantern package where you will be surrounded by the ethereal glow of burning lanterns as you gaze up at the night sky to see the southern constellations floating in the inky blackness above. This is a sublime experience to be shared with a very special someone.
Your 60-minute soak is accommodated by a complimentary snack and beverage, so sit back and soak in your surrounds as you relax into your mineral-infused hot tub.
Includes
Courtesy coach pick up from central Queenstown or self-drive (10mins from town)
1-hour exclusive pool room with stunning views
Retractable roof
Changing area, shower & towel
Lantern package (evening pools after sunset only)
Snack & beverage
Duration
Allow 2 hours (includes a 1-hour private pool room & return transfers from Queenstown)
Departures
Every hour (open from 9am - 10pm)
Pick up is from outside The Station building on Camp street or self-drive to Arthur's Point (10 mins from town)
Operates daily all year
Other Information
If your chosen time is unavailable please check out Onsen's newest experience, the Outdoor Hot Pools
Queenstown's only public hot pools
Eight private pool rooms with shower & changing area
Rooms feature retracting roof for indoor/outdoor experience
Free hourly shuttle-bus from central Queenstown
Open 7 days a week, 11 hours a day, from 11 am to 10 pm
Private, peaceful, natural surroundings
Amazing views – regardless of indoor/outdoor choice
Up to 4 adults can fit comfortably in each spa, ideal for individuals, couples or families
Child rates apply 5-11yrs (must be accompanied by an adult)
Children under 5 years of age are not permitted in the pools at any time. Kids aged 5-11 are not permitted in the pools after 5 pm
Pools continually refreshed with clean pure alpine water
Swimwear is compulsory
Alcoholic & non-alcoholic beverages available
Pools after sunset include a lantern package
When claiming a Gift Voucher we recommend booking 6 weeks in advance to avoid disappointment
Timeslots run every hour from 9:00am - 10:00pm. Due to popular demand, please indicate your preferred time below and your booking will be confirmed for the closest time possible.
BEST PRICE GUARANTEE
Normal Retail Prices
1 Adult: NZD$117.50
2 Adults: NZD$175.00
3 Adults: NZD$225.00
4 Adults: NZD$260.00
Optional Extras:

Child (5-11yrs) NZD$30.00
All prices shown in NZD$.
Genuine Customer Reviews powered by
Service rating:
They are nice and the place is clean.

Product rating:
Easy purchasing and hassle free.
Service rating:
This place was absolutely lovely! Even got a glass of wine and some ice cream while I sat in my hot tub and enjoyed the stars.

Product rating:
No complaints. Totally worth it!
Service rating:
The experience was very relaxing, magical and romantic. The staff were accommodating but not super friendly. Will recommend!

Product rating:
The experience of the spa was superb. Staff were not 10/10 friendly but still accomodating.
Service rating:
Perfect experience. Aoife was super friendly and very helpful with all my changes of the booking due to flight cancellation. Highly recommended

Product rating:
Onsen hot pool is a must visit
Service rating:
Everything was prefect from the moment we turned up. Staff were really helpful getting my husband…who was on crutches…up the hill. View was amazing. Definitely would do again.

Product rating:
Definitely worth the money
Service rating:
Everything were really helpful in getting this experience sorted for us. Our phone wasn't working properly which meant we were hard to get hold of but the team were excellent in offering alternative dates and times to make it work.

Product rating:
Great experience with stunning views!
Service rating:
Staff were quick, helpful and kind; they were also easy to contact and they maintained good communication throughout; even on last minute bookings and/or queries and changes in existing booking, they were all helpful; also very informative about any inquiries… the best thing is the communication, by phone or by emails, they were good and timely.

Product rating:
Worth the cost; so relaxing, nice view, kind staff; water could have been hotter but overall experience was amazing; I highly recommend to others and I would like to come again, for sure
Service rating:
Skipper Stu provided outstanding service and tried everything to get me on the fish.

Product rating:
Enjoyed a very relaxing hour and they even provided free parking!! The view was spectacular and the privacy blissful. The complimentary drink and ice cream heavenly.
Service rating:
the team is amazing in finding you the right deal at a special price. Communication was great, they emailed and called me to follow up. Highly recommended :)

Product rating:
You got to experience it yourself to understand why they are the top 10 must-do in Queenstown. pick up and drop off made it super easy. very friendly staff.
Service rating:
Couldn't get a pool on onsen website and thought we would try on here. No worries we got a pool and customer service was great

Product rating:
Reception was great and pool was ready when we arrived. Great view across the valley and service was awesome
Service rating:
Great customer service, we didn't end up using this service as our flight had been cancelled but their customer service was easy to deal with and they refunded me with no issues.

Product rating:
Amazing!!! Thought this might be over rated but was worth every cent! So so relaxing and a perfect view. Great way to end our honey moon in Queenstown!
Service rating:
Excellent experience

Product rating:
Beautiful views luxurious experience
Service rating:
Organized and hassle free booking. Customer service was also good.

Product rating:
Nice view at Onsen Hot Pools, although the time was quite short for the bath.
Service rating:
I really enjoyed hot pool experience, very good service.

Product rating:
I would always include Onsen Hot pool in my Queenstown trip.
Service rating:
I received an ETG voucher from work as a gift and got to use it for some activities during a Queenstown trip. The ETG staff are pleasant and so helpful. The process for booking activities is so easy but staff are happy to help book for you if you need. Would recommend to friends and family :)

Product rating:
Lives up to the hype for sure! So relaxing and beautiful views. The staff are wonderful and the facilities were clean and comfortable.
Service rating:
We loved all the experience. Great service even when there was an operator that cancelled one of our activity which is go orange you have refunded us. Thank you so much. Eliza was awesome!

Product rating:
Love love love it
Service rating:
Fast response

Product rating:
Excellent facilities. Will visit in the day next time
Service rating:
Great service and especially the after sales service when i wanted to change parts of my booking

Product rating:
A fantastic night under the stars sipping wine and enjoying the hot pools
Service rating:
Their service was so good! And facilities also nice. Highly recommends!

Product rating:
That was cheaper than other.
Service rating:
The scenic beauty just nailed the entire Milford sound journey experience for me. Being adventurous myself, I expected the sky diving or bungy jump would ************ back again, but no it's this Milford sound cruise experience for which I can come to NZ any given day.

Product rating:
It was kind of okay experience. I found it but expensive. Going in a pool of hot water isn't worth 90 dollars.
Service rating:
Fantastic! And a great deal plus great service by Everything New Zealand!
Product rating:
Service rating:
Die Outdoor Aktivitäten sind zwar allesamt nicht billig aber ein unglaubliches Erlebnis.

Product rating:
Teuer aber sicher ein einmaliges Erlebnis in atemberaubender Kulisse
Service rating:
It was so easy to liaise with the staff, very quick response and my bookings and their confirmation were done in less than 24 hours! I will use their seevice from now on!

Product rating:
I always go to Onsen everytime I'm in Queenstown. Bery relaxing experience. Thumbs up!
Service rating:
Everything TGroup was extremely helpful in planning our vacation. The guides were very polite and respectful and our satisfaction and safety were always a key concern. The staff was also very responsive in attending to our needs. I would definitely recommend it and will plan on working with them again

Product rating:
must try! amazing experience with a cool view!! the staff are really helpful :) The only suggestion is for them to add shower rooms :)
Service rating:
All bookings were confirmed quickly and when we arrived for each activity they had all of our details so made checking in easy. Everything Travel was an easy way to see all that was on offer in Queenstown so you could then choose your favourites to book.

Product rating:
Perfect way to end a busy day of adventures. Only problem is, you will never want to leave
Service rating:
Everything Queenstown Travel Group has my 10 star rating hands down, so helpful with everything I wanted to do in this beautiful place of the world. I highly recommend this company to anyone visiting Queenstown
Product rating:
Service rating:
It was a wonderful experience, enjoyed by everyone who went. The transport and meeting places were a little confusing in the information but asking some questions at the information desk in Queenstown answered them quickly.

Product rating:
Standard procedure with purchasing.
Service rating:
Friendly and helpful. Everything went smoothly and without any hiccups. Highly recommended!

Product rating:
Lovely view, relaxing experience.
Service rating:
Andres who took us on the safari was the best, he was absolutely amazing and had such attention to detail, and of course great rapport with us. Adrian who took us on the Milford coach was pretty good too, he was funny. Onsen and Milford boat cruise were nice, but of course it was a less personal experience with them.

Product rating:
It was an absolutely fantastic experience. I just think that it was not a full hour as I was timing it myself. Other than that it was beautiful, clean, and I will come again to experience it during the day.
Service rating:
Staff were courteous, discreet and helpful. The whole process including pick up and return after the spa was streamlined and low key - and helped us enjoy ourselves.
Product rating:
Service rating:
I cannot get over the beauty of Queenstown but on seen hot pools was the highlight of my trip and I even did the Milford sound tour. The hot pools were incredible, so beyond relaxing and romantic. Luckily we got a night where the sky's were clear and you could see the stars perfectly, over looking the mountains. We also got the package which included your choice of beverage (alcohol) and snacks... there definitely wasn't enough wine but the view and the hot tub made up for it. Seriously everyone needs to do this!!!! So worth it in every way

Product rating:
I thought it just wrote a review for this, which was very thoughtout but apparently that wasn't for the hot pools.. SO, long story short, onsen hot pools is a MUST in Queenstown, so romantic and relaxing. Nothing short of amazing. You can get a package which includes alcohol but they're very small glasses...but the view of the mountains and the river bed below and then when night hits and the stars come out it is just... I don't even have the words for it. Amazing
Service rating:
The staff member isn't really helpful on booking onsen hot pool for us. They've offered us a tuesday night 8pm and the slot has been taken by others the moment we ve replied. They did offered other time slot as an alternative, however it didn't work out for us. As a result, I've booked another time with onsen directly which I didn't got offered by everything. No extra miles whatsoever.
Product rating:
Service rating:
Great collection of activities and reasonable prices

Product rating:
It was probably too hot, but a pretty awesome experience. The indulgence pack was a bit of a rip off given the candles were fake and just plastic.
Service rating:
Great organisation and easy to book

Product rating:
Love the pools will be back next time
Service rating:
Easy to use.

Product rating:
Thw whole place smells good and the staff were very helpful. It was well worth it.
Service rating:
Great tjanks

Product rating:
So relaxing. Needs some music though :)
Service rating:
Easy to use

Product rating:
Awesome
Service rating:
Good discount.

Product rating:
Fun experience :)
Service rating:
Easy to use and understand

Product rating:
Relaxing, good service, great spot.
Service rating:
great team very helpful

Product rating:
Awesome..have already booked to come back
Service rating:
We received fantastic service when our plans needed to alter. Couldn't have asked for better from the phone team as we applied for a refund on one of our activities and were issued with a voucher straight away, as well as clearly instructed what we needed to do.
Product rating:
Service rating:
Very easy to use, easy to book, received the gift voucher from my in-laws as a birthday present since they are overseas - it was wonderful and there were so many good options at different price points to choose from.

Product rating:
Amazing! my husband and I went to the Onsen hot pools for our anniversary and loved it! The staff was wonderful and even gave us the candle lit room as a free upgrade. Very relaxing, romantic, and enjoyable! Thank you!!!
Service rating:
Excellent

Product rating:
It was a night to remember :)
Service rating:
Belinda was very helpful in all the arrangement for the packages and even helped me at the last minute when I arrived in Queenstown and had my luggage delayed by the airline by shifting around some of the items in the itinerary.

Product rating:
The Hot pool was serene and isolated. once the roof retracted, the stars were amazing and romantic. Pool was of decent size and was warm throughout. 1 hour didn't feel enough. Would recommend to try this at least once in your trip to Queenstown.
Service rating:
Very efficient with bookings. Would definitely recommend.

Product rating:
The pools are great way to relax nothing better than soaking in a pool and looking at shotover river. We enjoyed them so much we went back a second time
Service rating:
Very helpful!

Product rating:
.
Service rating:
Travel group were excellent everything fell into placeand suited all activities were available and suited our needs and time frames

Product rating:
Hot Onsen pools were great overall however at the end when we had to get changed,we felt a bit rushed and felt that we did not have enough time to change and or gather our belongings.
Service rating:
will book someday again!

Product rating:
very nice experience!
Service rating:
Well organised

Product rating:
What an excellent way to spend an hour hot tub and fantastic view.
Service rating:
the young man we spoke to on line here before we left was so helpfull he set up our week in queenstown, spaced our tours so we could fit it all in, had the best time.

Product rating:
so relaxing will recommend it to others
Service rating:
Very easy to use. Was a safe secure transaction.

Product rating:
It was a fantastic place to visiting in the middle of our holiday and just spend some time relaxing. Also good to know that Queenstown has great things for the less adventurous.
Service rating:
Easy registration and communication
Product rating:
Service rating:
Instant feedback, straight bookings, easy procedure.

Product rating:
Very good service, no problems at all, great offer!
Service rating:
Great service

Product rating:
My partner and I truely enjoyed the Hot pools at Onsen. We booked a candle light & indulgance pack. Highly recommeneded, hot spa was clean, views were breathtaking. Staff were very friendly + courtesy pick up & drop off was great! excellent choice for special occasion :)
Service rating:
Excellent, very helpful

Product rating:
Really nice facilities, I thought our pool water was a little bit dirty but an enjoyable relaxing experience
Service rating:
User friendly and extremely helpful. Will not hesitate to use again in the future.

Product rating:
It was not bad, There was a couple in there just before us so the room/floor was all wet and the water was not exactly clean (i.e. there were a few leaves, etc). It's great to do once.
Service rating:
Great website, easily navigated.

Product rating:
Super relaxing and enjoyable.
Service rating:
Your company did not communicate with providers on the spa/winery day, leading to a very uncomfortable situation.
Product rating:
Service rating:
Quick and very easy to use.

Product rating:
Something different and was a fun experience
Service rating:
The service of the booking agent was good

Product rating:
The overall experience was nice, but I was disappointed that the supposed indulgence package offered... a half bottle of wine and the wine was not even New Zealand..and a small bowl of grapes. With the price of the package I would expect that the word indulgence should have that extra level of attention to detail and it definitely came up short.
Service rating:
This service was good & convenient however I would probably book directly with the supplier next time due to late changes with our bookings (due to injury).

Product rating:
The pools were well worth the visit. A great way to end the day. Relaxing, clean, private & great service.
Service rating:
Convenient website to book all activities, ease of use too.
Product rating:
Service rating:
A very easy and hassle free way to book any activity while in Queenstown!

Product rating:
Amazing end to the day. Did the evening session which included candles but found we enjoyed it more when it was light as you could see the amazing views from the tub!
Service rating:
easy and quick to use

Product rating:
fantastic experience - one of the highlights of our trip - excellent facility and great range of experiences - highly recommend
Service rating:
Simple. Reliable. Clear.
Product rating:
Service rating:
Good overall service. Just a little behind on preparing us a spot. Had to wait. Other than that great!!

Product rating:
Good hospitality service... Water was great. The only problem is direction in the form of billboards etc could be implement a little more so tourist be assured of the location. Would recommend this to others.
Everything Travel Group Review
By far the key to this gem is the location. Onsen Hot Pools are perched right on top of Arthurs Point overlooking the Shotover River and a number of mountain ranges. The operation is very professional and facilities are in great condition. There are all sorts of 'add ons' you can select and once in the hot pool you press a button and a huge garage style door opens up and you are half inside and half outside with the most amazing view, hot water and cool crisp air. Would do this again and again, it's great value for money and the perfect pre/post dinner wind down.
Suggestions: There is a button beside the hot pool where you control the bubbles which says "Cold Water NOTE comes from above" make sure you press this very funny! Also they are very busy after 5pm during the WInter as the Ski bunnies come off the mountain, so book in advance if possible.
Value for Money
Wow Factor
Latest Questions about Hot Pools - Onsen (Queenstown)
Hi . A couple of small questions . I booked 3 pools / 12 people . For 2 March .8.30.
Paid the full price and
Now
See there is a Black Friday special .Any way of getting that special ?

And another person would like to come . Is there any way one pool can have 5 people ?
Hi,

I wanted to check what ur cancellation policies were.
I am interested in booking The Original Onsen in end of December for 4 people for sunset at 9pm and wanted to know what ur cancellation or rescheduling policy is, since we are still planning our trip and not sure what we are doing each day yet.

Thank you,
Anie
Comments
HI, IS THE PRICE SHOW ON THE WEBSITE FOR THE ORIGINAL ONSEN ? IF I'M 2 ADULT . IS THE PRICE FOR 1 POOL 2 PERSON? THANKS.
Comments
Hi, we are heading over this weekend and was looking at making a booking, I was hoping for a sunset session so between 9-10pm, are there no sessions at this time?
Comments
Hi, Just asking if online, is there any way to confirm a onsen pool with just me and my wife? As we would like our own space if possible.
Comments
Hi there

Is this deal for original hot pool in onsen?

And we are a family of 2 adults and 3 children (13,11 and 7). Can we still make a booking with this deal? Thanks
Comments
hello, how do I book the charity spa please for any day
for 6,7,8 sept?
Comments
Hi there! What is the best time to book to watch the sun go down in early January?
Comments
Hi guys we are coming to Queenstown mid July and have a session booked at 6.30pm as this was the earliest one left on your website! Will it be completely black by then or will we be able to make out any views, even just slightly?
Comments
Do you have any pools that would accommodate up to 6 adults?
Comments
Hi there
We arrive in Queenstown tomorrow we are a family of 6
Our youngest is 12 are we able to book Onsen pools at all?
If you could please let me know.
Comments
Are towels provided for all experiences
Comments
Hi there, what is the best time to book for the sunset in mid October. Thank you 😊
Comments
We are coming in mid september just want to to best hour to book so get good pictures. We dont want to get dark pictures so asking. Thank you
Comments
Hi! We are a family of 4. I have a 6 yr old and a 4yr old. Could we pls have our 4yr old join us? We wouldn't have anybody to watch over him while we do this activity.
Comments
Hi
We have a family of 5
2 adults and 3 kids aged 9,6,4 can the kids use the spa?
Comments
Hey there just wondering how this works?

If I book in is it definitely confirmed for me and my partner to attend?
Comments
Do all of the pools offer more or less the same view?
Comments
Hi We're travelling in September from Sydney, what's your cancellation policy? Just in case Covid situation change and we can't make it any more, but I want to book in advance as it was an awesome experience when we went to your Onsen 2 years ago. Thanks!
Comments
Hi there . We had been told about your place with a massage as well as the hot tub with a glass of wine . Are you closed Monday, Tuesday and Wednesday as we've just arrived and looked you up and very sad if that's the case :) as leave on Thursday
Thanks Justine
Comments
Hi, will there be transport available to the hot pools 31st 4pm booking or do we need to use our own transport?
Comments
Are your prices per person and how long is it for ?
Comments
Can we book a massage as well as lantern pool this would be for 2 people
Comments
How can we book the evening slots?
Comments
Hi there do you have any deals for the time around 8pm for november 5th.
Comments
What is the best or most popular time of the day in January to visit the Onsen? Does the sun set here? Is sunset time a popular time or it doesn't really make a difference? Thanks a lot!
Comments
May I ask you this location's address?
Comments
Is a child aged 12 and above classed as an adult payer?
Thanks
Comments
Hi I'm in town until monad afternoon, is there any openings available
Comments
Is the hot tub private or is there someone keeping an eye on ur the time ur in the tub?
Comments
If I book an 8pm slot and the shuttle only comes every hour, does that mean I need to be at the pick up location by 7pm? Or is there a shuttle departure for 730pm?
Comments
Hello
Are towels provided or do we need to bring our own?
Comments
Dear staff,

we are taking our 2yo to Queenstown and really want to check out Onsen hot pool. Do you have child minding there? We are happy to pay for it during the spa/pool time. Thank you. Colleen
Comments
Hi there, would the landscape scenery be visible at all at night? also, if we did the candlelit option, do you think this would make the night sky and scenery any less visible? Thank you :)
Comments
Can the temperature be adjusted below 100F in the hot pools?
Thank you
Comments
Hi Can you please advise if we can do the indulgence package but with candles and make it for around 8 or 9 pm? It would be for our last night in Queenstown on 4 January. If so I will book with you. Please advise thank you
Comments
Hi. Can you bring your own wine / drinks to the spa?
Thanks
Comments
Hi there my fiance and I are coming to queenstown next weekend 13th of June and would love to come to the hot pools on the Saturday at night time are all the pools private? ans is one hour sufficient ? as we were looking at around 9pm? as we wouild like to include a couple packages too :) we are staying at scenic suites can we get the courtesy coach to and from ?
Comments
Hi there,
We are travelling to Queenstown in December. Would like to try the Night time pool. Which timing should we be looking at? Is it possible to select the night time without the candlelight option?
Comments
Hi, just wondering up to what age is considered child?
Comments
Hi will this be available between 13th-18th of November?
Comments
my self and 2 mates are going to queenstown from 10th september, at this time of year how far in advance to book a spa?
Comments
hi gus can u combine 2 options in one visit ...candle light and indulgence ???
Comments
Gidday i would like to book in for two adults with the indulgence pack for 105.00 if we bring our one year old is she free? thank you
Comments
I was thinking of getting this for my partner,daughter(8years) and I. I was wondering I'm thinking of getting the indulgence pack for my partner and I. Am I able to get something for my daughter like a pamper pack??? But for one not two??
Comments
During the night time, if a candle light package is not booked, what kind of lighting should we expect. Can the lights be dimmed?

Thank you


Comments
Is it possible to book a pool for 2 hours instead of one please?
Comments
how much is the candlelight package deal?
Comments
If we stay in Pinewood Lodge, do you provide shuttle service between Pinewood Lodge and Hot Pools?
Comments
Like to book late afternoon just before dark what time would you recommend
Comments
Hi would 2 adults and 3 children fit in a pool
Comments
Is the absoloute maximum 4 adults per tub? We have 5 and would prefer not to have to split up because of one to many.
Comments
me and my wife would love to do it after the jet boating. according to your experience,would one hour be enough? or we need two hours? I guess the changing and shower time included in the time as well,
Comments
A simple question. Is wearing bathing suits optional, as I take it these are private pools.
Comments
Can you please tell me how much the candlelight package is please
Comments
Do you accept American Express payments online bookings? I couldn't do it??
Comments


rating
93% of new customers that used Everything New Zealand to provide advice and securely book their NZ activities have let us know they've had a good or excellent experience with us. Thank you.