Easy to book - Secure Online Payments - Instant email confirmation - Flexible to make changes
Milford Sound Coach & Cruise - Real Journeys Milford Sound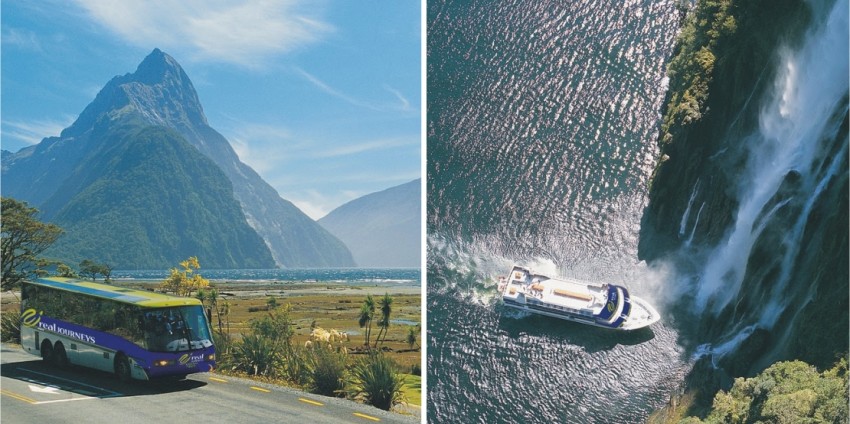 from NZD$180.00
Milford Sound Coach & Cruise - Real Journeys
Description
One of New Zealand's most awe-inspiring natural wonders, Milford Sound is a sight to behold. The mountains surrounding the fiord are the tallest and rise the most imposingly out of the sea in all of Fiordland. Dense rainforest grows over precipitous cliff faces and torrential waterfalls hurtle hundreds of metres into the ocean.
Coach transfers on luxury vehicles are available from Queenstown and Te Anau, and all cruises to Milford ply the fiord's entire length.
The Coach trip
Drive down the spectacular Milford Road, situated between Te Anau and Milford, one of the world's most scenic alpine drives. The varied and beautiful scenery is unlike anywhere else in the world, ranging from luxuriant rainforest, soaring mountains and verdant plains to icy glacial lakes and fields flourishing with alpine herbs. It is the only road in all of Fiordland that provides such incredible insight into the alpine region of New Zealand.
All the luxury coaches have been specially designed for plying Milford Road and utilise cutting edge technology to provide the highest levels of safety and comfort. All seats are placed at angles and arranged in tiers to enable passengers to have the best possible views of the scenery outside, and a wide glass roof allows easy access to views of snow-capped mountain peaks.
All drivers are knowledgeable and experienced, and a well-designed itinerary means you'll have ample time to take short walks out in nature and capture photographs along the way.
Nature Cruise
A leisurely Scenic Cruise or Nature Cruise is one of the most enjoyable ways to experience Milford Sound.
Guides who specialise in nature commentary will accompany you as you examine the luxuriant rainforest, precipitous rock walls and diverse wildlife. During the cruise, your guides will regale you with stories on the history of the fiord and answer any queries.
Real Journeys Nature Cruises run on a relaxed schedule that gives you lots of time to soak in the scenery and stop to take in points of interest. The boat might take you so near the waterfalls that the foredeck gets drenched, or float calmly while passengers try to spot seals, penguins and dolphins.
Trip Includes
Duration
13 hours from Queenstown
7 hours from Te Anau
Departures
7.30am from Queenstown (6.45am in winter)
10.30am from Te Anau (9.45am in winter)
Pick up from your Queenstown or Te Anau accommodation
Operates daily all year
Other Information
Luxury coaches equiped with toilets, angled seating & glass roof for superior viewing
Picnic lunch is attractively presented in individual boxes containing: ham, egg, tomato, lettuce, cheese sandwich, cheese & crackers, fruit, sweet pastry, dried fruit, muesli bar, juice
Purpose built, all weather vessels offer superior comfort & personalised service
Lunch must be booked in advance or you can bring your own
Complimentary tea & coffee
Children under 5 are free
Milford Sound is located 4.5hrs drive from Queenstown and 2.5hrs from Te Anau. If you would prefer to drive yourself to Milford Sound then you can book the Cruise only
Ask us about the Real Journeys 20% Multi Purchase Discount off selected Real Journeys products
Adult:
from Queenstown NZD$199.00
from Te Anau NZD$180.00
Child (5-14yrs):
from Queenstown NZD$100.00
from Te Anau NZD$90.00
Genuine Customer Reviews powered by
Service rating: excellent
Took the bus from Queenstown and the bus driver was friendly and helpful and the tour of Milford Sound was breathtaking! The boat was nice, the lunch was great and the entire trip was unforgettable!

Product rating: excellent
Loved it! It was amazing!
Service rating: excellent
I made this booking from Brisbane and found the website easy to use and full of information. I was well looked after by Alex who was very friendly and helpful. I felt confident that everything would be organized when we arrived and it was.

Product rating: excellent
It was a rainy day, but the coach was very comfortable and had great visibility. Driver's commentary most informative. Boat trip well organized and allowed time to see everything, plus good info. Everyone very friendly. Most enjoyable!
Service rating: good
The website can give a more detailed explanation as to the activities in the package involved. The live chat with Everything Travel Grp helps a lot

Product rating: good
The driver was knowledgeable and told us quick facts along the journey which is greatly appreciated.
Service rating: excellent
Helpful support to answer my enquiry, and I have made some changes of my booking with very quick response and action.

Product rating:
Have not joined it finally
Latest Questions about Milford Sound Coach & Cruise - Real Journeys (Milford Sound)
is this a return trip to queenstown?
Is it possible to book only the cruise, as we are staying in Milford Sound and plan on booking the Morning Glory kayaking and then would like to also book a book cruise (same day as the kayaking - please advise?)
Comments
Hi, is there an optional international buffet lunch to choose during the cruis?
Comments
We are staying in Te Anau on Friday night 11th April after completing the Kepler Track. We would like to go to Milford Sound on Saturday 12th April and do the boat trip and then go back to Queenstown on the Saturday night afterwards. Is this possible? We would need to take our bags with us from Te Anau or be able to pick them up on our way through to Queenstown.
Comments
What time does the coach return to Queenstown, please? There's a reference to it being a 13 hour trip - so I'm assuming it's sometime between 8 and 9pm?

Thanks, John.
Comments
Is there multi-lingual commentary on the tour? Thank you.
Comments
Hi. We are coming to Queenstown on the 21st August (Tuesday) and leaving on the Sunday.We are very intrested in doing the Milford Sound Coach & Cruise Tour. Im not sure which day is best to book and how far in advance we should book. What would you recommend? Just to confirm we will be picked up in queenstown at 7am and then be back in Queenstown at 7pm. Where do we meet to be picked up?
Comments
Hi, with the special, what is the lunch provided? Is it the picnic,obento or buffet? THANKS!
Comments
Hi,

The coach tour says it is a duration of 13 hours from Queenstown. Does that mean transfer from Queenstown and back to Queenstown? We are there for a holiday from 05 Feb and would perhaps like to do this but of course have to get back to Queenstown again that night?

Thank you
Comments

rating
92% of new customers that used Everything New Zealand to provide advice and securely book their NZ activities have let us know they've had a good or excellent experience with us. Thank you.