Hot Pools - Onsen Charity Outdoor Hot Pool Queenstown
76% off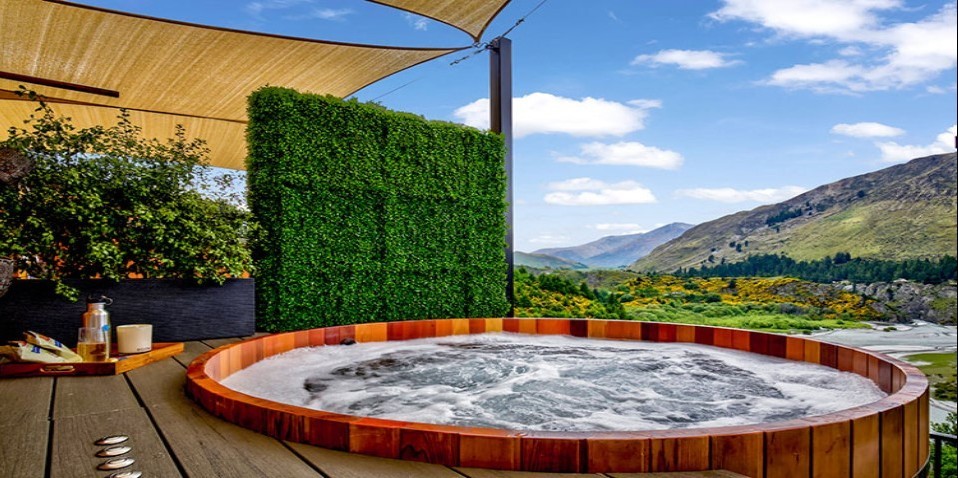 Onsen Charity Outdoor Hot Pools Queenstown
Highlights
60 minute relaxing soak in an outdoor hot pool for 1 - 4 adults
Earth minerals to natural detoxify and relax any muscle tension
100% of the $50 pool cost will be given to a Queenstown charity of choice for that month
Charity Pools spaces are opened up every Monday for the following Mon-Sun
Description
Onsen Hot Pools are a "must do" when visiting Queenstown. With so many energetic activities in Queenstown the Onsen Hot Pools are the perfect way to soothe weary muscles the day after a long day of skiing or hiking, or if you just want a start your day right with a relaxing experience overlooking the Shotover River.
The Outdoor Onsens are the newest addition to the facility, and in conjunction with Onsen and Everything Travel Group a very special once a day Charity Hot Pool. As part of Onsen pool's 'Pool for Charity' Initiative 100% of the $50 pool cost will be given to a Queenstown charity of choice for that month, which will be advertised on Onsen Hot Pools Facebook Page.

The cedar lined hot tubs are exclusive mineral pools with beautiful planting providing you with partial seclusion from the surrounding hot pools and bathers. The pools are infused with Earth minerals, rich in magnesium which help to naturally detoxify your body and mind, providing you with natural relief from muscle aches and pains. The crystal clear waters will also help to moisturise and hydrate your skin. The pools are heated to around 38.3 degrees Celsius and are perfect for couples, groups of up to 4 people and solo bathers.
Enjoy your 60 minute soak knowing you are making a donation of $50 to a Queenstown Charity chosen for that month - so sit back, relax and soak in your surrounds as you relax into your mineral infused hot tub.
Includes
1-hour outdoor mineral spa with stunning views at 8.30am for up to 4 people.
$50 pool cost as a donate to a Queenstown Charity
Complete with an towels and drinking water
Duration
Allow 1 hour 15 minutes (includes a 1-hour spa & check in)
Departures
Pool time 8.30am (finish 9.30am)
Please check into Onsen Hot Pools - 160 Arthurs Point Road at 8.15am
Operates daily all year (excluding 25th Dec, 26th Dec, 1st Jan)
Other Information
Charity Pools spaces are opened up every Monday for the following Mon-Sun
Queenstown's only publicly available hot pools
Always clean, pure alpine water
Pools continually refreshed with new water
Includes shower & changing area
Please bring your own togs
Outdoor hot pools are covered by a shade sail to protect from the elements.
Charity pools are self-drive check in only
Open 7 days a week – 8.30am daily Charity Pool.
Peaceful & natural surroundings with amazing views
Up to 4 adults can fit comfortably in each spa, ideal for individuals, couples or families
Child rates apply 5-11yrs (must be accompanied by an adult)
Children under 5 years of age are not permitted in the pools at any time. Kids aged 5-11 are not permitted in the pools after 5 pm
In conjunction with Onsen and Everything Travel Group - 100% of the $50 pool cost will be given to a local charity of choice for that month (displayed on Onsens Facebook page)
Charity Pools spaces are opened up every Monday for the following Mon-Sun. If the Onsen charity pool has SOLD OUT and you would still like to book a hot pool at a discounted rate then click the links below.
*** PLEASE NOTE - In November & December 2020, bookings commence between 8:30 am and 10:30 am dependent on the day and confirmed upon booking***
Normal Retail Price
Daytime Pool (up to 4 adults): NZD$212.00
All prices shown in NZD$.
Genuine Customer Reviews powered by
Service rating:
The service and the pool experience was just awesome

Product rating:
awesome experience. Two Thumbs Up
Service rating:
Great value! Onsen hot pools was amazing!

Product rating:
Charity hot pool purchase was great value! Had an amazing hour with beautiful vista!
Latest Questions about Hot Pools - Onsen Charity Outdoor Hot Pool (Queenstown)
Does this include free pick up from Lakefront Apartments?
Comments

rating
94% of new customers that used Everything New Zealand to provide advice and securely book their NZ activities have let us know they've had a good or excellent experience with us. Thank you.