Jet boat - KJet Queenstown
56% off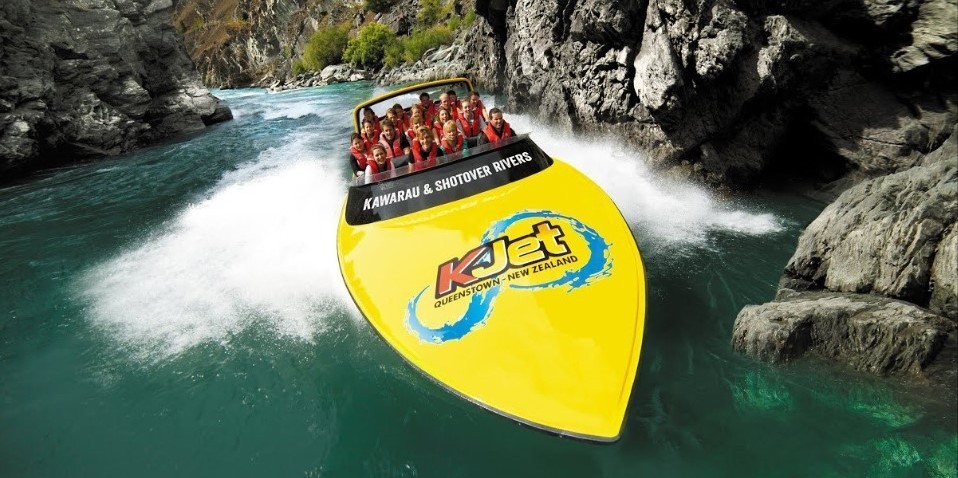 K Jet Queenstown
Description
Behold the mighty roar of the enormous engines as the distinctive 'big yellow' KJet boat races out of scenic Queenstown Bay, does many exhilarating 360 degree spins and then zips across the serene waters of Lake Wakatipu, taking you on an adventure across two of the most beautiful and wildest rivers in New Zealand. Make a journey of about 45 kilometres on a trip that lasts an hour. Your first stop will be the confluence of the Kawarau River, where you can marvel at the incredible mountain peaks, impressive alpine scenery as well as the elaborate lakeside properties of Queenstown's rich and famous costing millions of dollars.
After navigating the thrilling rapids beneath the bridge, charge down the Kawarau River at speeds of up to 95 kilometres per hour, swerving to avoid little islets and embankments laden with willow trees, before racing at top speed into the Shotover River's swiftly moving braids. Catch glimpses of glittering sand cliffs as the boat negotiates translucent water that is so shallow it measures less than 5cm in depth in parts. Grip the handrails with white-knuckled hands as the boat narrowly misses sandbanks and cruel rock faces, launching into a 360 degree spin that sends adrenalin levels through the roof.
The KJet has been in operation for over 60 years and is Queenstown's original jet boat. The ride offers not only thrills and spills but also a deep insight into present knowledge of the Shotover River, once known for being rich in gold deposits, as well as the natural environment of the Southern Alps. On your way back to Queenstown's Main Town Pier, experience the excitement of negotiating rough waves, swerving around mark points and being launched into a thrilling 360 degree spin.
Add the Time Tripper onto your jet boat ride to experience a 15 minute animated show, exploring how giant glaciers formed Lake Wakatipu then head to the underwater observatory to see the diving ducks, eels and trout the life beneath the surface.
Trip Includes
1 hour of Jetboating on the Shotover & Kawarau River
Duration
Departures
Every hour on the hour, 365 days a year, 8 am till dusk (winter 10 am till dusk)
Departs from Main Town Pier at the bottom of the Queenstown Mall
Operates daily all year
Other Information
Check out KJet's newest attraction the Time Tripper a 15 minute animated movie & underwater observatory
Minimum age is 2 years old
Children 2 - 4 years old travel for free
Wear a warm jacket or fleece, casual footwear, sunglasses & sunscreen
Bring your camera
We can look after your bags
Spray jackets are provided as well as beanies & gloves in winter months
In compliance with Government Public Health Requirements, most operators may require Covid 19 Vaccination Pass / Or a negative Covid 19 test result. Please note, if you are not able to satisfy the requirements of the operator, the booking will be subject to the operator's cancellation terms & conditions.
Normal Retail Price
(Pre-Covid Border Closure Prices. Discounts shown from this rate)
KJet (60 min):

Adult (15yrs+) NZD$135.00
Child (5-14yrs) NZD$69.00
Family (2ad+2ch) NZD$408.00
All prices shown in NZD$.
Genuine Customer Reviews powered by
Service rating:
Booking was easy, staff were friendly and the jetboat driver was great at telling us all about the area we visited & stopped a few times on the trip to show us features of the area.

Product rating:
Easy to book and pay. Would do again
Service rating:
Just have good time.👍

Product rating:
Just have good time with this.
Service rating:
Customer service was great, they were very friendly and instructive. The boat ride was lots of fun, lots of laughs and a short back ground of part of the area. Thanks kjet for the ride.

Product rating:
Was fast and easy for online bookings. Very straightforward and easy to follow.
Service rating:
Great trip, awesome driver who took the time to explain things and was always in control of the boat.

Product rating:
Awesome trip, loved every minute of it. Very capable and knowledgeable driver, felt safe but still exciting enough!
Service rating:
It was a great ride with K jet - right from the waterfront and a full hour with two rivers. Probably 15 x 360s & even one 720

Product rating:
Great fun - great value
Service rating:
Easy to use with quick confirmation

Product rating:
Great drivers, experience was great, value for money
Service rating:
It was an awesome Jet boat ride and quite informative as well. Interesting to learn about the bridge etc

Product rating:
It was great and very informative
Service rating:
Everything is very easy with the booked e-vouchers. Friendly and knowledgeble staff. Somehow, there is a good vibe that safety is their priority. Overall, great fun with their team. Thank you very much!

Product rating:
We had fun. 360 shot was thrillingly good.
Service rating:
Great service

Product rating:
Great people great ride very pleasant
Service rating:
Had an online issue - resolved quickly and professionally!

Product rating:
Great skills and scenery!
Service rating:
I would like to thankss soo much to you, bcoz all my activity plan purchase thru you, goes as smooth as planned. Your fast response to my email is much appreciated.

Product rating:
Good experience, good guide & friendly staff!
Service rating:
Great website easy to find what your looking for and helps save a bit of money will definitely use again

Product rating:
First time ever on a boat we got soaked but that's because we chose not to use the splash jackets and getting wet didn't bother us all part of the fun. Driver was very knowledgeable the spins were incredible as was the views and definitely worth the getting up early and the money would do it all again !
Service rating:
A special mention to Callum for helping me book the nevis swing last minutes. Very helpful, thank you

Product rating:
Good fun and good experience
Service rating:
Very easy booking.

Product rating:
Great crew. Didn't enjoy the ride so much..
Service rating:
Great service and flexibility from Callum and Belinda

Product rating:
They cancelled my boat trip twice due to lack of numbers. The first time was at 5pm on Thursday 22 Oct, and they told me to come back 9 am the next morning. Got there and they told me that that trip was cancelled too. Got a cash refund and went with another provider. Totally unreliable and so it is pointless to book ahead.
Service rating:
Very effcient friendly and accommodating as had to change around bookings.Very polite and couteous.

Product rating:
well organised on time and driver was friendly and made everything feel safe and enjoyable
Service rating:
Very accommodating

Product rating:
Expensive for what you got
Service rating:
Awesome...everything delivered as promised and more. Thanks all.

Product rating:
Thanks Jack! The best and so much fun. Laughing so hard i nearly fell out of the boat.
Service rating:
The service was really good

Product rating:
Staff are well trained and it was very excited to join the jet boat.
Service rating:
The arrangement was fast and efficient but maybe it was early morning and the staff were not smiling. Anyways, it is a small thing and the preparation and boarding went smoothly.

Product rating:
Our captain was excellent and engaging, yet sensitive to the needs of those on board, such as children and elderly. You will have a fantastic ride and be prepared to get wet!
Service rating:
Easy and friendly staff

Product rating:
Heaps of fun
Need to be told to wear ski goggles, ski gloves, beanie and scarf
Service rating:
Very efficient with bookings. Would definitely recommend.

Product rating:
Great ride doing both rivers, good spins and racing in the shallow waters. Friendly staff and a great family adventure.
Service rating:
Why are you sending this survey now? It was January 2014 that I used your services.

Product rating:
Why are you sending this survey now? It was January 2014 that I used your services.
Service rating:
Great service

Product rating:
Enjoyed ever moment, great fun for the whole family
Service rating:
Thanks for a wonderful experience and for keeping the photos on the site for us to download. Good initiative.

Product rating:
I happened to book the special offer option which was cheaper. It was a fantastic experience except the photos were a tad too expensive.
Service rating:
Everything we booked was great.

Product rating:
Experience was great, just as advertised.
Service rating:
Website was very easy, and a team member even took the time to email me to make sure our schedule of activities would work smoothly.

Product rating:
On the website it shows the boat going through canyons, but we didn't actually do that, which was kind of a bummer.
Service rating:
Good communications via text and email following booking

Product rating:
Great ride
Service rating:
Great

Product rating:
Great, thanks.
Service rating:
Bookings online were easy, with prompt receipt of tour vouchure.

Product rating:
Excellent experience - great driver - he provided valuable information about the trip. The heated hand rail was appreciated!
Service rating:
yous were excellent and sent emails back straight away when i needed them thanks

Product rating:
it was amazing, me and my partner had so much fun . difinately something to remember. will be doing it again sometime!
Service rating:
Was easy to book the tickets

Product rating:
Was fun. Not as exciting as it sounds
Service rating:
Very good. Prompt response and helpful when I phoned in when concerned about the weather forecast.
Product rating:
Service rating:
Very good responsiveness to online bookings and confirmations

Product rating:
Excellent and novel experience, superbly conducted
Service rating:
Excellent service, Very helpful, able to answer our questions
Product rating:
Service rating:
Easy fast service, recommended

Product rating:
Brilliant fun!! Great driver ... just loved it! Thank you so much for the best time .. will be coming back to do it again!
Latest Questions about Jet boat - KJet (Queenstown)
is there a minimum height for passengers?
Comments
Hi do you actually go into the shotover gorge?I thought there was only one company that could?
Comments
What is the minimum age to take child on this?
Comments
I would like to book the early bird special for Saturday 23 May 10am but need to know what time will the tour end so that I can plan my afternoon for that day. We are a family of 4 adults
Comments
Hi we will be arriving queenstown around 10am from te anau and had booked Walter peak farm tour at 2pm. Will we be able to go for the jet boat and on time for the farm tour?
Comments
hello, I have a 4 yar old....can we she do the jet boat? is there any adventure activity she can do? thanks for your help.
Comments
I will be 4 months pregnant. Can I go on the Shotover Jet?
Comments
Hi Guys

Myself and my familly )wife son and daughter) will be travelling to Quneestown at the end of September and were keen to take your trip, As my daughter is now older than 15 was wondering if there is anything you can offer for 3adults and one child
Comments
We want to go on the early bird speacial would like to book four pax ,we will be at the Novotel is there a pick up?, if so at what time.?
Or we can drive to location ..how far is it from QT ?
Comments
Hey I was just wondering what's the difference between an early bird and the normal one??? I know it's cheaper,but what's the difference
Comments
Our boy will be 1yr and 9 months in November, will he be able to go on Jetboat with us. Looking at booking on 23rd
Comments
Hiya, looking at booking this in for july for me and my boyfriend, was wondering as you have said you can look after bags, if 2 decent sized suitcases would be ok ?? :S !
Thank you!
Comments

rating
94% of new customers that used Everything New Zealand to provide advice and securely book their NZ activities have let us know they've had a good or excellent experience with us. Thank you.