Easy to book - Secure Online Payments - Instant email confirmation - Flexible to make changes
Skydiving Kiwis - Ashburton Christchurch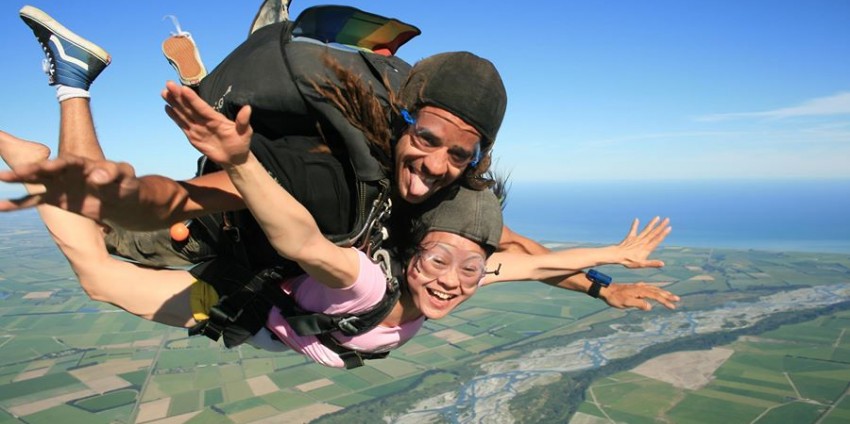 from NZD$235.00
Skydiving Kiwis - Ashburton
Quick Facts
Located in Ashburton (transfers available from Christchurch)
Max weight for skydiving is 100kgs (220lbs)
Photos & video available for puchase on the day
Weather dependent activity so book for one of your first days in the area
Full refund given if your skydive is cancelled due to bad weather
Description
Tandem skydive with Skydiving Kiwis
Tick skydiving off your bucket list with Skydiving Kiwis, a boutique "kiwi" skydiving operation based out of Ashburton Airport. With transfers available from Christchurch, Skydiving Kiwis is accessible to all of the Canterbury region.
Recognised as the #1 spot in Canterbury to do your tandem skydive, Skydiving Kiwis is nestled in the heart of the stunning Canterbury Plains. Experience that rush of freefalling as you reach speeds of up to 200kph and enjoy a scenic plane ride to altitude to really appreciate the vastness and beauty of the breath-taking Canterbury Plains.
At Skydiving Kiwis you are recognised as part of our New Zealand Skydiving family. We are proud to offer you a true personal 'Kiwi' experience and look forward to welcoming you to our piece of paradise so you can create a memory for a lifetime. Photo and/or video options for your skydive are available to purchase on the day so you can relive the joy with your family and friends as often as you like.
Forget the old adage 'kiwis can't fly' because here in the beautiful South Island kiwis are flying and we think you should join in the fun! So, what are you waiting for? Come and join us!
Trip Includes
Optional return transfers from central Christchurch
Tandem skydive from 6000ft, 9000ft or 12,000ft
Skydiving hat, goggles, jumpsuit & specially designed harness provided
Duration
Allow 5 hours including return transfers from Christchurch
Allow 2 hours if meeting at Ashburton dropzone
Departures
Hourly from 8am in summer (10am in winter)
Departs Mobil Station, cnr Lincoln Rd & Moorhouse Ave, Christchurch or meet at Skydiving Kiwis drop zone Hangar 3, Ashburton Airport, Seafield Road, Ashburton
Operates daily all year
Other Information
Ashburton is located 60 minutes drive from Christchurch
There is no age limit but passengers under the age of 18 will need the written consent of a parent or guardian
Max weight is 100kgs
A jumpsuit, hat, goggles & specially designed harness will be provided but passengers need to wear secure, comfortable footwear
DVD & photos package available for purchase on the day. $150 for photos, $175 for video or $199 for video and photos
Sykydiving is a weather dependent so we recommend booking for one of your first days in the area so that you can reschedule if necessary
6,000ft Skydive:
from Ashburton NZD$235.00
from Christchurch NZD$255.00
9,000ft Skydive:
from Ashburton NZD$285.00
from Christchurch NZD$305.00
12,000ft Skydive:
from Ashburton NZD$335.00
from Christchurch NZD$355.00
Latest Questions about Skydiving Kiwis - Ashburton (Christchurch)
can I pay online but leave the date open so that my son can choose the date himself?
Comments
High I am wanting to buy my son a sky dive ticket from ChChfor his birthday- I was wondering if I could get a voucher - that way he can decide if he wanted to do something different?
Comments
Hey there,
Do you guys do gift vouchers for sky dives?
Comments

rating
88% of new customers that used Everything New Zealand to provide advice and securely book their NZ activities have let us know they've had a good or excellent experience with us. Thank you.