Easy to book - Secure Online Payments - Instant email confirmation - Flexible to make changes
Skydiving - Nzone Skydive Queenstown
Highly Recommended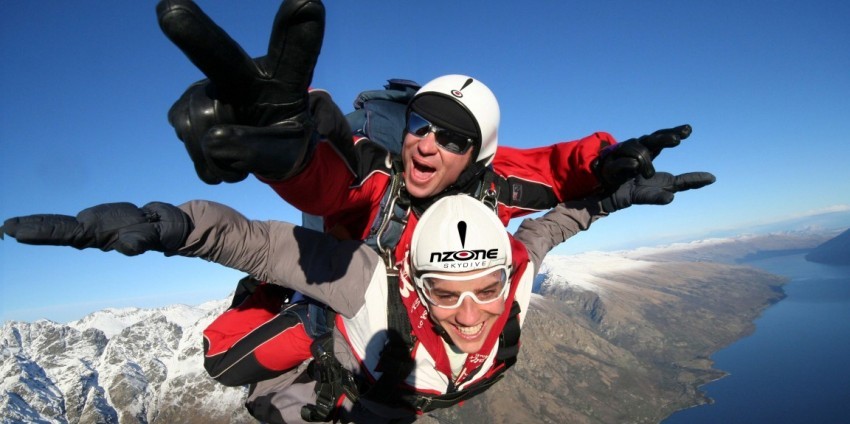 from NZD$299.00
Tandem Skydive with Nzone in Queenstown
Description
Queenstown, New Zealand is arguably the world's skydiving capital, and Nzone is our preferred skydiving operator, so you can be sure you're in for the experience of a lifetime—if you dare to take the plunge. The only factor that can possibly prevent you from skydiving is the fear in your mind holding you captive. Instead of trying to conquer that fear, embrace it and completely give yourself up to the exhilaration and the otherworldly experience offered by skydiving.
Freefall from up to 15,000ft and then parachute safely to the ground on a tandem skydive that will see you plummeting towards the stunning scenery surrounding Queenstown, one of New Zealand's favourite skydiving destinations and home to some of the most unbelievably breathtaking scenery the world has ever seen.
On a tandem skydive with Nzone, you'll be well taken care of as you emerge from the plane harnessed to an experienced and qualified Nzone skydive jumpmaster using the most advanced and reliable technology and materials available. Feel a final frisson of fear as you leap from the aircraft and freefall for a crazy 60 seconds or so at a shocking 200 kilometre per hour terminal velocity. Your jumpmaster can be fully relied upon to deploy your reinforced tandem canopy, on which the direction of your skydive depends, with skill and precision.
Trip Includes
Watch the pre skydive information video, helps explain those questions you will want answers to prior to your jump
Return transfers from central Queenstown to drop zone 15 mins from Queenstown
Tandem skydive from 15,000ft, 12,000ft or 9000ft
Duration
Allow 3.5hrs (including return Queenstown transfers)
Departures
Half hourly from 7.00am in Winter (May-Oct) & 6:00am in Summer (Nov-Apr)
Departs from Skydive shop on Shotover street in central Queenstown
Operates daily all year
Other Information
No age limit, under 18 years must have written consent from a parent or guardian
No child rates
Max weight is 100kgs (strictly enforced)
DVD & photos package available for purchase on the day only. Photos (20 printed images) cost $189, USB video is $189 or purchase both the photos and video for $239
Weather dependent so we recommend booking for one of your first days in Queenstown so that you can reschedule if necessary
Upgrade this activity to one of the following combos:
9,000ft Skydive: NZD$299.00
12,000ft Skydive: NZD$349.00
15,000ft Skydive: NZD$449.00
Genuine Customer Reviews powered by
Service rating: excellent
I will never forget this precious memory with you guys。you are professional and took care of us all。thx a lot。

Product rating: excellent
absolutely wonderful amazing experience
Service rating: excellent
easy to book and very responsive to queries and requests

Product rating: good
efficient and fast but lack of personal touch
Service rating: excellent
Awesome!
Service rating: excellent
Everything was awesome. Most mind-blowing rxperience of my life. 😁👍🏼👍🏼👍🏼

Product rating: excellent
Craziest thing ive ever did in my life. Just crazy! 🤘🏼💀
Everything Travel Group Review
Um.......... WOW! What else can I say?? This is simply the best 'legal' thing you can ever do! Skydiving is on everyone's bucket list and what better place than Queenstown to cross it off the list??
Awesome location, awesome crew, awesome memories. Thanks Nzone, you guys are the best in the business.
Value for Money
Thrill Factor
Wow Factor
Fun Factor
Latest Questions about Skydiving - Nzone Skydive (Queenstown)
Hi, we will be driving to the NZone skydive shop for our skydiving activity. May I know if we will be landing in the same area or will there be transport back to the shop where we parked our car?
Comments
Hi, I was wondering what does price include? Does it come with video and photos or is it separate. Kindly replay
Comments
Hello!

Good day to you.

Are there any female skydivers?
Comments
Hi, we were looking to book for skydiving but was wondering how long does the whole trip take starting from the shop in Queenstown till the end? Thanks.
Comments
do you do vouchers? we are coming over from Australia next year just don't know when and this will be a birthday present for someone
Comments
Can I get the refund back if I fall sick after I pre-book and paid for the sky diving?
Comments
can i wear my glasses when doing it?
Comments
Can I skydive in the winter as well?
Isn't it too cold to do it?
How's the temperature in the sky?
Comments
Hi There, I will be visiting Queentown the second week of January 2015 and wondered if I needed to pre book my sky dive? Thanks Jackie
Comments
Hi..
If my girl friend and I dive together, and we consider to take also the photo and video.. How much is the charges for the photo and video?? Charge as a set or per person??
Comments
Hi,
I am visiting Queenstown from 21st-24thMay...
Does skydiving get cancelled often during this season due to weather conditions?
Comments
hi what are the prices with videos and images included
Comments
Hi Would like to look at booking a skydive for my husband for his 40th birthday, we will be in Queenstown from Aussie around the 15th march 2014, the only thing is he might be around 105kg and 6ft4ins is that going to be ok?
Comments
Hi all,

Please can you let me know what the latest departure you do each day? Looking to go on a combo package which gets back to Queenstown at 13:00 - can we skydive straight after this?

Many thanks

Simon.
Comments
Would I be able to skydive wearing my prescription glasses? thanks
Comments
Just wanted to know if you sky dive around end of June as it will be the snowfall period.
Comments
hii!! are the adventure activities open in mid april??
Comments
I am wondering about the importance of the weight restriction. I am very close to 100kgs and am wondering if it is still safe to participate for someone very close to the weight limit. Thanks and please let me know.
Comments
Hello, i will be 25 weeks pregnant when looking to do it. do you allow pregnant people and is it safe to do when pregnant?
i'm thinking maybe not but thought i'd ask since all my friends are doing when in queenstown.
Comments
How many people have you lost?
Comments
my wife and i are planning to skydive in feb, but she insists on a female instructor with her when she jumps. just wondering if its a possibility
Comments
Can I take my own go pro?
Comments
Hi I was just wandering what the free fall time is for 9000ft and 12000ft? I want to go this week. Thanks!
Comments
Comments
If I want to book a 12000ft jump and my friend books a 15000ft jump on the same time and day would we go up in the same plane?
Comments
Approximately how many photos are taken on the jump? I done one before where we got about 100 photos from the instructions wrist camera and about 100 of my own (had camera on bungy cord attached to jump suit). Is the camera set to 3 second bursts or anything?
Comments
Can i bring my own camera for photos? does someone jump out of the plane to take pics or is it on the instructors wrist?
Comments
We are holidaying in New Zealand early september. Wouldyou recommened skydiving at this time of year??

Regards
Jessie
Comments
Do you get photos or a Dvd with these jumps??
Comments
we are palnning a trip to NZ and want to sky dive. one person in our group weighs 226lbs and i see the cut off is 220lbs. will we be weighed before the trip? would a few pounds over matter?
Comments
are spectators allowed at the landing spot to watch you come down from the sky dive?
Comments
My son and I plan on being in Queenstown in late July. Know it is cold there and wondered if you provide the appropriate clothing/gear so we don't freeze to death. Looking forward to our first skydive...
Comments
Are there options on the 15000 feet not to do tandem ?
Comments
I AM SCARED OF HEIGHTS, BUT I LIKE THE IDEA OF THE TANDEM JUMP. I JUST NEED PERSUADING !!! (I MIGHT SEE YOU IN OCTOBER !)
Comments
Hi, im wondering if there is there a spectators fee?
Comments
What is the maximum weight you will accept for a sky dive? Would 110kg be OK?
Comments
Are the photos and DVD included in the price of the skydive? If not how much are they?
Comments
Hi! Is skydiving available all year round? Am planning to visit in May.
Comments
hey i was wondering how much was the dvd and photo combo be????
Comments
Would you happen to have a lighter instructor or something for my fat arse boyfriend who weighs in at 110kg??
Comments
How long is the free fall for the 9000ft and 15000 ft Nzone Skydives?
Comments

rating
96% of new customers that used Everything New Zealand to provide advice and securely book their NZ activities have let us know they've had a good or excellent experience with us. Thank you.