Easy to book - Secure Online Payments - Instant email confirmation - Flexible to make changes
Te Anau Glow Worm Caves Te Anau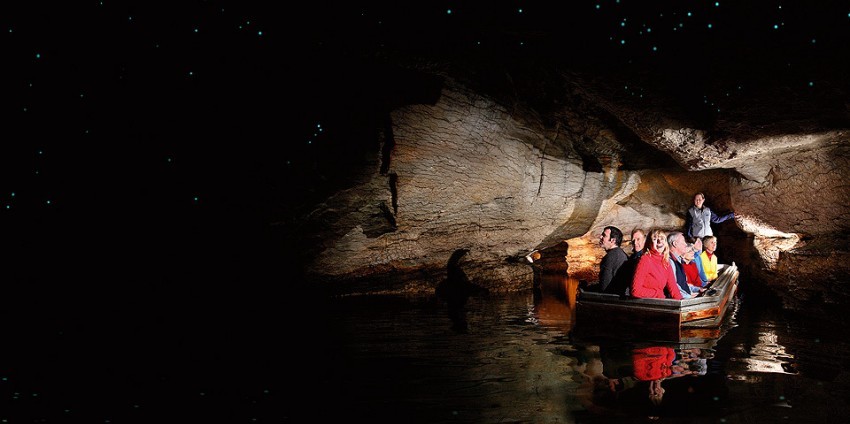 from NZD$83.00
Glow Worm Cave Tours in Te Anau
Description
Sequestered underneath the mighty mountains on the shores of Lake Te Anau are intricate networks of underground caves, glowing with the light of an amazing number of glow worms.
Sydney Morning Herald has dubbed a glow worm cave visit as one of the most unusual limestone cave experiences ever.
Your adventure begins with a cruise that will take you across the stunning Lake Te Anau on a vessel specially built for scenic cruises.
On the western shores of the lake, you will get off the boat and have a look at Cavern House's informative exhibits, before your friendly and knowledgeable nature guide takes you into the caves in small groups of not more than fourteen people.
Be awed and astonished by the wonders of this mysterious underground domain. The caves are relatively recent by underground standards at 12,000 years old, and are still being moulded by the erosive forces of the river that courses through them and that has produced an intricate web of limestone tunnels filled with whirlpools, exquisitely sculpted rock and a wild underground waterfall.
When you are deeply ensconced in the caves, you will board a small boat that will take you into a secret grotto swathed in silence and populated by thousands of glow worms.
The sight of thousands upon thousands of tiny shimmering glowworms quietly illuminating this silent subterranean space is nothing short of sublime.
History of the Te Anau Glow Worm Caves
For the longest time, the Te Anau Glow Worm Caves were the stuff of legend. The only indication of their existence lay in the name "Te Ana-au", which the ancient Maoris had named it and which means "caves with a current of swirling water".
They remained undiscovered until Lawson Burrows located them in 1948. His curiosity aroused by the ancient Maori tales, he searched for three years before chancing upon a stream emanating from beneath a rock feature on the western shores of Lake Te Anau. The intrepid Burrows submerged himself in the water, squeezed through the opening and emerged in a cave glittering with the light of thousands of tiny glow worms.
Today, it is known that these caves form the lower part of an enormous cave system which stretches all the way to the Fiordland National Park.
Trip Includes
Cruise across Lake Te Anau
Guided glow worm cave tour with informative commentary
Optional return coach transfers from Queenstown
3 hours free time in Te Anau (if booking the return coach from Queenstown)
Duration
Allow 2.5 hours from Te Anau
Allow 11 hours if including coach transfers from Queenstown
Departures
10.15am, 2pm, 5.45pm, 7pm & 9.30pm during summer (Nov-Mar) from Te Anau
2pm & 7pm during winter (Apr-Oct) from Te Anau
8.30am from Queenstown (returns by 7.30pm)
Departs from the Real Journeys lakefront visitor centre Te Anau or optional return transfers from Queenstown
Operates daily all year
Other Information
Some bending is required at caves entrance & steps are involved
No film/photography permitted inside caves
If catching the coach from Queenstown you will have 3+ hours free time in Te Anau before your glow worms tour
Please wear non-slip shoes/boots & bring a waterproof jacket, warm sweater/fleece jacket, sunscreen/ sunglasses, insect repellent & camera
Infants under the age of 4 travel for free however are not permitted in the caves. There is a cafe on the other side of the lake after the boat ride where you can wait with your infant while your partner visits the caves & you can then swap as the cave tour is always split into two groups
Ask us about the Real Journeys 20% Multi Purchase Discount off selected Real Journeys products
Adult:
from Te Anau (day tour) NZD$83.00
from Te Anau (evening tour) NZD$88.00
from Queenstown NZD$159.00
Child (5-14yrs):
from Te Anau NZD$22.00
from Queenstown NZD$80.00
Genuine Customer Reviews powered by
Service rating: excellent
What a wonderful experience thank you so much the day was delightful the guides where great and told you all about the history of the caves and glow worms the boat ride was beautiful had a great time i highly recommend this to everone
Product rating:
Service rating: excellent
Excellent experience, beautiful view, friendly staff and nice food
Service rating: excellent
The tour guides were friendly and helpful. They were knowledgeable about the glow worms and seem to love what they do.

Product rating: excellent
Such a beautiful sight. I thoroughly enjoyed the boat ride to the island and the trip into the caves.
Service rating: excellent
Easy booking process. Booked for my paragliding and glowworm cave tour in advance and it made things so much easier on the day.

Product rating: good
Friendly and informative staff. Complementary tea and coffee are always nice. Stunning experience.
Latest Questions about Te Anau Glow Worm Caves (Te Anau)
Hi , we are macau quest , we have 7adult and 3child wanna join the glow worm caves day tour from queenstown , is it possible for child whose ages under 5? thank you!
Comments
Ah, one more question please. If I were to opt to secure my own transport to Te Anau, where should I stop at? However, I am not driving and would have to look for a bus to get to your location in Te Anau (for the glowworm tour). My accommodation in Queenstown is at Hurley's. Is it easy to get from Hurley's to Te Anau location via bus?
I was just wondering. Can you visit the caves if your pregnant?
Comments
I am looking at traveling to New Zealand in December to visit family for Christmas. Before I see them, I wanted to see a bit of what NZ has to offer, in particular Queenstown. I am very interested in this tour but would be traveling on my own. Do you have a min amount of people to be able to do this tour especially departing & returning from Queenstown?
Comments
Is your 5.45pm trip has more to see than the 7.00pm tour?
Our worry is 7.00pm trip may be too late and too dark and maybe too cold in early October 2014.
Appreciate your feedback.
Thanks.

Comments
What goes on during the 12.5 hours if I depart from Queenstown? The journey should take 2 hours, and the tour should take 2.5 hours, in addition to another 2 hours for the return journey. What goes into the remaining 6 hours?
Comments
Good morning, I am planning a trip for a friend and I from Queenstown to the Te Anau Glow worm caves in May 2014. My friend is concerned about steps. Are there many steps in the caves? Also where in Queenstown would we catch the bus for the transfer and where in Te Anau would we catch the bus back. Is it close to the end of the tour. I am planning it to be a day trip so the trip back to Queenstown would have to be the same day.
Comments
Are there any glow worm cave tours in the morning? We are 4 adults looking for a tour on Sunday morning, January 12th. We will already be in Te Anau from the night before, and we cannot stay and wait until the 2 pm tour.
Thanks!
Comments
Is the price $136 per person include the
return bus trip to Queenstown?
Comments
Do you operate on Christmas day?
Comments
Is it possible to be picked up at Te Anau and then dropped off at queenstown and how much would this cost?
Comments
Is this a viable activity if we have already gor accomodation in Queenstown for our entire visit?
Comments

rating
96% of new customers that used Everything New Zealand to provide advice and securely book their NZ activities have let us know they've had a good or excellent experience with us. Thank you.