Easy to book - Secure Online Payments - Instant email confirmation - Flexible to make changes
Dolphin Encounter Kaikoura
Highly Recommended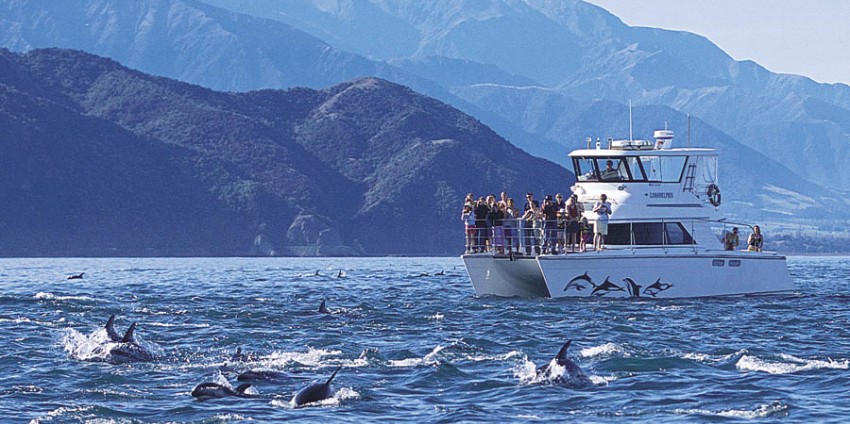 from NZD$95.00
Swim with Dolphins in Kaikoura
Description
Did you know...? There is evidence that humans and dolphins have been interacting with each other for as long as we have been recording history. This is not surprising, considering that dolphins are one of the most intelligent and social mammals on earth. Now you have a chance to swim with these majestic, unique individuals yourself!
Found off the coasts of Kaikoura all year round, The Dusky dolphin exists in large pods consisting of hundreds of members. Dusky dolphins have a playful, sociable characteristic, which makes them absolutely perfect for swimming with. Now you can watch or swim with the Dusky dolphins, under the guidance of the friendly team at Dolphin Encounter (Encounter Kaikoura). Imagine jumping into the dolphin's natural habitat and sharing a special moment with these gorgeous mammals. Certainly an experience that will put a smile on your face for years to come.
If you choose not to swim with the dolphins, you will still have the chance to experience the entertaining actions of the frolicking, acrobatic dolphins as they interact with the other swimmers – a delight to behold. The experience is not just limited to the dolphins though; the entire three and a half hour open sea adventure is inspirationally beautiful. Enjoy the sea breeze in your hair and the taste of salt on your lips as you look out for other marine life, such as Albatross, New Zealand Fur Seals, and hopefully even an Orca or two.
The Dolphin Encounter group are unique in that they have the highest rate of success for locating dolphins than any other group in New Zealand. Dolphin Encounter has attained the Enviro Gold Qualmark rating, meaning that they have been endorsed as a Qualmark visitor activity. Don't forget, swimming with dolphins in the open ocean can be demanding; you will need to have a reasonable level of snorkelling experience, good water confidence and swimming ability to participate. Dolphin Encounter provide snorkelling equipment and wetsuits on the day, so all you need to bring are swimmers, towel, warm clothing, camera and daypack.
Trip Includes
Dolphin tour & complete guided commentary
Swimming with the dolphins or watch from the safety & comfort of the boat
Snorkelling equipment & wetsuits
Duration
Departures
8.30am & 12.30pm
Departs from the Encounter Kaikoura office (15 minute walk from town centre)
Operates daily all year
Other Information
Go Pro waterproof video cameras are available for hire for $55. Waterproof digital cameras can be hired for $40
Minimum age for swimming with dolphins is 8 years (kids must be accompanied by an adult swimmer)
Minimum age for watching is 3 years (this can be increased to 5 years at captains discretion if the conditions are not suitable)
Our vessels are purpose built & fitted with hot showers and toilets. The cabin is heated and blankets are available on board each vessel
Due to the seasonal nature of this operation we have heavy demand for our tours throughout the busy tourist season - November to April. It is recommended that bookings be made well in advance during this period
Encounter Kaikoura boasts an on-site cafe with great coffee, beautiful food & breathtaking views. Cafe Encounter is open for breakfast, lunch & casual dining throughout the day. The cafe is fully licenced, so why not pop in & sample some local beers & wines, our homemade baking & other tasty treats before or after your tour
All tours are subject to suitable weather conditions. The sea conditions can change very quickly along the Kaikoura coast at little notice
If you are susceptible to motion-sickness we recommend taking medication prior to your trip. This can be found at the local pharmacy in the town centre
Dolphin Swim:
adult NZD$180.00
child (8-14yrs) NZD$165.00
Dolphin Watch only (no swim):
adult NZD$95.00
child (3-14yrs) NZD$55.00
Latest Questions about Dolphin Encounter (Kaikoura)
Hi we will be at Kaikoura on the 8 December and would like to do the swim but just wondering how cold is the water going to be at this time of year.
Comments
do you provide life jacket for swimming with dolphin and snorkelling?

thanks so much
Comments
Hi .
What age can you swim with dolphins.
Thank you
Joanne
Comments
Kia'ora!

We are planning a trip to Kaikoura in November and would really like to swim with the dolphins. Unfortunately I don't swim very well but would I be able to wear a lifejacket so I could participate?

Kind regards

Jessica
Comments
Hi
I've just booked a Dolphin Encounter swim with you in early Jan 2015 and have a few questions.

I've never worn a wet suit before. Can you please tell me what to wear underneath for warmth and comfort. I was thinking of shorts and a T shirt but don't want to make the wet suit difficult to get on.

Also, does your boat have any cubicle to change in privacy?

Do you include flippers with the wet suit?

Regards

Trevor


Comments
How do I get this encounter from Christchurch

Comments
What guarantees do you have that we will swim with the dolphins and if we don't, what deal do you have.
Comments
My Daughter & I are booked in for a Swim with the dolphins on Monday 02 July at 12:30pm. We arrive into Kaikoura on the train at 9:54 and we are staying at the Anchor Inn Motel. I was wondering do we have time to drop our luggage off at the Motel or can we leave it somewhere at your centre & then we can just grab our luggage when we get back & then walk down to our Motel? If you can tell me what is the correct thing to do. Thanks Sharon
Comments
Hi my name is melissa, i am travelling with my friend to Kaikoura on the 12th september 2012 from Australia to swim with the Dolphin and were enquiring about available times to go on the cruise and swim with them.
We are hoping to do it at 12.30pm on the 12/09/12 or 8.30am on the 13/09/12.
we need to know asap as we are booking our flights this week and desperately want to do this dolphin encounter! thanks so much
Comments

rating
89% of new customers that used Everything New Zealand to provide advice and securely book their NZ activities have let us know they've had a good or excellent experience with us. Thank you.