Easy to book - Secure Online Payments - Instant email confirmation - Flexible to make changes
Doubtful Sound Wilderness Day Cruises Doubtful Sound
Current Special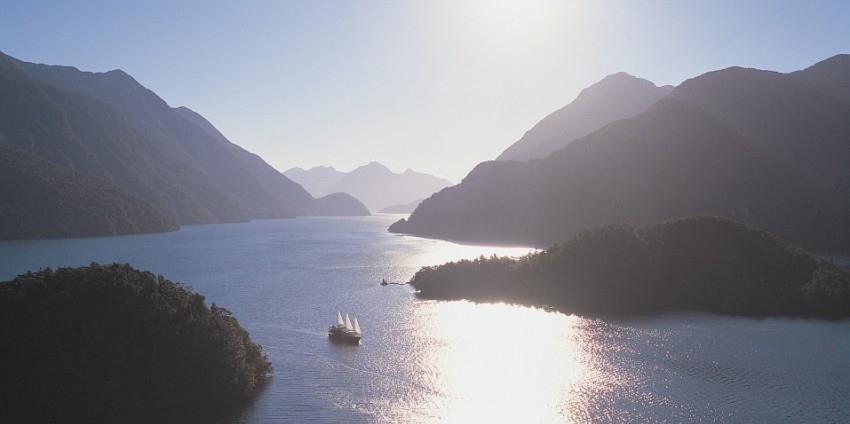 from NZD$295.00
Doubtful Sound Wilderness Day Cruises
Description
The magnificent Doubtful Sound, situated in a World Heritage Area, is mind blowing. Never has the awesome power of nature seemed as palpable as it does amidst the isolation, raw wilderness and overwhelming peace of Doubtful Sound.
Renowned for the richness of its flora and fauna, Doubtful Sound is the second largest fiord of the fourteen located within the Fiordland National Park. It is three times as long and ten times as large as Milford Sound.
Your adventure with Real Journeys begins on the pristine waters of Lake Manapouri, after which you continue on to Wilmot Pass, pausing along the way to soak in the sights of Fiordland's most luxuriant rainforest and alpine moss gardens awash with colour.
Once you arrive at Deep Cove, the real adventure begins as you board a commodious catamaran and embark on a three hour cruise that will allow you the most dramatic views of Doubtful Sound's most spectacular and most awe-inspiring scenery. Detailed commentary will be provided courtesy of friendly skippers, and highlights will be brought to your attention so you don't miss a thing. Keep your eyes peeled for sunbathing fur seals and bottlenose dolphins, which often like to frolic alongside the ship. If you're lucky, you might even catch a glimpse of elusive rare penguins.
Trip Includes
Return transfers from central Queenstown, Te Anau or self drive to Manapouri
45 min boat ride accross Lake Manapouri
3 hr luxury cruise on Doubtful Sound
Duration
12.5 hrs (from Queenstown)
10 hrs (from Te Anau)
8 hrs (from Manapouri)
Departures
6.45am from Queenstown (returns by 7.30pm)
8.45am from Te Anau (returns by 6pm)
8am or 10am from Manapouri (returns by 3.30pm or 5.30pm)
Departs from Manapouri or includes transfers from Queenstown or Te Anau accommodation
Operates daily all year
Other Information
Children 4 years or under are free
Dress warmly for the cruise boat & don't forget your camera
Free tea and coffee is available on the cruise boat
You can drive yourself to Manapouri (2.5 hrs from Queenstown)
Doubtful Sound overnight cruises are available (Oct - May only).These are very popular and we recommend booking several months in advance
Ask us about the Real Journeys 20% Multi Purchase Discount off selected Real Journeys products
Adult:
from Manapouri NZD$295.00
from Manapouri (8am early bird)

Special

NZD$250.00 (was NZD$295.00)


(Special from 1 st October 2017 - 30 th April 2018)

from Te Anau NZD$310.00
from Qtown NZD$310.00
Child (5-14 yrs):
from Manapouri NZD$65.00
from Te Anau NZD$70.00
from Qtown NZD$155.00
Optional Extras:
picnic lunch NZD$19.00
deluxe picnic lunch NZD$26.00
Genuine Customer Reviews powered by
Service rating: excellent
The whole day was so memorable. All the arrangements went perfectly. At every step the staff were gave us great information and were very helpful and efficient
Product rating:
Everything Travel Group Review
A truely stunning trip, compared with Milford Sound Doubtful Sound is more remote, around 10 times larger and the cruise is longer. With less people and companies operating in the area, Doubtful really does feel like you are in the middle of nowhere, amongst all the natural beauty that the area has to offer. If you dont have the time to do an overnight then this is the trip to do.
Wow Factor
Environmental Care
Latest Questions about Doubtful Sound Wilderness Day Cruises (Doubtful Sound)
Does the day trip include a visit to the power station
Comments
I plan to drive to Manapouri to join the Doubtful Sound cruise. Please advise if there is free parking near the cruise boat boarding point. If no, pls advise the approx cost parking.
Thanks
Comments
As we would be interested in this tour from Queenstown, just wondering what facilities etc are available for lunch? Is this onboard or do we have it prior to cruise?
Comments
whats in the picnic lunch and delux picnic lunch?
Comments
How many passengers does the boat hold?
Comments
My mum (in her early 80's) is super keen to see Doubtful Sound and the fiords. Is the boat large and comfy and easy enough to board and disembark? She did the Milford last year, with ease, so hoping this will provide a similarly wonderful experience for her.

Comments
Where is the best place to stay if going on Doubtful Sound Day cruise
Comments
Hi - is the visit to the power station compulsory? How long is this component of the tour?
Comments
Please advise how many people does the cruise boat take on each trip ( assuming a Feb
2014 date ) Also what time is the pick-up from
Te Anau?
Comments
Is the coach from Queenstown to doubtful sound glass-roof?
Comments
Hi, Is this cruise run through Real Journeys and where is teh collection point in Queenstown. Do they collect from motels? Thanks
Comments
Hi.
In your prices section>
" from Qtown (+ lunch) Special NZD$218.00 (was NZD$323.00)
(Special from 1st May 2012 - 30th September 2012) "

Does this mean we get a picnic lunch included in the price or do we still need to bring ourown?

Thanks in advance,
Ben
Comments
i am travelling to new zealand in September, if i book the tour but because of the weather the tour is canceled then will i get a refund?
Hope to hearing from you soon
Comments
what is the difference if I was to book from Manapouri or Te Anau? do I get longer on one than the other? do you still see the same places? How far away is Manapouri from Te Anau?
Comments
is this ship wheel chair friendly?
Comments

rating
90% of new customers that used Everything New Zealand to provide advice and securely book their NZ activities have let us know they've had a good or excellent experience with us. Thank you.