Doubtful Sound Overnight Cruise Twin Share Doubtful Sound
10% off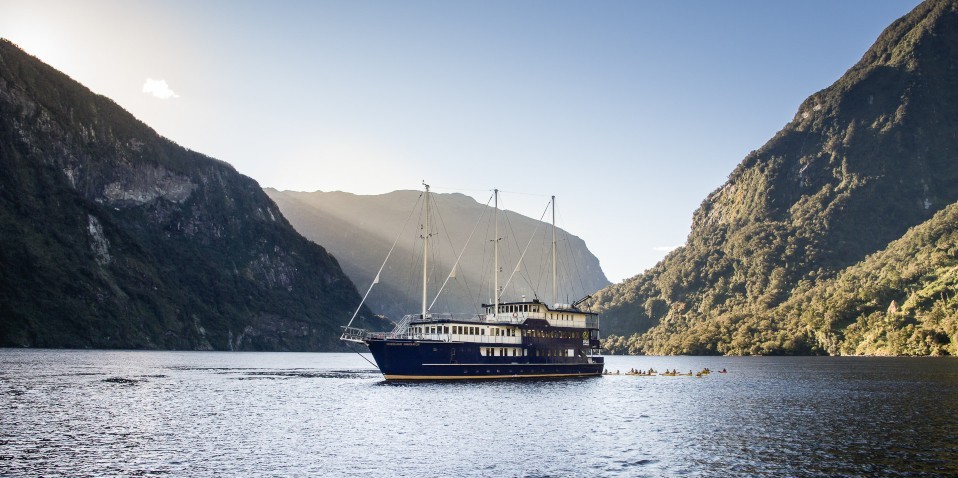 Doubtful Sound Overnight Cruise Twin Share - RealNZ
Highlights
Luxury Doubtful Sound Overnight cruise on board the Fiordland Navigator
Cruise across the pristine Lake Manapouri
Private ensuite rooms
Kayaking or tender craft (small boat) tour
3 course buffet dinner and cooked breakfast
Description
The magnificent Doubtful Sound, located in a pristine World Heritage Area, will amaze and astound. The sheer power of nature hangs in the air amidst the isolation, the raw wilderness and the incredible peace of this very special part of the world. Famed for its wild flora and fauna, Doubtful Sound is the second largest fiord of the fourteen in Fiordland National Park, being ten times as large and three times as long as Milford Sound.
Enjoy a brief but tranquil cruise across the pristine Lake Manapouri and then ride in a coach over Wilmot Pass, after which you will get onboard the Fiordland Navigator at Deep Cove.
On your overnight cruise with Real NZ, you will have ample time to gape at the amazing views and to fully explore Doubtful Sound's secret arms. Spot bottlenose dolphins and fur seals, and even rare penguins if you're lucky. You'll be able to kayak at leisure along the shoreline or take a ride in the tender craft with a knowledgeable nature guide. As the sun sets, the ship will drop anchor at a cherished spot. After a long day of exploring, tuck into a sumptuous buffet in the elegant dining saloon. You may choose from private cabins with ensuite bathrooms on a double or twin share basis. To make a booking for quad share accommodation please refer to the following link: Doubtful Sound Overnight Cruise Quad Share.
Trip Includes
45 min boat ride across Lake Manapouri
Luxury cruise on Doubtful Sound on board the Fiordland Navigator
Overnight accommodation (private twin share room with 2 x single beds or a double bed)
Kayaking or tender craft (small boat) tour
3 course buffet dinner and cooked breakfast
Duration
Departures
12:30 pm from Manapouri (returns by 12:00 pm the next day)
The boat departs from Manapouri, transfers available from Queenstown or Te Anau
Operates daily during summer only (Sep-Apr)
Other Information
Cancellations made within 30 days prior to the date of travel will incur a 100% cancellation fee
Within 30 days, the amendment of travel date can be made outside 5 days prior to travel
Rooms are private cabins (sleep 2). If you are travelling on your own, you will need to book the Sole Occupancy option or a dorm bed in the Quad Share Cabin.
Quad Share Cabins are not suitable for kids under 5 years of age. If you are travelling with kids under 5 you will need to book a private twin room. Please contact us for more information
If you are wanting to book a Quad Share Cabin rather than a twin or double room please make your booking via the following link: Doubtful Sound Overnight Cruise Quad Share
The boat sleeps a maximum of 70 people
There is no food available on board until dinner, so please ensure you bring a picnic lunch & snacks
Limited space for luggage so we recommend taking a small backpack only overnight
Suitable for all ages with the exception of infants.
Child rates apply (2-15yrs)
Infants 0-23 months travel free of charge (twin cabins only). Please bring your own cot
Dress warmly and don't forget your camera
Free tea and coffee is available on the cruise boat as well as a fully licensed bar
Normal Retail Prices
ex Manapouri:

Adult (twin share per person) NZD$999.00
Child (2-15yrs) NZD$499.00
Sole Occupancy NZD$1849.00

ex Te Anau:

Adult (twin share per person) NZD$1019.00
Child (2-15yrs) NZD$519.00
Sole Occupancy NZD$1869.00

ex Queenstown:

Adult (twin share per person) NZD$1099.00
Child (2-15yrs) NZD$599.00
Sole Occupancy NZD$1949.00
All prices shown in NZD$.
Genuine Customer Reviews powered by
Service rating:
Parents loved the cruise, they described food as amazing and the driver Polie the potato was very kind. My folks are quite elderly and are nervous / anxious travellers, they felt very well looked after.

Product rating:
Just fantastic and bucket list stuff all around
Service rating:
Everything was perfect, from their knowledge to their attitude. We changed the date of our trip on short notice and it wasn't a problem for them

Product rating:
The guide's knowledge of the sound was very impressive. All the team were friendly and helpful
Service rating:
Fantastic trip, great guides staff, very friendly

Product rating:
Well worth the cost of trip
Service rating:
All staff were friendly and helpful but best was our bus/tour guide Pauly (Potatoes.) He was wonderfully knowledgeable about everything from flora and fauna to geology, full of great stories, and very attentive to my special mobility needs. He clearly loves the Fjordlands and sharing his enthusiasm with others. Thanks Pauly for an unforgettable experience!

Product rating:
went to Milford Sound, not Doubtful
Milford Sound was spectacular!
Service rating:
Great service! They booked me on to an earlier cruise so I could have a cabin to myself.

Product rating:
Exceeded my expectations!
Service rating:
I wasn't planning to use your website but somehow ended up there and the lady was so very helpful that I did the booking through her. I'm sorry I don't remember her name. The trip was fantastic!

Product rating:
The staff on board were very helpful and informative. The food was very good and the weather also played it's part. What an amazing place!
Service rating:
As below, great food, great smiles and service and not a spot or finger mark over the boat

Product rating:
Not enough double beds for my booking so had a twin, we pushed the beds together easy enough, not sure I would pay the full price but would love to go back with the deal
Service rating:
A fantastic trip and a must do on anyone's bucket list. We have now booked the Milford overnight trip for next month. Staff were fantastic, food amazing accommodation great

Product rating:
Definitely Great value for money.
Service rating:
We had the most amazing trip on Fjordland Jewel. Arriving by helicopter and landing on the boat was memorable. The crew were fantastic and couldn't do enough to make us comfortable. The scenery was stunning, the boat extremely comfortable and the food delicious. Throw in some seals, jumping dolphins and some kayaking what's not to like!

Product rating:
Please see first review..
Service rating:
Everything went as it should have from our hotel pickup in Te Anau to being dropped off back at the hotel. The boat was comfortable and the crew was great. Experiencing Doubtful Sound overnight was fantastic.

Product rating:
No purchase problems when we bought this experience.
Service rating:
We did the doubtful sound overnight cruise was absolutely superb. All staff involved from initial booking to the check in and the wonderful crew on the boat were fantastic; helpful, polite and friendly.

Product rating:
Highlight of our trip, absolutely superb!!! Crew were amazing; knowledgable, helpful, friendly could not fault any of them. Food was delicious and cabin very comfy!
Service rating:
Organisation was brilliant, and the staff were excellent and welcoming. We felt the accomodation on the cruise needed some freshening up.

Product rating:
Staff excellent, but facilities in the boat need freshening up.
Service rating:
Our night on Doubtful Sound was amazing. The service, the crew and the accommodations were excellent. Skipper Dave and Carol, the naturalist were so full of knowledge of the area and always ready to answer questions. Everyone worked together to make our trip an unbelievable experience not to be forgotten. We will be back! Next time maybe the 4 day cruise. We recommend the Doubtful Sound overnight cruise to anyone who wants to see a New Zealand treasure. Cheers Fiordland Navigator and crew!
Product rating:
Service rating:
good service, great experience

Product rating:
Great, can recommend the overnight
Service rating:
definitely recommend. very professional & approachable

Product rating:
easy to deal with on the internet
Service rating:
Prompt, informative and very friendly communication. No hesitation in recommending.

Product rating:
I would give it 10 stars if I could. From the moment we arrived at check in at Manapouri until we returned the following day the entire experience was awesome. Staff were terrific,trip across Lake was wonderful, our accommodation on boat excellent, trip on Doubtful Sound magnificent, saw dusky dolphins, penguins, fur seals and birds and of course the mountains and water falls. Food was divine and abundant, on tap tea, coffee etc was welcome. Will go again for sure. Don't miss fiordland and treat yourself to an overnight cruise. You won't regret it.
Service rating:
Perfect - from pick up to drop off at Te Anau Top 10. Boat, food and accommodation excellent. What made the trip spedial was Captain Dave Allen and his crew.
Product rating:
Service rating:
Everything went as planned!

Product rating:
One of the highlights of our trip! BEAUTIFUL!
Service rating:
We were totally disappointed with the whole experience. Doubtful Sound was incredible but the cruise was a totally substandard overpriced con!
Product rating:
Service rating:
The people involved at each stage of your journey to and from Doubtful Sound were very friendly and entertaining. The crew on the ship were wonderful and very helpful. I have raved about our journey to my family and friends. Will be back.

Product rating:
Loved the whole experience. Great people, which made the whole trip very memorable.
Service rating:
ETG was very easy to book through. Communication was prompt and clear

Product rating:
This has been by far the best thing we've done in NZ. Real Journeys and the crew on board made our trip so pleasant. The whole experience loved up to the reviews you see online.
Service rating:
The on line booking process was simple and easy to complete. I received my confirmation and tickets immediately as well as helpful information regarding meeting the coach.

Product rating:
My Mom and I both really enjoyed the trip. The journey to the boat was seamless from our pick up in Queenstown all the way through to boarding The Navigator. Our driver, Craig, was enthusiastic and full of local information which made the drive through the beautiful surrounding scenery even more enjoyable.
On board the boat all of the staff members were excellent. Their knowledge was amazing and you could tell that they all really enjoyed their jobs. The commentary whilst cruising the Fiord was great and we learnt lots about Fiordland. Our accommodation was very cosy and comfortable. We booked the quad share but due to low numbers had the room all to ourselves. The showers and toilets were spotlessly clean, with a lovely powerful hot shower and towels provided. We were served a delicious soup around 5pm followed by a buffet dinner where there were plenty of options to choose from and it was all very tasty.
During our trip we saw Seals basking on the rocks as well as Fiordland Penquins, there were sightings of a pod of Dolphins but unfortunately we missed them! We chose the option of the tender boat trip over kayaking which was informative and enjoyable.
As it was raining during the trip this brought the area to life and waterfalls appeared all over the mountain sides, we were glad we packed warm, waterproof clothing! Overall an excellent, relaxing trip.-
Service rating:
Good helpful staff.
V. helpful booking staff.

Product rating:
This cruise was a disappointment after spending big money and valuable time.
1) The small cabin bed has given me 'bad back ache' which I've nursed for nearly 3 days. 2) Tender boat was hovering 10 mtrs around the navigator ship for 30min rather than exploring surrounding natural formations. 3) Guide was much more interested in showing her knowledge of 'botanical names and plant species' that she managed to carry in a bucket on the Tender. 4) For God sake, I did not pay big money to have botany classes while sitting on a tender in freezing cold weather. This could have been covered in a slide show or presentation on the ship. 5) When I addressed the matter to the captain, he got furious on me!!!! stated, 'we don't have time to travel around'. 6) Hardly saw any wild life expect a 'yellow feet of penguins in some bush on far island'. 7) Need to clearly state that "luggage= 1 backpack" and "not a bag which international tourists carry". Had to carry my and partners luggage up and down on the cruise ship and from bus/ship transit terminal. Such a pain.
Never again will I subject my partner and friends to such a torture.
Only savior for the well cooked dinner. But I'll not recommend such an expensive dinner at the cost of 'bad back' and 'unhelpful and arrogant cruise captain/staff'.
What a disappointment !!!!!!!!!!!!!!!!!!!!!!!!!!!!!!
Service rating:
Bernadette was very helpful in helping me select and purchase my excursion.

Product rating:
Cruise was excellent, crew was very attentive and the food was amazing. Also the drivers from real journey's were super accommodating.
Service rating:
Very helpful with regards to possible dates for booking.

Product rating:
We were absolutely stunned by the whole experience. The crew were so amazing, and so multi talented ! They all worked so well together and made the experience so memorable. We would recommend the cruise to anyone, and have such wonderful memories of the time we spent with them all. Their knowledge, helpfulness, general enthusiasm and friendliness was a joy to be amongst.Thanks to everyone involved. Regards, Jill wayn
Service rating:
Very helpful with bookings and advice. Would use their services again.

Product rating:
This particular trip was memorable and staff on board were excellent.
Service rating:
Good service

Product rating:
A really enjoyable, very well organised overnight cruise. Everything went smoothly. The accommodation was comfortable, the food was excellent, the staff were friendly & helpful. It's obvious that they love what they do. Proud of their country, they make a point if sharing their knowledge about the fiord lands history, geography. Well worth it!
Service rating:
Perfect service

Product rating:
Thank you for so dedicated team & great service
Service rating:
Great!

Product rating:
Amazing!
Service rating:
Everything was perfect, had the most wonderful trip. The crew were great multi-taskers and so helpful. The buffet dinner and breakfast was soo yummy!! It helped the weather was awesome as well.

Product rating:
Have to do it!!!
Service rating:
Fast and efficient. They were able to offer some tips and recommendations for other activities in the area also.

Product rating:
One of the best things I've done in this beautiful country. The silence is spectacular.
Service rating:
Friendly, helpful and prompt.

Product rating:
Magic! So glad we did this trip. Doubtful Sound is very beautiful.
The trip exceeded my expectations & I will be telling all my friends. It was value for money & the food was excellent.
Service rating:
I thought I was dealing directly with Fiordland Cruises. I was very happy with thw communication and feedback

Product rating:
The overnight cruise was wonderful. The 3 crew John, Freya and Natalie were extremely competent as well as great company and lots of fun. The food was fantastic.
We loved the peace, serenity and changing moods of doubtful sound
Service rating:
Good website, easy to use. Didn't work great from my iPad though - needed the laptop to complete the purchase.

Product rating:
Awesome cruise, very happy with the experience. Just one suggestion - add a double kayak so that a child can go with an adult.
Service rating:
happy

Product rating:
happy
Service rating:
excellent

Product rating:
excellent
Everything Travel Group Review
This is a must do activity. Even if all your accommodation is already booked, spend a night floating on Doubtful Sound. The food is plentiful, the staff are helpful, funny and knoweldgable and the scenery is second to none. It beats Milford Sound hands down!
Suggestions: Book well in advance as this is often booked up months ahead. The quad share is fine if you want to save a buck and a good way to meet new friends but if you really want to spoil your loved one then book a double room with a private ensuite.
Wow Factor
Fun Factor
Latest Questions about Doubtful Sound Overnight Cruise Twin Share (Doubtful Sound)
I was curious what time the cruise returns the next day? (My assumption would be at least by 10:30 to give time to prepare the boat for the next tour).

One other question. Assuming we drive to Manapouri is it best to leave large bags in the car, is there someplace to store it securely, or would it make sense to just bring it with us on the boat?
Comments
Hi is this price for 1 or 2 people?
Comments
Do u have an option to go from Queenstown for the overnight cruise at all
Comments
Hi, booking the overnight cruise in doubtful sound, I am wondering , what can I do with my luggage, that I will not need on board. Can that be stored somewhere?
Hi!! I want to book this cruise for 2 people for February 23rd. I just want to confirm availability. I am ready to book as soon as possible because I don't want to miss out!
Hi there im interested in booking a overnight with you on Wednesday 19th April
We have 2 x 11year old girls and 1 x 13 year old girl , plus my self and partner how do the bedroom configurations work ?

Comments
Do you hsve availability for 1 April ...4 pax
2 double rooms
What does twin share mean please?
Comments
Hi there
I'm just wondering if many of your passengers suffer from sea sickness and what can you suggest as a remedy?
Thanks
Hi there, I'm interested in booking 3 Adults for an overnight stay on Friday 18th February. Just not sure on configuration with your rooms. Is it possible to do 3 in 1 room which would be my partner and I and my mum... Or if its two separate rooms, one for my partner and I and than one for my mother.. Costing wld be appreciated Because my mum is getting on we are not interested in doing anything too strenuous like hiking and canoeing but possibly a raft boat for us 3... Not sure if that is poss
Hi there,

I am interested in booking the twin share overnight cruise. Are there any spaces available between the 1 - 8 April ?

Kind regards,
Leena
Comments
I'd like to book an overnight cruise on Doubtful Sound for February 29 or March 1 or 2 or 3, 2020. Real Journeys only has quad rooms available (there are 2 of us) and I read one review saying they are uncomfortable, no doors, bright lights from hallway. The Fjordland Expeditions cruise has rooms but is quite a bit more expensive, has no transport from Queenstown (we'll have a car so can drive ourselves) and I read a review saying it was crowded, being a small boat, even with only 12 passengers. Can you comment on this? What do you think would be the best choice?
Can you bring a bottle of wine on the doubtful sound O/N trip?
Comments
Dates Open in Early March, Do Rooms have Private Bathroom?
I have filled details of my payment for 3rd of May but have not received a receipt notice and wonder if it has gone through ? Regards Don Jenkins
We have booked an overnight cruise for July. We need to book lodging for the day before and day after the cruise. Where do passengers typically stay?
Comments
Hi 4 adults and requiring 2x cabins looking at overnight on Doughtfull Sounds on 2 /3 ? Jan 2018
How much would be the cancellation fee in case we cannot make it?
Hi there...my wife and I and daughter who will be five in November are interested in an over night cruise in October. ..are we able to book a twin share for the three of us? Or would you not recommend this trip with our daughter?
Thanks Kelvin
We will be in NZ next Feb and March, 2017
Is it too early to book it now?
Comments
We are considering to join the doubtful sound overnight cruise. As we have four adults and one children of 11, do you provide one extra bed in a quad sharing room?
Comments
Can you confirm what accomodation options are available and does each cabin have it's own ensuite?
Comments
Hi! I will like to confirm if the overnight cruise is available on 29 May 2016? Thanks!
Comments
Looking to book this for 10th November 2015. I'll be in Te Anau on the 9th. Is it possible to take a coach connection fetching me from Te Anau and dropping me off at Queenstown the next day?
Comments
dear, we are coming to NZ wih the family (2 adults, 4 kids). Is it possible to go on the cruise the doubtfull sound in the period 10 to 14th of august ?

isabelle
Comments
Hi
We want to do a trip on Doubtful or Milford Sound with a 2 and a half yr old. Are the overnight cruises suitable? Is there availability at end of Jan/beginning Feb? We would need a double cabin (our daughter can sleep with us.)

I presume booking ahead in essential?
Comments
How many people are on the cruise normally in summer?
Comments
If I self drive from Queenstown,is it a straight forward drive, that is not likely to get lost on the way, and how long should I allow to get there.



Comments
If I want departure from Te Anau and reture to Queenstown, how much would be charges on Nov?
Comments


rating
93% of new customers that used Everything New Zealand to provide advice and securely book their NZ activities have let us know they've had a good or excellent experience with us. Thank you.