Easy to book - Secure Online Payments - Instant email confirmation - Flexible to make changes
Glacier Walks - Fox Glacier Guiding Fox Glacier
Highly Recommended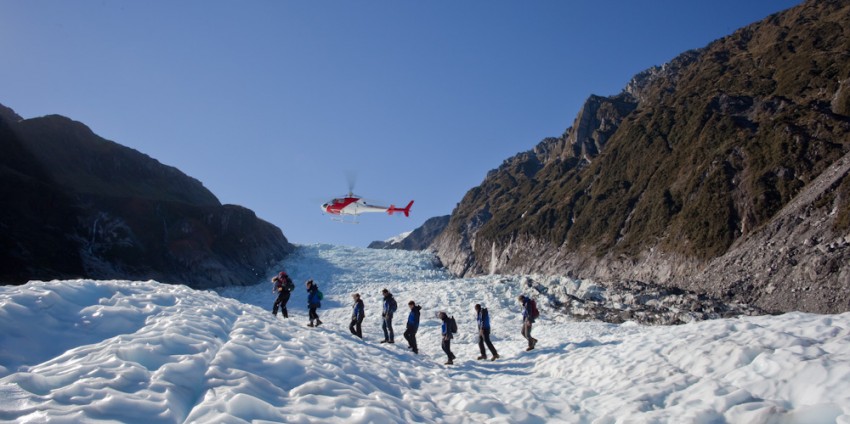 Fox Glacier Guided Walks
Description
Mount Cook boasts some of New Zealand's most dramatic mountain country. On a trip with Mt Cook Glacier Guiding you will enjoy the spectacular views from the helicopter before feeling the ice and snow underfoot as you explore the Tasman Glacier on your chosen experience. Choose to heli hike, snow shoe or ice climb on the Tasman Glacier as your knowledgeable and experienced guides take you on a thrilling adventure.
The Adventurer - Tasman Glacier Heli Hike
Take a breathtaking scenic helicopter flight to your starting point, a remote part of the glacier. In the summer you will be fitted with crampons designed for the hard ice conditions of the glacier and in winter you can try snow shoeing or the crampons. Your guide will take you on an exploration of amazing ice formations before another amazing flight back to the base
Flight Time - 12 minute heli each way
Ice Time - 2 hours Guide Ratio - 1:11
Fitness Level Required - Low
Minimum Age - 10 years
The Wigley - Top of the Tasman Glacier Hike
Explore the beauty of the top snowfield of the Tasman Glacier. Fly in on your ski plane, admiring the rock and ice debris transform to a glistening white before landing at an altitude of 2200m. Your guide will then take you to explore the glacier by walking, hiking and snowshoeing. Along the way you may even see an iceberg in the glacier lake. Your return flight will take you down the eastern side of NZ's highest highest mountain, Aoraki/Mount Cook.
Flight Time - 18 minute ski plane each way
Ice Time - 3 hours
Guide Ratio - 1:6
Fitness Level Required - Low/Moderate
Minimum Age - 10 years
The Cool Climber - Tasman Glacier Ice Climbing
If you are feeling adventurous then this is the tour for you! An energising scenic helicopter flight takes you up the Tasman Valley to the best ice climbing location on the glacier. Your guide will teach you basic crampon and ice axeing techniques which you will then use to climb vertical and sometimes overhanging ice walls and pinnacles. You will be secured by a top rope at all times, attached to your harness for total safety. With a low guide to climber ration you will receive special training to ensure the skills they teach allow you to advance quickly.
Flight Time - 12 minute heli each way
Ice Time - Up to 6 hours
Guide Ratio - 1:4
Fitness Level Required - Good/high
Minimum Age - 13 years (13-16 years must be accompanied by an adult)
Trip Includes
Return scenic flight
Professional & experienced guide
All equipment including socks, specialised climbing boots, waterproof jacket, over trousers etc
Duration
Allow 3 hours for The Adventurer, 5 hours for The Wigley & 8 hours for Cool Climber
Departures
The Adventurer departs 8.45am, 10.45am & 12.45am
The Wigley departs 8.15am & 11.30am
Cool Climber departs 8.00am
Depart from Mt Cook Glacier Guiding base, Mt Cook Airport
Operates daily all year
Other Information
No previous experience require
Minimum age 10 years for The Adventurer & The Wigley. Minimum age 13 years for the Cool Climber, 13-16 year olds must be accompanied by an adult
Please bring: warm clothing including 3-4 layers of upper body clothing, sunglasses & sun protection, a bag with snacks & a drink (lunch for Cool Climber), hat & gloves, camera & any medication required. Jeans are no permitted please wear warm comfortable trousers
Bring lunch with you for Cool Climber. There is no where to buy lunch at Mt Cook airport so please ensure you bring this with you before check in
Please note a heli may substitute the ski plane on The Wigley depending on environmental conditions
Normal Retail Price
Flying Fox (heli hike):

adult NZD$469.00
child (9-16yrs) NZD$445.00
All prices shown in NZD$.
Genuine Customer Reviews powered by
Service rating:
The staff we spoke to over the difficulties caused by the extreme weather were very helpful.

Product rating:
The guided walk on the glacier was well organised and very interesting. Our guide was very knowledgeable and helpful. We were lucky to have great weather which certainly helped!
Service rating:
Booking was super-easy and all information sent to me was detailed with all necessary info. My bookings were seamless and the check-in process upon arrival was easy! One of our excursions had to be cancelled because of storm damage to the area, but the team contacted me well in advance to inform me of the situation and offered to book another activity or issue a full refund. Because of scheduling constraints, we opted for the refund and it was issued asap with zero complications. The staff members that contacted me were incredibly friendly and easy to work with - thanks Alicia and Sally!

Product rating:
Unfortunately this adventure had to be cancelled due to storm damage in the area. Full refund was issued and the process was handled flawlessly.
Service rating:
They were very friendly, smile all the time, Anna was our guide, she was the best guide we could ask for, She knew eveything about foxglacier
We recommend her to all our friends
Thanks
Product rating:
Service rating:
Bien

Product rating:
Bien intéressant à faire!
Service rating:
Excellent trip which was very well organised, a good level of challenge and delivered with knowledge and expertise.

Probably the highlight of our trip to NZ
Product rating:
Service rating:
We were informed that our trip has been canceled due to it's overbooked the day we check in right before the trip. Franz Josep Glacier Guide said it's IT system problem. We barely make it if there is no one didn't show up. Luckily we did have our trip eventually. Otherwise we'd waste our time driving from Fox glacier and back for nothing.

Product rating:
Love the trip. Glacier is magnificent!!
Service rating:
Professional and friendly

Product rating:
Remarkable adventure
Service rating:
No issues at all

Product rating:
The guide was brilliant as was the afternoon on the ice.
Service rating:
Easy registration

Product rating:
Excellent activity.
Good guides, with information and good pace during the hike and on the ice.
Service rating:
Activity was cancelled due to poor weather but we were not provided a full refund, infact i'm still chasing what little refund was available according to the activity group.

Product rating:
the refund policy was not provided prior to the event, though when the event was cancelled allm the staff were insisting that everyone had sufficient time to read the policy. No need to push shonky business tacktics to make an extra buck or two, it'll end up ruining your reputation.
Service rating:
Excellent service given, and would most definitely use them again if i had the opportunity to visit New Zealand again

Product rating:
Would certainly recommend the walk to anyone visiting New Zealand and the tour guide we had was awesome
Latest Questions about Glacier Walks - Fox Glacier Guiding (Fox Glacier)
Are your co. supply crampons & walking poles?
Hi,may I know if I choose fox glacier heli hike
Then I stay at lake tekapo so do I need to drive myself to fox glacier?
Comments
Hi,

I have never hiked before, can you advise if the heli hike is suitable for a beginner?

Comments
In your Prices you still include 'Face the Fox' walks - are they still available? We will be there 18 Mar 2015
Hi, one more question I found there is other walks available from this website but it's no in your website, could you confirm if it's available?

Fox Trot (half day walk) - allow 4 hours (1 hr ice time)
Nimble Fox (all day walk) - allow 7 hours (4 hrs ice time)

thanks
Irene
Comments
Hi

I was more worried about clothing. If we are looking at going on the half day walk, what clothes are recommended?

Thanks
Comments
Can i bring my own camera?
Comments

rating
95% of new customers that used Everything New Zealand to provide advice and securely book their NZ activities have let us know they've had a good or excellent experience with us. Thank you.