Easy to book - Secure Online Payments - Instant email confirmation - Flexible to make changes
Glacier Walks - Fox Glacier Guiding Fox Glacier
Highly Recommended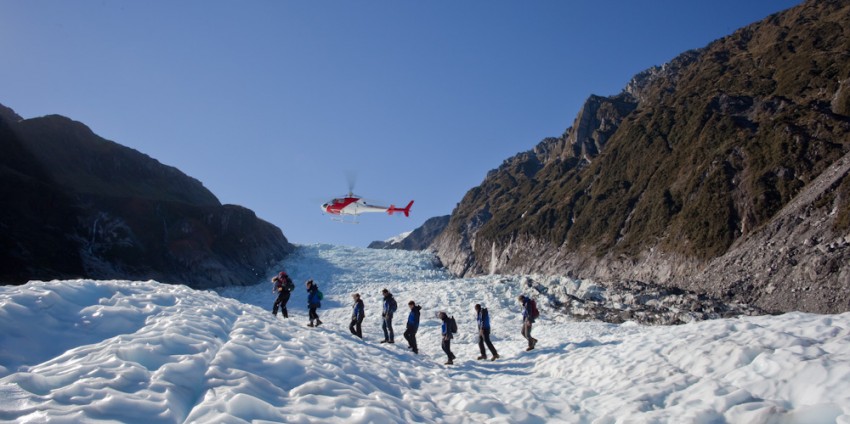 Fox Glacier Guided Walks
Description
The icy breeze gently chills the tip of your nose as you take in a deep breath of the pure, cool air. You look around at the blue sheen of the ice and feel a calm respect for the power of the glacier. You also feel invigorated, healthy and clean… This is the Fox Glacier experience!
Located on the West Coast of New Zealand's South Island (and only 21 km's south of Franz Josef), Fox Glacier is a world famous wonder of nature. As New Zealand's largest commercially guided glacier, Fox Glacier has plenty of space for adventure; as a result, Fox Glacier Guiding are able to offer a variety of guided tour options to suit all fitness levels. In all tours, you are provided with leather boots and other equipment, as well as being fitted with provided instep crampons (specially designed ice traction pads that fits on the soles of your shoes) before walking on the ice.
Flying Fox (heli hike)
Ice time - up to 3 hours
Difficulty level - Some fitness and agility is required.
The 'Flying Fox' walk lets you experience up to three hours on the ice via helicopter flight. A moderate level of fitness and agility is required.
A helicopter ride in itself is an adventure, so when combined with a glacier walk, you are sure to have a memorable experience. The fly-in, fly-out helihike allows you to explore a remote and active part of the glacier that is renowned for its exceptional beauty.
Flying in over the pinnacles of the lower icefall, you experience a unique vantage point that only a handful of people ever get to see. Witness the sparkling landscape unfold as you circle the Victoria Falls and upper icefall before landing.
Majestic arches and ice caves (only seen here) are some of the amazing formations you will encounter during your walk. Because this area is a naturally shifting environment, each departure is a unique, pioneering experience. There is always something new; however, this also means that there can be no guarantee that a specific feature will be seen.
Trip Includes
Professional & experienced guide
Leather boots and socks, crampons, raincoat, waterproof over trousers, alpenstock, woollen hat & mittens (in winter months).
Helicopter flight (Heli Hike only)
Duration
Flying Fox (heli hike) - allow 4 hours (up to 3 hrs ice time)
Departures
Heli Hike - 8.50am, 11.50am (& 2.50pm in summer)
All hikes depart from Fox Glacier Guide base, situated on the main road in Fox Glacier
Operates all year except Christmas Day
Other Information
Good level of fitness required for full day walk
Please bring: 3-4 layers of clothes for your upper body & any other clothes for your personal warmth. Jeans are not recommended on wet days as they can become cold & uncomfortable to wear. A day pack, food & drink, sunscreen, sunglasses, your own boots, raincoat & during winter months also bring a warm hat & gloves
We recommend you pop into the Fox Glacier Guides shop the day/night before to check what gear you need to bring for your Heli Hike
Minimum age for Heli Hike is 9 years & Terminal Face Walk is 5 years
For the more adventurous check out the Fox Glacier Ice Climbing
Normal Retail Price
Flying Fox (heli hike):

adult NZD$469.00
child (9-16yrs) NZD$445.00
Available Bookings from 22 Nov to 28 Nov
Options
Thu 22 Nov
Fri 23 Nov
Sat 24 Nov
Sun 25 Nov
Mon 26 Nov
Tue 27 Nov
Wed 28 Nov
8:50AM

Price from

$469

5+

spaces

Price from

$469

5+

spaces

Price from

$469

5+

spaces

Price from

$469

5+

spaces

Price from

$469

5+

spaces

Price from

$469

5+

spaces

Price from

$469

5+

spaces
11:50AM

Price from

$469

5+

spaces

Price from

$469

5+

spaces

Price from

$469

5+

spaces

Price from

$469

5+

spaces

Price from

$469

5+

spaces

Price from

$469

5+

spaces

Price from

$469

5+

spaces
2:50PM

Price from

$469

5+

spaces

Price from

$469

5+

spaces

Price from

$469

5+

spaces

Price from

$469

5+

spaces

Price from

$469

5+

spaces

Price from

$469

5+

spaces

Price from

$469

5+

spaces
All prices shown in NZD$.
Genuine Customer Reviews powered by
Service rating:
Booking was super-easy and all information sent to me was detailed with all necessary info. My bookings were seamless and the check-in process upon arrival was easy! One of our excursions had to be cancelled because of storm damage to the area, but the team contacted me well in advance to inform me of the situation and offered to book another activity or issue a full refund. Because of scheduling constraints, we opted for the refund and it was issued asap with zero complications. The staff members that contacted me were incredibly friendly and easy to work with - thanks Alicia and Sally!

Product rating:
Unfortunately this adventure had to be cancelled due to storm damage in the area. Full refund was issued and the process was handled flawlessly.
Service rating:
They were very friendly, smile all the time, Anna was our guide, she was the best guide we could ask for, She knew eveything about foxglacier
We recommend her to all our friends
Thanks
Product rating:
Service rating:
Bien

Product rating:
Bien intéressant à faire!
Service rating:
Excellent trip which was very well organised, a good level of challenge and delivered with knowledge and expertise.

Probably the highlight of our trip to NZ
Product rating:
Service rating:
We were informed that our trip has been canceled due to it's overbooked the day we check in right before the trip. Franz Josep Glacier Guide said it's IT system problem. We barely make it if there is no one didn't show up. Luckily we did have our trip eventually. Otherwise we'd waste our time driving from Fox glacier and back for nothing.

Product rating:
Love the trip. Glacier is magnificent!!
Service rating:
Professional and friendly

Product rating:
Remarkable adventure
Service rating:
No issues at all

Product rating:
The guide was brilliant as was the afternoon on the ice.
Service rating:
Easy registration

Product rating:
Excellent activity.
Good guides, with information and good pace during the hike and on the ice.
Service rating:
Activity was cancelled due to poor weather but we were not provided a full refund, infact i'm still chasing what little refund was available according to the activity group.

Product rating:
the refund policy was not provided prior to the event, though when the event was cancelled allm the staff were insisting that everyone had sufficient time to read the policy. No need to push shonky business tacktics to make an extra buck or two, it'll end up ruining your reputation.
Service rating:
Excellent service given, and would most definitely use them again if i had the opportunity to visit New Zealand again

Product rating:
Would certainly recommend the walk to anyone visiting New Zealand and the tour guide we had was awesome
Latest Questions about Glacier Walks - Fox Glacier Guiding (Fox Glacier)
Hi,may I know if I choose fox glacier heli hike
Then I stay at lake tekapo so do I need to drive myself to fox glacier?
Comments
Hi,

I have never hiked before, can you advise if the heli hike is suitable for a beginner?

Comments
In your Prices you still include 'Face the Fox' walks - are they still available? We will be there 18 Mar 2015
Hi, one more question I found there is other walks available from this website but it's no in your website, could you confirm if it's available?

Fox Trot (half day walk) - allow 4 hours (1 hr ice time)
Nimble Fox (all day walk) - allow 7 hours (4 hrs ice time)

thanks
Irene
Comments
Hi

I was more worried about clothing. If we are looking at going on the half day walk, what clothes are recommended?

Thanks
Comments
Can i bring my own camera?
Comments

rating
95% of new customers that used Everything New Zealand to provide advice and securely book their NZ activities have let us know they've had a good or excellent experience with us. Thank you.