Easy to book - Secure Online Payments - Instant email confirmation - Flexible to make changes
Guided Walks - Routeburn Wilderness Walk Queenstown
Routeburn Guided Walk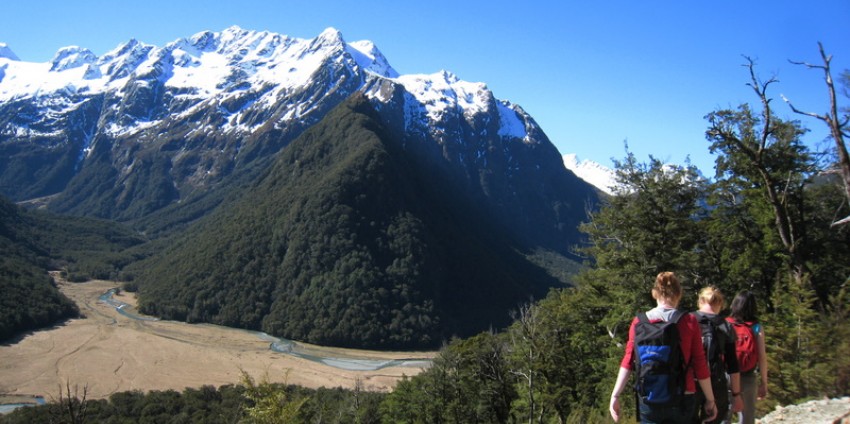 Routeburn Trail Half Day & Full Day Walks
Description
Wilderness Guided Walks operates guided walks in the Mt Aspiring National Park, the Wakatipu Basin and the Te Wahipounamu World Heritage area, some of the most spectacular locations in not just New Zealand but the world.
Such stunning beauty is best experienced on foot. As you hike trails deep in the ancient beech forest, climb hills swathed in verdant vegetation and listen to the music made by rivers, streams and birds, you will be transported to another dimension.
Your friendly, qualified and knowledgeable local guide will educate and entertain as you gain fresh insight into the fascinating history of the region and learn more about conservation and birdlife.
Routeburn Trail - half day or full day
Embark on one of New Zealand's much lauded "Great Walks". The half day or full day trip will have you witnessing all manner of stunning scenery including waterfalls and diverse flora. Friendly and knowledgeable guides will ensure you have an unforgettable time.
Trip Includes
Return accommodation transfers
Energy snacks & water
Friendly & knowledgeable guide
Souvenir postcard
Daypack & rain jackets (if required)
Routeburn Trail full day walk also includes a gourmet picnic lunch, photo image CD & a certificate
Duration
Full day Routeburn Trail - allow a full day (up to 7 hours walking)
Half day Routeburn Trail - allow 5 hours (2.5 hours walking)
Departures
Routeburn Trail full day walk departs at 8am only
Half day walks depart at 8am & 1.30pm
Walks only operate during summer months (Oct - May)
Other Information
Maximum of 7 clients per guide (minimum numbers apply)
Please bring warm clothing, suitable footwear, camera & sunscreen
Child age is 15 years & under
Minimum age is 8 years old
Walks do not operate during winter (June - Sept)
Routeburn trail full day walk departs at 8am only
Normal Retail Prices
Routeburn Half Day Walk:

adult NZD$160.00
child NZD$100.00

Routeburn Full Day Walk:

adult NZD$275.00
child NZD$160.00
All prices shown in NZD$.
Genuine Customer Reviews powered by
Service rating:
The teams are super friendly and passionate about what they love doing.

Product rating:
The Routeburn Walk was fantastic. I highly recommend it. I will be returning in the summer to complete the full walk. Only complaint is that I wish it went for longer.
Service rating:
The tour guide - Martin was awesome but the information about the walk left a little to be desired. It said bring a camera and walking shoes but we really needed a small back pack.

Product rating:
Martin was first rate and gave us great value for money!
Service rating:
Everything Travel Group is awesome. So easy to use, if I tried to think of any problems with them I'd have to use all that brain power people apparently don't use. Hopefully, I'll have the opportunity to book through the group again.

Product rating:
Okay, so you begin the day being picked up from your hotel (mini bus) then you'll be taken to the location, possibly stopping along the way for a view of Isenguard stuff. Then you get a little free food for your trip. You'll then see some of the greatest views you can imagine, one word comes to mind and that is "wow". The entire day was fantastic, and the opportunity to go to the top of the falls just made it better. The guide was hilarious, a sense of humour to be appreciated. He really knew his stuff, and gave us a bit of education about the place too.
Everything Travel Group Review
Don't be put off by the duration of the Routeburn Trail claiming 7 hours walking time. The scenery is magical during this day and it definitely won't feel like a full day hiking. The Routeburn Trail is a popular New Zealand walk and if you were to choose just one day walk then I definitely recommend this one. Enjoy being surrounded by the wilderness that mother nature has to offer!
Wow Factor
Latest Questions about Guided Walks - Routeburn Wilderness Walk (Queenstown)
Hello! Where do your trips depart from in Queenstown? Also, is it more of a leisurely stroll or an actual hike? Thank you!
Comments
Visiting N Zealand from UK in January/February next year. Interested in full day routeburn walk but wandered how arduous it was. Wife and I in our 60's but pretty fit; do you get people of our age on this trip? Is it easy walking most of the way?
Thanks
Comments
what level of fitness is required to do the Routeburn Trail?
Comments
Hello,

I have one question.If the weather is not so good do you cancel the walk?or not?
Comments

rating
95% of new customers that used Everything New Zealand to provide advice and securely book their NZ activities have let us know they've had a good or excellent experience with us. Thank you.