Easy to book - Secure Online Payments - Instant email confirmation - Flexible to make changes
Hot Pools & Day Spa - Tekapo Springs Lake Tekapo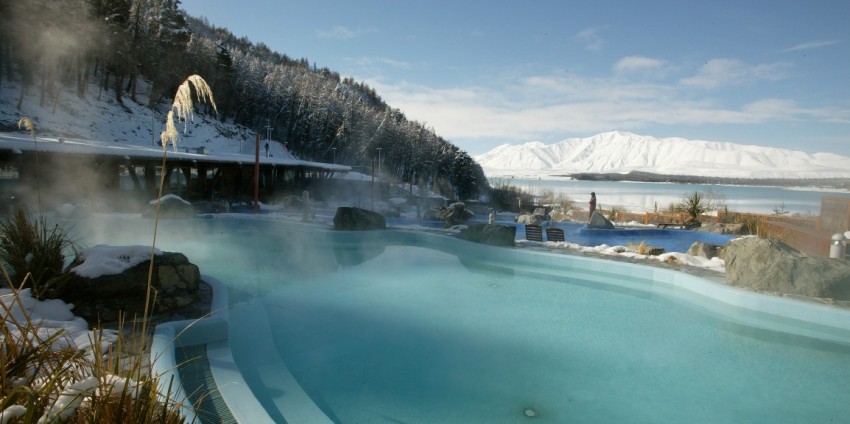 from NZD$145.00
Hot Pools & Day Spa - Tekapo Springs
Description
Hot water, steam and... Ice? Yes, you read that right. Tekapo Springs (aka Alpine Springs) combines the luxury of hot pools, sauna, steam room and a day spa with the excitement of an ice skating rink, snow park and a plunge pool.
Located at the base of Mt John in Lake Tekapo, the amazing Tekapo Springs has it all. Sink into the relaxing, therapeutic hot pools while taking in the glorious views of Lake Tekapo. Get pampered in the luxurious day spa – a completely indulgent experience. Heat up in the sauna and steam room before cooling down in the lake-temperature (eight degrees Celsius!) plunge pool. Strut your stuff on the ice skating rink – which converts to a roller-skating rink in summer – or visit the 150-metre long snow tubing park to try out some snow tubing in winter or the Magic Carpet in summer. If you're feeling peckish, try out the delectable treats in the licensed Café. Tekapo Springs has an activity to suit everybody – old or young – and is an excellent destination for a family day out!
The adjustable temperature sauna and steam room are conveniently located alongside each other and close to the traditional plunge pool. The day spa is equipped with four boutique spa rooms and stocks Antipodies (a 100% kiwi organic range) as well as the prestigious French brand Bernard Cassiere – Ooh la la!
Open 364 days of the year from 10am to 9pm (10am to 7pm for the Snow Tubing Park in winter), Tekapo Springs offers yearlong fun and relaxation.
Click here to see an overview of the various massages & therapies on offer.
Combo Deals
Skate + Soak = Ice skating & hot pools
Skate + Snow = Ice skating & tubing
Soak + Snow = Hot pools & tubing
Super Combo = Ice skating, tubing & hot pools
Opening Hours
Tekapo Springs is open 364 days from 10am to 9pm
Ice Skating operates from April - September
Tubing operates 10am to 7pm from July - September
Located at 6 Lakeside Drive Lake Tekapo
Other Information
The Day Spa is very popular so we recommend booking your treatments well in advance
Pool temperature is 36 - 40 degrees celcius
Minimum age for Ice Skating is 3 years old & 5 years for Tubing
No bookings are necesary for skating or tubing
A range of accommodation is available within walking distance
Hot Pool:
adult NZD$25.00
child (3-15yrs) NZD$14.00
senior (60yrs+) NZD$20.00
family (2ad+up to 3ch) NZD$84.00
Hot Pool + Sauna :
adult NZD$31.00
senior (60yrs+) NZD$26.00
Skate + Soak:
adult NZD$39.00
child (3-15yrs) NZD$24.00
family (2ad+up to 3ch) NZD$137.00
Skate + Snow:
adult NZD$39.00
child (3-15yrs) NZD$29.00
family (2ad+up to 3ch) NZD$149.00
Soak + Snow:
adult NZD$45.00
child (3-15yrs) NZD$30.00
family (2ad+up to 3ch) NZD$163.00
Skate + Soak + Snow:
adult NZD$58.00
child (3-15yrs) NZD$39.00
family (2ad+up to 3ch) NZD$212.00
Face Care:
Tekapo Mineral Ritual - 75mins NZD$130.00
Hands & Feet:
Classic Manicure - 45mins NZD$70.00
Tekapo Spa Manicure - 60mins NZD$95.00
Classic Pedicure - 45mins NZD$70.00
Tekapo Spa Pedicure - 60mins NZD$115.00
Relaxation Massage:
Back, Neck & Shoulder Massage 30min NZD$65.00
Full Body Massage - 60mins NZD$120.00
Deep Tissue Massage:
Back,Neck & Shoulders/Leg & Glutes NZD$80.00
Full Body Massage - 60mins NZD$140.00
Spa Packages:
Glacial Polish & Full Body Massage NZD$145.00
Spa Pass - 60mins NZD$135.00
Revive Package - 60mins NZD$135.00
Tip-to-Toe Ritual - 150mins NZD$290.00
Genuine Customer Reviews powered by
Service rating: excellent
The service was efficient and reliable, and I was very impressed with the personal service we received in being informed that we could not partake in the snow tubing and in how quickly our refund for this part of the experience was processed.

Product rating: excellent
We had a really lovely time at the hot pools, although it was a shame we couldn't also do the snow tubing because of lack of snow!
Service rating: good
service was good. I was unable to print off my ticket so consequently I was unable to provide our tour guide/quad bike instructor my ticket. In the end I had to email them my ticket later that night (to which I still don't know if they received it). It would have been good if your company could have automatically sent them my ticket or at the very least, the confirmation receipt that indicated that I had indeed did pay the full amount for the tour.

Product rating: good
Enjoyed the ride. Pretty country

rating
97% of new customers that used Everything New Zealand to provide advice and securely book their NZ activities have let us know they've had a good or excellent experience with us. Thank you.