Easy to book - Secure Online Payments - Instant email confirmation - Flexible to make changes
Jet boat - Dart River Wilderness Jet Queenstown
Highly Recommended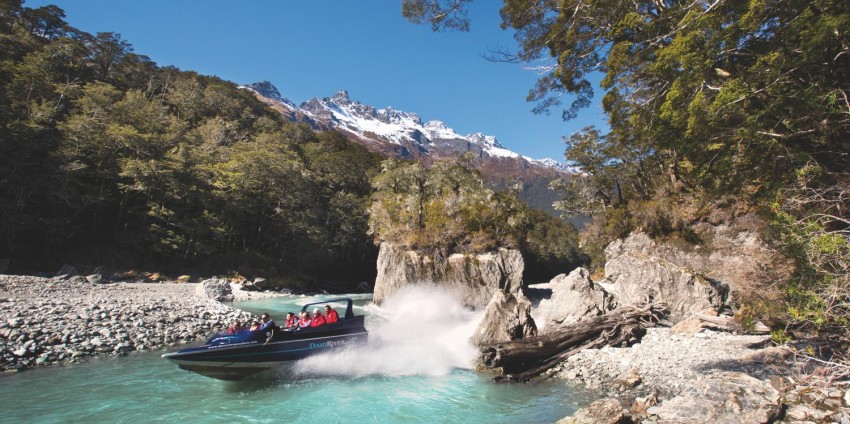 from NZD$259.00
Dart River Wilderness Jet Boat
Description
Embark on a Dart River Jet Boat Safari in Queenstown to experience an exciting blend of thrilling jet boating in shallow water, incredible sights, rich Maori culture and unforgettable adventure—a genuine foray into the heart and soul of New Zealand and what makes it such an outstanding destination. Dart River Jet Safaris operate the only boat rides on the Dart River and give you the option of joining the Queenstown region's longest and most exciting jet boat trip. A myriad of experiences await on this adventure that will take you from Lake Wakatipu's head onto the Dart River and deep into the heart of the Mount Aspiring National Park. The Dart Wilderness Safari gives you the chance to experience an astounding World Heritage area shrouded in ancient Maori legend.
Wilderness Safari passengers will be taken on a 1.5 hour trip by jet boat down the winding braided river system of the Dart River, one of the most difficult to navigate rivers in New Zealand accessible by commercial jet boat. Be awed by magnificent snow-capped mountain peaks, concealed valleys and spectacular waterfalls. Included in the ticket price is a guided walk that takes you through the 'Heritage Trail' situated at Paradise. During this 30 to 40 minute session, your friendly and knowledgeable guide will educate and entertain with informative commentary on the ancient native beech forest, the native flora and fauna unique to the region, the mysterious Maori history of the area as well its colonial past.
Ply the back roads in a 4WD coach that will take you past numerous scenic stretches, enjoying commentary on your surroundings and pausing to regard spectacular scenery featured in various movies such as Peter Jackson's Lord of the Rings trilogy.
Trip Includes
Optional return transfers from Queenstown accommodation
More than an hour of thrilling high-speed wilderness jet boating
30 minute forest walk with your friendly guide
Backroad tour of Paradise & scenes & backdrops from The Lord of the Rings & The Hobbit movies
Entertaining & informative commentary including Lord of the Rings trivia
Duration
Allow 6 hours (includes transfers from Queenstown)
Departures
8am & 12.30pm
Pick up from your accommodation or central Queenstown shop
If driving yourself to Glenorchy please allow 45 minutes each way
Operates daily all year
Other Information
Minimum height requirement is 100cms (3ft) tall irrespective of child age
Child rates apply (5-15yrs). Infants (3-4 years) can travel on the Wilderness Safari free of charge as long as they fulfil the height requirement
Dress warmly, especially in winter
We advise you to take the following: Sunscreen, bottled water, hat, shades, insect repellent and of course your camera
Upgrade to the full day Funyaks option
Upgrade this activity to one of the following combos:
Adult: NZD$259.00
Child (5-15yrs): NZD$159.00
Family (2ad+2ch): NZD$637.00
Latest Questions about Jet boat - Dart River Wilderness Jet (Queenstown)
if we upgrade to the Funyaks option, what is the cost. and how much longer does it take?
Comments
Hi did a dart river jet boat ride about 18 years ago then kayaked back up the river and through caves in a inflatable kayak/ canoe do you still do the same trip
Comments
Hi me and partner are 70+. the walk on the dart jet trip, how hard is it.
Comments
please could you confirm that the Dart River Safari Tour is appropriate for our 4 year old. she is 110m tall.

Comments
My Wife and I will be in Glenorchy on the 3rd. or 4th. of March 2014.
Is it possible to join the Dart Rivrer Safari from there.
If so, at what cost per person.
Regards
Bill
Comments
Hi......Planning a Dart River trip in Jan. 2014.
Does the cost cover pick-up in Queenstown?

Thanks.
Monica.
Comments
What Lord of the Rings sites do you visit on the Dart Wilderness Safari?
Comments
We would like to do the funyaks option with our daughter who is 9 1/2yrs. Can 3 of us ride the one kayak?
Comments
My husband and I are looking at taking the Dart River Safaris on 1/10/13. The Shotover boat looks really fun too. Can we do both? or is the boat on the Dart River tour the same?
Comments
Will you be operating on Christmas Day?
Comments
Hi - Do you stop anywhere for a bite to eat on the 6 hour trip?
Comments
what are your age limits re kids? I have a two year old.
Comments
Please can you let me know the cost for 2 adults and onechild/family package without the Queenstown pickup, as we are stayiing in Glenorchy. Thank you.
Comments
Are there any family package options for Dart River Safaris?
Comments
My husband and I will be in New Zealand in March. Your Dart river safari with funyaks has been recommended. My husband was injured in an accident and has no use of his left hand. I can paddle and guide a canoe. Would we have trouble navigating the funyak? Thank you.
Comments
We will be staying at Mercure Queenstown Resort. Do you have pick-up there?
Comments

rating
95% of new customers that used Everything New Zealand to provide advice and securely book their NZ activities have let us know they've had a good or excellent experience with us. Thank you.