Easy to book - Secure Online Payments - Instant email confirmation - Flexible to make changes
Kayaking - Funyaks Queenstown
Current Special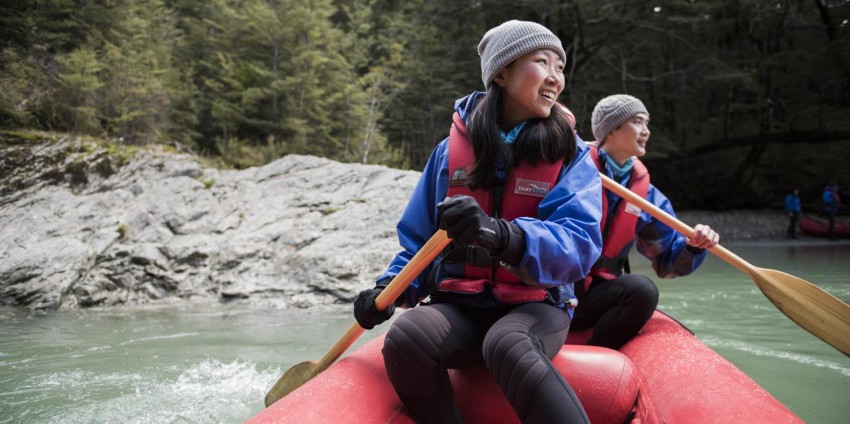 from NZD$339.00
Kayaking - Funyaks
Description
If you've ever wondered what it would be like to combine a thrilling jetboat ride through the wilderness with a canoe, you'll love going on a Funyak Safari, on which you'll take a special Funyak inflatable canoe deep into the incredible World Heritage-listed depths of Mt Aspiring National Park. You will be accompanied by friendly and professional guides who will lead you through the most eye-popping landscapes and enable you to experience the incredible cultural and natural diversity of this unique part of the world.
Jet Boat Action
There's nothing quite like racing through kilometres of wild riverside scenery on a jetboat, clutching at the handrails as you are launched into dizzying jet spins. Explore the winding Dart River on an exhilarating ride, pausing along the way as your guide points out interesting facts about the breathtaking scenery about you.
Unique Funyak Adventure
After your jet boat ride, board a Funyak and paddle or float downstream on a one-of-a-kind journey that will be enhanced by your expert guide's commentary on the breathtaking scenery and narration of fascinating stories. Explore up close the lively channels of the dynamic Dart River and paddle close to secret side streams, serene rock pools and chaotic chasms.
Wilderness Buffet Lunch
Pause midway through your adventure to take in a mouth watering buffet lunch in amazing natural surroundings before you climb into your Funyak and travel further down the river to Paradise. Travel through rugged back-country past unbelievably scenic locations, several of which have been used in the making of many international movies, including the epic Lord of the Rings trilogy.
This adventure is suitable for people of all ages and levels of fitness, and no special skills or experience are required.
Trip Includes
Optional transfers from Queenstown
Exhilarating wilderness jet boating along the Dart River
Unique Funyak adventure in inflatable canoes
Delicious wilderness buffet amidst spectacular scenery
Journey through the back country roads of Paradise to Glenorchy
Entertaining & informative commentary including Lord of the Rings trivia
Duration
Allow 8-9 hours inlcuding transfers to Glenorchy from Queenstown (45mins each way)
Departures
8am (returns 4pm)
Queenstown Hotel pick up or self drive to Glenorchy (45 mins from Queenstown)
Operates daily all year
Other Information
Child price available for children aged 5 - 15 years
Children under 5 years are not permitted
Please take swimwear & a towel with you
Dress warmly as the wind chill can often be quite cold in the winter months
We advise you to take the following: Sunscreen, water, hat, shades, insect repellent & of course your camera
Adult : Special NZD$339.00 (was NZD$349.00)
(Special from 1 st April 2017 - 31 st December 2017)
Child (5-15yrs): NZD$239.00
Family (2ad+2ch): Special NZD$917.00 (was NZD$937.00)
(Special from 1 st April 2017 - 31 st December 2017)
Genuine Customer Reviews powered by
Service rating: excellent
The vouchers are easy to use and the operator reply quite fast. They will try to accommodate my requests and give suggestions to ensure I have enough time for another activity.
I bought 4 activities from them for my family.
Look for combo they are much cheaper.

Product rating: good
The scenery were beautiful and the driver *** guide were informative. It is fun on the kayak and the green river was the highlight.
Service rating: excellent
Fantastic time, we did lots of fun things while in Queenstown but this was one of the best experiences by far. Not to be missed and worth the money. Nice lunch too.
Latest Questions about Kayaking - Funyaks (Queenstown)
is it ok to book a family pass with 2 adults and two kids if the adults are the same sex and one of the kids is 15yrs
Comments
Should we bring a change of trousers for the day as we probably may get wet on the fun yak tour? Can we leave a backpack dry in the bus?
Comments
can you accomodate 35 people on day?
Comments
There are 2 of us travelling together. All the promotional pictures show 2 people in the Funyaks but the words seem to indicate each person has there own. Can you please clarify as we would like to be in the 1 Funyak.
Comments
May i know how long the kayaking will be?..do you provide halal or vegetarian food for this trip?..is this trip consists of 4wd drive and speed boat?, for speed boat, how long the journey is?
Comments
Hi;
Will you be operating on New Years Day 2013?

Comments
We are looking at booking in late August, do we still require swimmers? Also is a vegetarian lunch available. Cheers
Comments
Hi I am coming to Queenstown in Oct. I will be travelling on my own - is it OK to be solo.
Comments
Hi, we are in Queenstown from 21 - 27 July and my son who is currently 4 will be turning 5 on 21 August. Is he able to participate on the fun yaks with an adult? Thanks
Comments
We will be visiting in July, and are booked on this tour. How do we dress for this tour?! We are coming in from the states and I am starting to pack!
Comments
ALready scheduled for 7 Apr. 2012 and curious if any weather gear is provided? Also, is trip cancelled if it rains?
Comments
Hi
Just wondering if it's possible to arrange for a pick up from our accom at Breakfree The Point 239 Frankton Rd Queenstown.

Also, are there still plenty of places available on 7th April ? we're looking at booking for 3 adults.
Can we secure booking with credit card details and pay closer to the event date

Thank you.
Comments
Do you have to go on the jet boat on the Funyaks tour or is there another way to get to the start of the Funyaks?
Comments
Hi, interested in the Funyak tour. What happens if it's raining?
Comments
Hi there
We are arriving in Queenstown on the 13th Jan for 7 nights and would love to do something like this, what are our chances of getting a booking once we arrive.
Comments
Hi, me, my husband and 2 gals aged 11 and 12 years are interested to book the Funyaks adventure. Can we book on 27th Dec?. May i know if we are require to wear waterproof shoes. Crocs? slippers? normal swimwear? Will you provide the wetsuit? What are the difference in fees if we drive on our own from hotel to Glenorchy? Any further discounts for 2 adults and 2 childs package?
Comments
This trip looks amazing, do we need any kayaking experience to be able to do this trip? We are in our 50's and really keen to see some of the scenery and Lord of the Rings locations in Glenorchy, this looks like a great way to see it with the jetboat ride as well. Is the jetboat ride very fast or scarey?
Comments

rating
96% of new customers that used Everything New Zealand to provide advice and securely book their NZ activities have let us know they've had a good or excellent experience with us. Thank you.