Easy to book - Secure Online Payments - Instant email confirmation - Flexible to make changes
Paragliding - G Force Tandem Paragliding Queenstown
Current Special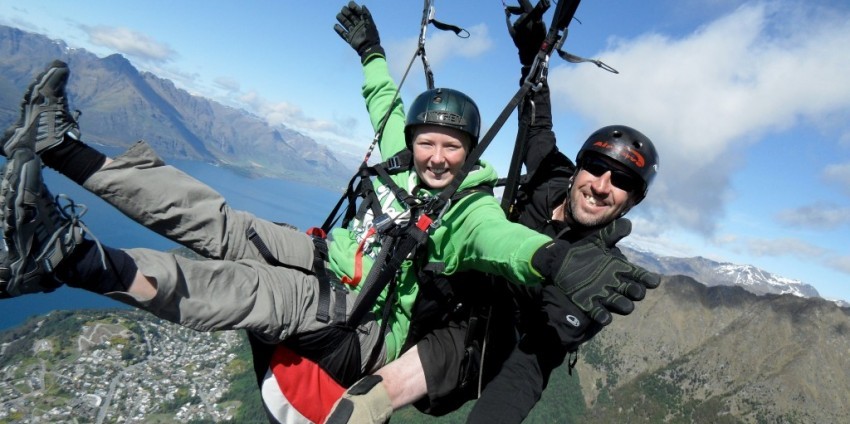 from NZD$219.00
Paragliding - G Force Tandem Paragliding
Description
Embark on a thrilling Tandem Paragliding adventure in Queenstown, launching from the peak above the Skyline Gondola. Queenstown Tandem Paragliding was the first company to operate over Lake Wakatipu and Queenstown, and to this day is the only company that does so. There is no better and more scenic location from which your family and friends can watch you soaring up above while partaking in the various other activities available atop the Skyline.
The launch site is located at the Skyline Gondola Complex 2,500 feet above Queenstown. Ride the cable car, also known as the Gondola, up the mountainside, after which you will be introduced to your friendly pilot and escorted to the launch site. Whether you prefer a relaxing scenic experience or an adrenalin-fuelled ride full of twists and dips, your pilot can tailor the ride accordingly.
Queenstown Tandem Paragliding are the only operators allowed to launch at this site. The team is passionate about paragliding and eager to enable you to experience New Zealand in a completely new way and from a totally different perspective.
Book the 9am (10am in winter) early bird special & save $20
Trip Includes
A flight of a lifetime (choose either aerobatic or scenic option)
Duration
Allow 1 hour. The Gondola is a 5 minute walk from central Queenstown
Departures
Every hour from 9am during daylight hours
Operates daily all year
Other Information
You must wear closed in footwear ie trainers. No open toe footwear
Max weight is 100kgs & minimum weight requirement is 20kgs
Photo & video options available for purchase ($40 for video & photo pack)
Dress warmly as the air can be cold once you start flying. We have gloves & hats you can borrow but we recommend wearing warm clothes
The Gondola ride is not included in the price & must be purchased on the day at the Skyline ticket office at the base of the gondola. Cost is $32 for adults & $20 for kids. Alternatively you can hike up the walking track which takes about 45 minutes. Your hand will be stamped once you have checked in which allows you to ride the gondola back to the top for free
Flight time is weather depending
Suitable for people of all ages (moderate level of fitness and agility required)
A reasonable level of fitness is required as there can be a 15-20 minute hike to the take off point. There is also a 15 meter run for take off
Special Offer
Book the 9am (10am in winter) early bird special & save $20
Paragliding:
normal flight NZD$239.00
early bird special NZD$219.00
Genuine Customer Reviews powered by
Service rating:
It was a wonderful adventure. My guide Vicky was friendly, encouraging, supportive,confident, & knowledgeable.
I wish it was longer!! Highly recommend this group.

Product rating:
It was expensive but I thought it was worth it. It did include the ride to and from the site and well trained guides
Service rating:
Delayed 45 minutes and then cancelled. Refund for the flight but not the $70 gondola. At the bottom could see flights taking off again and so all very frustrating and an expensive non event.
Service rating:
It was great. I knew I had a voucher and made a spur of the moment decision to do a paraglide so booked on my phone through the website and got the voucher send in about 30mins. All done!!
Service rating:
very good at handling our requests to change times and refund our money when paragliding was cancelled

Product rating:
this was our worst experience in Queenstown. We arrange at 11am Thursday to move our paraglide from Friday to 3pm Thursday. I was sent a confirmation text at 12 by everything queenstown. then we go up the gondola to learn its cancelled. no call nothing. the guy James was rude on the phone, did not care we only had a small window to make this happen and basically couldn't care less. would not book again with these people
Service rating:
Great service
Product rating:
Service rating:
Easy to use.

Product rating:
It was a well worth it experience. Our pilots were great.
Service rating:
The lady (Donna?) not very helpful on the phone

Product rating:
Misleading information on the booking voucher!!! But good experience with Brady
Service rating:
Easy to book and pay

Product rating:
Great flight, but they took too many photos during that I was never going to buy
Service rating:
Easy to communicate with, prompt responses, activity booked as promised. I was not able to paraglide, so they offered to rebook or refund the money. Since I left Queenstown, they sent an email assuring me a refund within 3 to 5 days. I am confident I will receive it and will book activities with them in the future.

Too windy and had to be cancelled.
Service rating:
Online Bookings services were simple and quick.

Product rating:
G Force staff were fantastic focused and engaging.
Service rating:
Very helpful service.

Product rating:
Very enjoyable flight - great tandem pilot
Service rating:
Easy registration and communication

Product rating:
Excellent activity. The guides are nice and the the paragliding itself is such an awesome activity !!
Service rating:
****** brilliant

Product rating:
incredible - Brady was super great, made a fan out of me!
Service rating:
Very helpful

Product rating:
Amazing experience very professional business!
Service rating:
Easy to use web site.
Product rating:
Service rating:
Good

Product rating:
Best thing we did in queenstown guides were great
Service rating:
Efficient, friendly, informative, simple. Would recommend to anyone
Product rating:
Service rating:
Very good. Prompt response and helpful when I phoned in when concerned about the weather forecast.
Product rating:
Service rating:
No commet

Product rating:
No comment
Service rating:
Great service very helpful staff!
Product rating:
Everything Travel Group Review
I was a bit nervous at first as I had been watching some customers before me doing some pretty amazing aerobatics and I don't have the best of stomachs! I told my pilot, Guy, that he might be wearing my breakfast if he flew me the same way. No dramas at all. He said he'd go easy and give me the scenic option (the one for grandmas!). That he did. I had an amazing flight with heaps of lift, a gentle landing and got some superb photos of my experience.
Suggestions: Paragliding is weather dependent and can be cancelled by high winds or winds simply in the wrong direction. Book for one of your first days in Queenstown so that you can reschedule if necessary. Also book a morning flight to beat the crowds as during summer it can be extremely busy during the middle of the day.
Thrill Factor
Wow Factor
Fun Factor
Latest Questions about Paragliding - G Force Tandem Paragliding (Queenstown)
Hi,
Is the gondola ticket included for paraglide? Do we have to buy separately? We already booked early bird package for three.
Comments
How much are the Gforce photo packages?
Comments
is it open in month of may at what time and what are the charges
Comments
How long are we actually up in the air with G Force? On the Skytrek paragliding page it said 10-20 minutes, is that it?
Comments
Hi,
What is the average and minimum flight time? Do you land back on top of the mountain?
Comments
What happens if it rains? can we reschedule. If we cannot reschedule, do we get a refund?
Comments
My husband is 230 pounds. Can he tandem paraglide
Comments
Is the gondola ticket valid for any time of the day? ie. Can we go up the Gondola early and paraglide later that day? Thank you
Comments
Do you have any rules against customers taking/using their own wearable GoPro camera on this activity?
Comments
If you book the 9am, does that simply mean you have to be on the first Gondola of the day?
Comments
If I am at 104 kg am I not allowed?
Comments
Trying to decide between paragliding & hanggliding. How long does the flight for paragliding last?

Comments
I am looking to book a tandem paraglide in January, is insurance covered in your costs ?
Comments
Is there a maximum weight limit?
Comments
where does the flight end. My daughter is booked in for Saturday and we dont know where to meet her after her flight.
Comments
I want to paraglide on the 14/08/2012 with my wife & 2 kids aged 6 & 4. is this suitable for the kids?
This is a 1st time experience for us & want to know more about this before pre booking.
does tandem mean that an experienced person will glide along? Please advise
Thank you

Comments
where does the 'gondola' fit in with this tour?
what do you mean "own gear" recommended? what is the "gear" referred to?

thank you.
Comments
My friend and I are traveling to Queenstown next week, will you be offering tours even if it winter?
Comments
Hi, I am very keen of trying this but am afraid that it will be fast like falling down like a rolling coaster. Can you advice me what is the speed like? This is my first time if I am going to do this and I will proof my heart to be strong,,LOL!

But really, please advice me before I do this.

Thanks & Appreciate it.
Comments
Is it possible to buy a voucher? It's for a 21st birthday present, but I'm not sure when we will be able to take time off to go to Queenstown.
Comments
Can a 10yr child do paragliding??
Comments

rating
95% of new customers that used Everything New Zealand to provide advice and securely book their NZ activities have let us know they've had a good or excellent experience with us. Thank you.