Easy to book - Secure Online Payments - Instant email confirmation - Flexible to make changes
Ziptrek Ecotours Queenstown
Current Special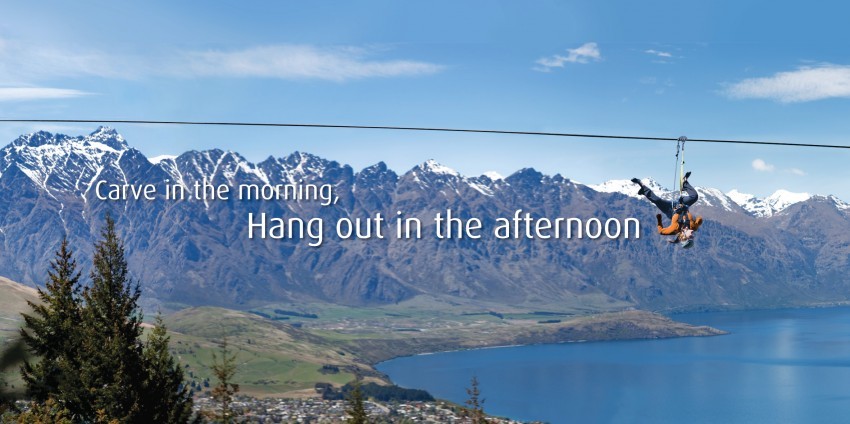 from NZD$109.00
Ziplining Tour - Ziptrek Ecotours
Description
Embark on New Zealand's first and original zipline tour with Ziptrek Ecotours, which takes you on an exciting eco-adventure that will have you ziplining through the canopy of a luxuriant forest from atop the Skyline gondola hill in Queenstown.
Fasten your harness and feel the breeze on your skin as you whiz down thrilling ziplines that will have you zipping down the mountain from tree to tree. Guides will be on hand to help you launch from each tree deck and also receive you at the end of each line. All you have to do is concentrate on your own enjoyment. At each tree house suspended high above the ground, enjoy views of stunning Lake Wakatipu and the magnificent Remarkables mountain range as you listen to your guide's humorous commentary on the history of the area as well as the ancient stories surrounding it.
You can enjoy a Ziptrek Ecotour all year round and in any weather. You can choose from two tours. There is something to suit all preferences, whether you want a beautiful view of Queenstown or are keen to experience the latest and most exhilarating zipline adventure that takes you as high as possible on what is the steepest tree-based zipline on earth.
Kea 6-line tour
The Kea tour takes you down the mountain on a breathtaking ride that will have you going down a whopping 30 storeys, reaching high speeds of up to 70 kilometres per hour. You will enjoy the incredible sight of ancient native beech forest as you travel on six ziplines that take you from tree to tree amidst unbelievable mountain scenery. The Kea tour can be enjoyed by everyone but is particularly recommended for those who are seeking excitement, families with children in their teens and those who love nature and the great outdoors.
Moa 4-line tour
This tour offers the perfect introduction to Queenstown. The Moa tour will have you travelling on four ziplines, beginning and ending atop the Skyline gondola. The tour begins on lower ground and then gets longer, faster and higher as you become more confident. This tour is suitable for people of all ages but is particularly enjoyable for families, youngsters or the young at heart and diners having a meal at the Skyline.
Little children can enjoy the thrill of ziplining as well. Tandem zipping, which is available on this tour, is perfect for kids who are at least 6 years old and weigh under 30 kilograms. The kids will ride on some ziplines alone, and on others a professional guide will zip together with them. Book in advance as there is only one tandem slot on each tour.
Experience Ziptrek by night (during winter) with the Moa 4 Line Twilight Tour. A fantastic night time tour through the forest and a perfect way to round off a day up the mountain. Head torches are provided to help you explore the forest canopy!
Early Bird Special Offer
Book the 10.20am Kea 6 Line early bird special or the 10am Moa 4 Line early bird special & save $30 per adult & $24 per child
Trip Includes
Moa 4-line or Kea 6-line tour
All tours have an interpretative & informative guided talk on tree platforms with an ecological focus
All guests are provided with a full body harness & helmet
Duration
Allow 1.5 - 2 hours for the Moa 4-line tour
Allow 2.5 - 3 hours for the Kea 6-line tour
Departures
Moa 4-line tour departs 10am, midday, 2pm (& 4pm in summer, Twilight tours depart 4pm, 5pm & 6pm in Winter)
Kea 6-line tour departs 10.20am, 1.40pm (& 3.20pm & 5.20pm in summer)
Departs from the top of the Skyline Gondola complex. You will need to catch the gondola to the top (at your expense) or walk up the track (60 minutes)
Operates all year
Other Information
Ziptrek is an outdoor adventure activity & operates in all weather conditions & reservations are strongly recommended
24 hour cancellation policy
Discount rate for seniors 65 years old & over
Closed toe footwear is required for both tours, however firm & supportive footwear such as hiking boots or trainers are essential on the Kea 6-Line Tour
Pregnant guests & those with a recent injury are not allowed to participate
Minimum age 6 years
Minimum weight limit of 30kg for the Kea 6 Line tour
Upper weight limit 125kg (275lbs)
Guests must be a minimum of 15 years old to zip without a guardian. All minors (under 18 years) require a guardian signature on their waiver before embarking on the tour
It is cooler in the canopy of the trees. Guests are encouraged to wear additional layers for their own comfort of the tour
If participating in a Twilight Tour (Moa 4 Line tour - Winter 4pm, 5pm or 6pm) we recommend that you dress as you would to go skiing, with an extra layer for warmth. You will be provided with a head torch to help you explore!
Tours include light stair climbing & trail walking. Guests must be able to walk unassisted
Small item storage is available at the Tree-house for guests participating on the Moa 4-Line tour. Please only bring non-valuable small items that will fit in your pocket for the Kea 6-Line tour as baggage cannot be carried on this tour
If you have a camera or small video recording device you can bring it with you. We recommend they have a wrist or neck strap so that you can attach it to yourself when zipping
Moa 4 Line Tour:
adult (early bird)

Special

NZD$109.00 (was NZD$139.00)


(Special from 1 st January 2017 - 17 th December 2017)

child (early bird)

Special

NZD$65.00 (was NZD$89.00)


(Special from 1 st January 2017 - 17 th December 2017)

adult NZD$139.00
child (6-14yrs) NZD$89.00
senior (65yrs+) NZD$89.00
Kea 6 Line Tour:
adult (early bird)

Special

NZD$159.00 (was NZD$189.00)


(Special from 16 th January 2017 - 17 th December 2017)

child (early bird)

Special

NZD$115.00 (was NZD$139.00)


(Special from 16 th January 2017 - 17 th December 2017)

adult NZD$189.00
child (6-14yrs) NZD$139.00
Genuine Customer Reviews powered by
Service rating: excellent
It was friendly, warm and fun

Product rating: excellent
Well worth doing. A fun experience
Service rating: good
Loved zip lining and the luge was disappointed that we couldn't clay bird shoot as it was fully booked

Product rating: excellent
Fantastic well done Broke and Jess
Service rating: excellent
The booking is easily accessed and we can seek help by online chat easily. The experiences from the activities purchased are amazing.

Product rating: excellent
The experience is good and awesome. However, the group i joined has 10 ppl (including me and my partner) which consumed a lot of time in waiting. it will be good if the group size is slightly smaller.
Service rating: excellent
All bookings were confirmed quickly and when we arrived for each activity they had all of our details so made checking in easy. Everything Travel was an easy way to see all that was on offer in Queenstown so you could then choose your favourites to book.

Product rating: excellent
Loads of fun flying through the treetops and not as scary as I thought it would be.
Service rating: excellent
Awesome!
Service rating: excellent
Friendly and helpful. Everything went smoothly and without any hiccups. Highly recommended!

Product rating: excellent
Our first time ziplining and our guides made us feel safe and assured. An amazing and educational experience.
Service rating: excellent
They were friendly welcoming and ensured we all had a great experience.
Very encouraging and informative.

Product rating: good
Haven't had a chance to view my video yet. Photos were great although a bit to big to fit cardboard frame.
Service rating: excellent
Very helpful for multiple options and timeframes I was looking at. Very patient with lots of stupid questions I had.

Product rating: good
Staff was extremely helpful and making sure it all went smoothly even a few days before my experience.

Even though it was rainly and cold the day of my tour, the staff onsite from checking in to the guides on the trip were AWESOME! Great personalities! Very cool and nice.

Definitely enjoyed my experience despite the weather not cooperating. Great employees that Ziptrek has!
Service rating: excellent
Straight forward and easy with Everything Travel Group

Product rating: excellent
Amazing experience with an amazing group of people ! Highly recommended
Service rating: excellent
easy transactions and service

Product rating: excellent
good and enjoyable experience with my older teens
Everything Travel Group Review
What a fantastic trip, for the person who wants a great buzz along with some interesting commentary on the local environment and sustainable business practices, then this is the trip for you. The ziplines are fun and exhilirating but they won't scare your socks off so if you're looking for high adrenaline then consider a skydive or bungy jumping instead.
This trip is ideally suited for families (see minimum ages). The staff are fantastic and their commentary is very interesting and informative. For those wanting a little more, you should try the 6 line tour, which includes 2 more lines with the last line considerably steeper than the first 5.
Value for Money
Thrill Factor
Fun Factor
Environmental Care
Latest Questions about Ziptrek Ecotours (Queenstown)
Hi,
I was wondering how long it the kea 6 line tour actually goes for? Like the time ziplinning .
Hi there,

I'm visiting Queenstown in June and I'm keen on doing the ZIptrek. Can i check if it will be available in winter? Thank you/
Comments
Hi, could you tell me if there's a height restriction for this activity? I have a shortish 12 year old....
Comments
hi lucy here
how high is your highest tree hut at ziptrek ecotours
;)
Comments
Hi,

I was looking at prices and their are special rates that go up until the 23rd of December. Does this mean you have to go on the tour before this date or can you purchase before this date and use in January?
Comments
hi, could you please tell me the maximum weight?
Comments
Do you operate in all weather conditions? If a booking is cancelled due to poor weather conditions, do you offer a full refund?
Comments
Hello

How many people are allowed on each Ziptrek tour? I am traveling to New Zealand at the beginning of March and was looking into your tour. Also, are there group rates?

Thank you!
Comments
Hello - can you let me know the recommended footwear for going on the zip wire please? Many thanks!
Comments
Hi there. if i wanted to book the 10am Ziptrek, could i still buy the package with the Gondola, Lunch and Luge but use the gondola in the morning to get to the Ziptrek and then do lunch and luge after? Is there flexibility around this? Also i saw somewhere it said that if you book an adult now you could get $30 off each one, is this incorrect?
Comments
Are advance bookings mandatory or can we book in on the day?
Comments
When is the off=peak time for the Moa tour? we will be in Queenstown Dec 20-25th
Comments
Ziptrek Moa ride, can I do the ride with my 5 and half year old son attached to me on this ride.
Comments
Hi there,

We are heading over from Australia. My Daughter is 6 and my son is 8 but they both weigh under 30Kg. If we do the Moa -4 can the guide(s) accomodate to do tandem for both?
Comments
Hello. Does the off peak price include
getting to the location of the 4 ziptreck on the gondola
Comments
Do you have a 5:20pm for the 6-line in October 2013?
Comments
Can I take my own GoPro on the Ziptrek?
Comments
Hi I have arthritis in my knees and lower back. I can't walk long distances - can you tell me how long the walks are on the Mao 4 line tour please.
Comments
Hi, I'm heading over from Aussie land to NZ in feb with my folks (70yrs of age) Is this suitable for two reasonably fit seniors? Are the harnesses comfortable? And do you do seniors discount?
Also how high is this? I have a slight fear of heights, but not too bad.
Thanks
Sarah
Comments
Hi What times of the year are the off peak times and do you have a special for 2 or 4 people?
Comments
Hi there.
Our family (2ad+3kids) will be in Queenstown around the 18th- 21st July. Will the 'special' and/or 'off peak' prices still be available then?
Thanks
Sandra
Comments
How demanding is the 45 mins walk up to the 6 line Ziptrek Ecotour?
Comments
I notice it says no-one with recent injuries should participate; I sustained a knee injury in early April, and I'm fully mobile now - I only have occasional twinges if they receive a shock or too much downward pressure; is this likely to be a problem to participate?
Comments
What is the off peak that says in the price?
Comments
Hi, my son is 6 and weighs 28kg. Would he need to tandem with a staff member or could he tandem with a family member on the 4 line? Thanks
Telina
Comments
Comments
Hi we have a car and could drive up tho the top. Is the finish at the bottum though??
Comments
I noticed that the information about this, says no items are to be carried. Not even a video camera? Do you do your own video`s of your customers, so they can buy it at the end of the tour?
Comments
Hi--another question. My friend and I are planning to book this, but we are both interested in the Kea route, however niether of us has ziplined before. Is it okay for beginners to do the longer line?

Thanks!!
Comments
What exactly is the "off peak" special?
Comments
Is there a combo that includes the Ziptrek, Shotover Jet and helicopter flight?
Comments
How many people can go on the 4-line tour maximum?
Comments

rating
96% of new customers that used Everything New Zealand to provide advice and securely book their NZ activities have let us know they've had a good or excellent experience with us. Thank you.