Easy to book - Secure Online Payments - Instant email confirmation - Flexible to make changes
Rotorua Canopy Tours Rotorua
Highly Recommended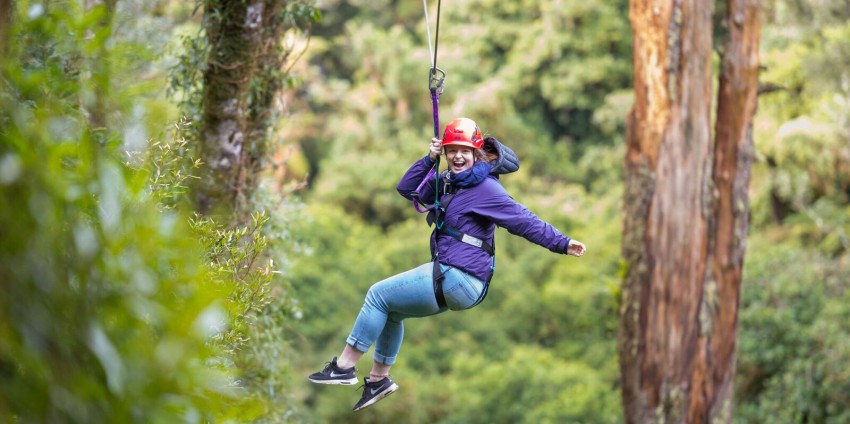 from NZD$149.00
Rotorua Canopy Tours
Description
If you have ever felt compelled to swing through the trees like Tarzan, this is as close as you will get! Rotorua Canopy Tours – New Zealand's only native forest zipline canopy tour – allows you to experience the wonders of the ancient New Zealand native forest in a totally unique and exciting way.
Your three-hour journey meanders through the treetops via walking trails, swing bridges, platforms and ziplines/ flying foxes at heights of up to 40 metres above the ground! The high platforms – attached to 500 year-old trees up to 22 metres high – will take your breath away as you gaze down at unexplored valleys; while the tight openings through the forest sub canopy will make you feel as though you are exploring an ancient, mythical world. The six ziplines will add an exhilarating edge to your journey, with some up to 40 metres above ground level and up to 220 metres long. The tree-to-tree swingbridges will delight you, with some spanning up to 50 metres long. There's truly no better way to explore the beauty of New Zealand's native forests!
The Rotorua Canopy tour guides are passionate, professional and friendly and will walk you through the history of the forest, pointing out some of the most unique flora and fauna in the world. As you progress through the 1.2km adventure trail, you will learn about the conservation challenges made to preserve the spectacular 500 hectare forest, and how part of your admission fee will help to restore the forest to a pre human eco system. You can breathe in the fresh, clean air – knowing that you have helped contribute to such a great cause!
Relive the sounds, sights and smells of a time before men left their indelible imprint upon nature. This is New Zealand in all of its glory and you will never forget it!
Trip Includes
Complimentary pick up & drop off available from city accommodation
FREE photos included
Part of your admission fee contributes directly to our conservation fund
Introduction, harness fitting & safety briefing
2 expert guides accompany your group with a maximum of 10 guests
Duration
Departures
9.30am & 1.30pm (& 4pm in summer)
Departs Rotorua Canopy HQ, 147 Fairy Springs road, Rotorua or pick up from your city accommodation
Operates daily all year
Other Information
Maximum weight limit 120kg
Minimum age 6 years. Please advise if your child weighs less than 35kg
Rotorua Canopy Tours operates in all weather conditions except high winds & electrical storms. The forest is at its most beautiful during rain
Please dress with an additional layer of clothing & closed toe footwear
You will be provided with wet weather gear (if required) & all safety equipment
You are welcome to bring your camera but it must have a small strap that can be attached to your harness
Adult: NZD$149.00
Child (6-15yrs): NZD$105.00
Genuine Customer Reviews powered by
Service rating: bad
My twin sister and I arranged for a group of 6 to do Ziplining in Rotorua to be followed by a special dinner at Skyline to celebrate our 70th birthday. The booking was for 1.30pm on our birthday, 3oth Jan. We arrived in plenty of time to be told we were supposed to be with a group at 12.45pm and because we had missed our bookings we were required to pay a further $400+ and take a booking at 5.15pm! This meant that we would be too late for our dinner date! So we were forced to decide between the zipline or the dinner. As family had come from Paihia for this Occassion and were leaving the next day we couldn't transfer the booking to another day. We came home very disheartened to say the least and checked our emails re the mistaken time.According to what we had received 1.30pm was the correct time. My daughter was able to find your letter in scam mail re the changed time! As we never got it or confirmed that it suited us we felt that you should have made more of an effort to check that all was well with the changes.
The end result was that you were nice enough to reimburse $200 of the extra cost and Skyline who usually keep 100% of booked dinner payments if cancelled in less than 72hrs were kind enough to reimburse the total amount...but that stressed us no end until we found out!
The Zipline was wonderful but our planned dinner date where we were going dressed as twins etc was sadly missed. We were very disappointed about that. And for we senior citizens the extra costs were painful.

Product rating: bad
No purchases made. Good free photos on line for us.
Service rating: excellent
Brilliant and fun
Product rating: excellent
Service rating: poor
Don't let me book an experience if it is not available.
Although reply from Canopy tour place was good

Product rating: poor
Don't let me book if there are no places on the tour.
Service rating: excellent
Very helpful and efficient

Product rating: excellent
Great guides Scott and cam
Service rating: excellent
Fast response to booking process. Easy to use website.

Product rating: excellent
A great way to spend an afternoon. The tour guides were very focused on the groups safety, without being overly obvious. Very calming effect for the slightly nervous amongst us. Would recommend to anybody, young or older.
Service rating: excellent
Great guides. Fun, safe, and informative

Product rating: excellent
Excellent service.
Service rating: excellent
Great servvice

Product rating: excellent
Absolutely fabulous value for money!
Service rating: excellent
Excellent

Product rating: excellent
Brilliant we thoroughly enjoyed the whole experience
Service rating: excellent
Prompt response and helpful

Product rating: excellent
Had an amazing time - absolutely loved it
Service rating: excellent
Excellent, our group really enjoyed the experience of the Zipline and safety standards couldn't be faulted. We had a fun time. Excellent job guys.

Product rating: excellent
A must to do, great presentation and a fun time.
Service rating: excellent
easy to book,great communication.great day

Product rating: excellent
had a great day with our guides Cam and Shane. lots of fun with some great conservation info shared.They interacted well with everyone on the trip and we will highly recommend this trip.I work in the tourist industry in Whakatane and often get asked for recommendations of things to do in rotorua so Rotorua Canopy tours will be top of my "to do "list
Service rating: excellent
Quick and easy. Very hassle free.

Product rating: excellent
Great experience. A lot of fun. Super professional, super safe environment.
Service rating: excellent
Nice and easy way of booking. No need to worry about having to pay on the day it was already taken care of, all we need to do was turn up and have fun.

Product rating: excellent
Well organised and professionally run, guides were excellent with great personalities to make the experience all the more enjoyable. Fantastic value for money, and knowing your money is going towards the conservation of this forest and its wildlife makes it even better. This is a must do in Rotorua, I am scared of heights but still had a fantastic time and felt safe all the way thanks to our guides. I recommend this as a must do activity.
Service rating: excellent
Great

Product rating: excellent
Thoroughly enjoyed our tour - great guides
Latest Questions about Rotorua Canopy Tours (Rotorua)
hi do you operate on days like this bit drizzly we live in papamoa
Comments
I am thinking of a gift voucher for my sister's birthday - is the zipline included in the canopy tour? How long would she have to use the voucher?
Do you have any special arrangements with any hotels?

Thank you.
Clare Cramond, Hamilton
Comments
Hi there is this safe to do when 17 weeks pregnant.?
Comments
Is there a weight ristriction
Comments
Hi Guys, My wife and I are thinking of booking a trip with you next Saturday 26/9/15 for 4 its my daughters 13th birthday, time as yet not known, what happens if its raining on the day before we leave, do you still carry on or would you re-book??? I look forward to your reply. Thanks Doug.
Comments
Can you do groups of approximately 35 persons and if so is there a group price?


Comments

rating
97% of new customers that used Everything New Zealand to provide advice and securely book their NZ activities have let us know they've had a good or excellent experience with us. Thank you.