Velocity Valley Activity Combos Rotorua
9% off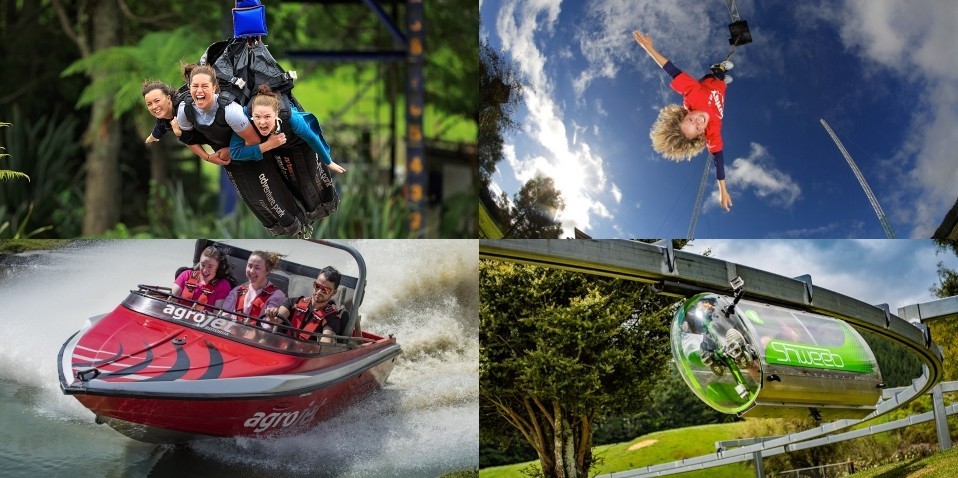 Velocity Valley Combo Deals
Highlights
Adventure activity combos in Rotorua
Combine the Agrojet, Swoop, Freefall Xtreme & Shweeb
Pick two, four or five activities
Great for thrill seekers!
Description
If you've ever been regaled with tales of thrill-seeking adventures in New Zealand, you have probably already heard of 'Velocity Valley'. This is because it's New Zealand's premier provider of heart-stopping action and adventure!
This multi-functional entertainment centre is all about the thrills and they offer plenty of those with each and every activity. Their Agrojet jetsprint ride will leave you white-knuckled and begging for more, while their iconic New Zealand bungy – Rotorua Bungy – will stretch you to your thrill-seeking limits. The world's only Shweeb – a pedal-powered, suspended aerodynamic racing pod track – will leave you and your friends with smiles on your faces, and the Freefall Xtreme wind tunnel will blow your mind. There is also the amazing Swoop – a super swing that allows you to freefall from 40 metres high, before safely being buoyed by the cord.
With their world famous Agrodome beginning the trend in 1998, Velocity Valley have certainly earned their place as a 'must-do' in the minds of tourists and locals alike. This wonderland of awesome adventure activities brings fun, excitement and adrenaline to visitors of all ages from 9am until 5pm every day. Located just a short drive out of Rotorua City, the Velocity Valley also stocks refreshments, snacks, merchandise and provide Digiphoto's of your experiences, so you can recall the thrill of your day for years to come. Velocity Valley's philosophy focuses on providing you with a safe, fun and memorable experience, and as their catchphrase suggests: 'If you're not living life on the edge you're taking up too much space!'
Velocity Valley's activities can be experienced singularly, or you can select from their combo deals.
Pick 2 (2 activities)
Select any two of the following: Agrojet, Swoop, Shweeb, Freefall Xtreme
4 - Tune (4 activities)
Complete the following: Agrojet, Swoop, Freefall Xtreme and Shweeb
VIP (all 5 activities)
Complete the following: Rotorua Bungy, Agrojet, Swoop, Freefall Xtreme and Shweeb (maximum one bungy jump per VIP pass)
Trip Includes
Experience from 2 - 5 exciting adventure activities depending on which activity combo you book
Duration
Allow half a day including travel time from Rotorua
Departures
Regular departures between 9am - 4pm
You will need to get your own way to the Velocity Valley's base located 10kms from Rotorua township on State Highway 5 next to the Agrodome. You can drive yourself or catch the local bus that departs every 10 minutes from town
Operates Thursday- Sunday all year (7 days a week during school holidays)
Other Information
Please note all activity combos are for 1 person only. Activities cannot be shared within a group
If you wish to do just one of these activities please book via the respective individual page on our website
Rotorua Bungy - Minimum weight of 35kg and 10 years of age. Under 16 years of age, parental consent is required
Swoop - Minimum height of 1 metre
Freefall Xtreme - Minimum weight 25kg. Under 18yrs of age, parental consent is required
Agrojet - Minimum height of 0.9 metres
Shweeb - Minimum height of 1.1 metres & a maximum of 2 metres
Those that are pregnant, have a heart condition, neck or back problems or a neurological disorder should not participate in the Velocity Valley's activities or they should seek medical advice & certification first
All adventure activities at Velocity Valley are Qualmark Endorsed & are members of the Rotorua Sustainable Tourism Charter
Normal Retail Prices
Pick 2: NZD$110.00
4 - Tune: NZD$220.00
VIP: NZD$395.00
All prices shown in NZD$.
Genuine Customer Reviews powered by
Service rating:
I would absolutely recommend them. The staff were efficient, well trained and listened, and were friendly. They obviously enjoy their job

Product rating:
No long queues, staff were friendly and efficient
Service rating:
The kept us in the loop of what was going on when our activity was unfortunately cancelled, no issue with getting on said cancellation

Product rating:
Amazing staff, well informed, very safety conscious, great facilities
Service rating:
Fantastic service, can't fault it.

Product rating:
The staff are fantastic at this place and the activities were fun! A good business and an awesome place to visit. Skyline staff need to learn some customer service of these guys!
Latest Questions about Velocity Valley Activity Combos (Rotorua)
what are the combos and how many activity do you do
Comments
Can I pick Bungy and Swoop if I take the "pick 2" voucher
Comments


rating
93% of new customers that used Everything New Zealand to provide advice and securely book their NZ activities have let us know they've had a good or excellent experience with us. Thank you.