Easy to book - Secure Online Payments - Instant email confirmation - Flexible to make changes
Skydiving - Skydive Taupo Taupo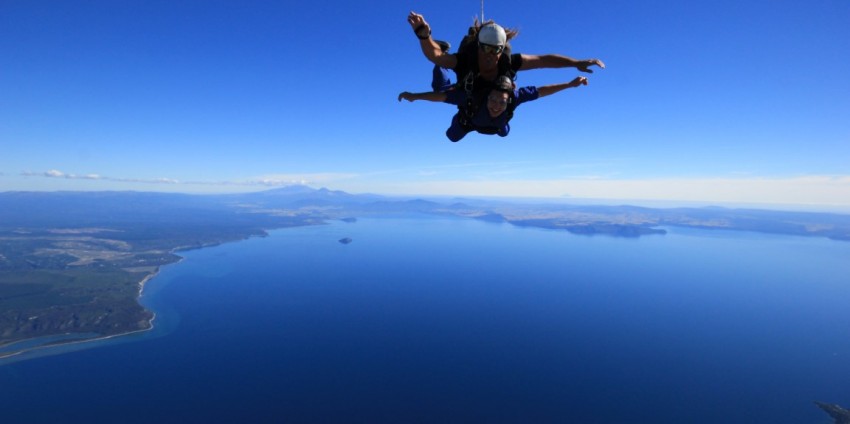 from NZD$299.00
Skydiving in Taupo - tandem skydive from 15000ft
Description
From the moment you step in to the complimentary limousine in Central Taupo, until the moment your feet gently hit the ground after your jump, every minute of the Taupo Skydiving experience is jam-packed full of excitement.
The limousine ride will ensure you feel like a star as you are taken from the door of your Taupo accommodation, to the drop zone – a five-minute distance from town. On arrival, the star treatment continues as the friendly, professional staff make you feel safe and relaxed before your tandem skydive.
Aboard the plane, you will be able to view the spectacular Central Plateau of New Zealand and Lake Taupo – a small, window-framed taste of the view to come. When the plane reaches your chosen height (either 12,000ft or 15,000ft), you and your tandem partner will get into position at the open plane door. Your adrenaline really kicks in now and with your heart in your throat and your blood rushing through your ears, you jump…
If you felt like a star before, you will now feel like a falling star as you free-fall at 200km per hour! If you are brave enough to keep your eyes open, you will have a full 360° view of both coasts of New Zealand, the sparkling lake Taupo and the gorgeous Tongariro National Park below you. When the parachute opens, you can experience the dazzling view at a slower, calmer pace – a truly magical experience.
You will never forget the thrill and excitement of skydiving at Taupo, but you will want to relive it again and again (as well as share it with friends and family), so the skilled Taupo skydiving team will capture the entire experience for you. From the ground to the plane ride, the free-fall, canopy and landing – every minute of excitement will be saved for on an exclusive USB, and you even get to create your own soundtrack.
Trip Includes
Free return transfer in our limo from your accommodation in Taupo (upon request)
Free return transfer from your accommodation in Rotorua (upon request)
Tandem skydive from 12,000ft or 15,000ft
Wide range of photos and video packages (additional cost)
Duration
Allow 2-3hrs round trip from Taupo township
Allow 4-5hrs round trip from Rotorua
Departures
Hourly from 9am
Departs Rotorua at 9am
Return transfers from your Taupo accommodation or meet at the drop zone located on the Ring Rd next to Taupo Airport (5 mins out of town)
Operates daily all year
Other Information
Earlier jump times may be available during the summer months. Jumps are conducted from sunrise to sunset. Contact us to enquire about an earlier booking during the summer months
The shuttle is scheduled to depart Rotorua at 9am but contact us to enquire about alternative times
Free wi-fi at reception
No age restrictions (all skydivers under 18yo will be asked for a signed document from a parent). We do not encourage under 10yo children jumping
No child rate
Max weight is 100kg
Qualmark certified. Skydive Taupo have met stringent quality standards & environmental criteria according to NZ Tourism's official quality assurance organization
Photos & video package available for purchase on the day
Skydive Taupo's drop zone is 5 minutes from Taupo township with free car parking on site
As this is a weather dependent activity, we suggest you book your skydive as soon as you get to Taupo in case we need to reschedule your time/date
Upgrade this activity to one of the following combos:
12000ft: NZD$299.00
15000ft: NZD$389.00
Genuine Customer Reviews powered by
Service rating: good
Quite a wait but worth waiting for .Instructor Brett was awesome

Product rating: good
Value for money but not a bargain
Service rating: excellent
Was so easy to purchase the activities, great communication between myself and the team at everything New Zealand. Will definitely use again!!

Product rating: excellent
The team at skydive Taupo were amazing, friendly and damn right hilarious! They definitely made you feel at ease and will recommend to everyone :) had such an amazing experience and time!!
Latest Questions about Skydiving - Skydive Taupo (Taupo)
Hi (re:chip lost from card; broke off!)
Sorry to trouble you.
I was paired with Dano, Deano (?) - great guy. The date I think was the 29th June, just prior to the second test All Blacks v Lions.
I was hoping that you might keep copies for awhile and, if so, would I be able to obtain a copy?
Naturally, I would cover the costs involved.
My son Shaun did the jump from the same group too.
I have the pink card but no chip! Poor effort on my part I am certain.
Thanks for your time.

Comments
how old do you have to be to do the sky dive

Comments
I just went scuba diving and my left ear did not equalize and it has been hurting the last few days but has gotten better recently. Is it alright to participate in skydiving
Comments
Hi there
I saw that you have pick up service from Rotorua to Taupo. I am just wondering any fix time I need to join if I need that pick up service. Thank you.
Comments
Hi,

I was just looking into doing a skydive over taupo and wondered how much it would cost for photos of the sky dive. Not too bothered about a video just the photos :)
Comments
Hello,
the skydive Costs 339$ and how Much Costs the Paket with Video and photos?
Comments
Comments
Hi i got given a skydive voucher for christmas. How do I book it in?
Comments
Hi If I book a jump for my partner and I and specify a date can we change it?
Comments
Hi, I own a go pro, would be able to film my own jump? Cheers
Comments
hello, my question,
how much is the price for fotos or a a video from sky diving?
Comments
Hi there,

I'm wanting to get a gift voucher for my friends birthday. Just checking first you do tandem sky diving with someone in a wheelchair? My friend did a tandem jump recently with a firm in Taupo, unsure if it was with you guys.

Cheers,
Catherine :)
Comments
Hi could you please tell me the cost for two people tandem jump @ 15000ft with video
Comments
Do you permit customers to use their own personal GoPro cameras? If not could it be attached to the instructor instead of the student?
I am desperately looking for a company that allows use of personal GoPro cameras
Comments
hi there
i am interested in skydiving and have some questions to ask you.
1,I wonder know the price involved the photos and videos or not? what about those price?
2 I will arrive at TAUPO on 15th May. However,I concorn about the weather.If it is bad, Can i cancel and get back my money coz I will stay there noly one day, then i will head to Aucland.

thank you
Comments
what is additional cost w/ camera/pics?
Comments

rating
96% of new customers that used Everything New Zealand to provide advice and securely book their NZ activities have let us know they've had a good or excellent experience with us. Thank you.