Skydiving - Skydive Taupo Taupo
Special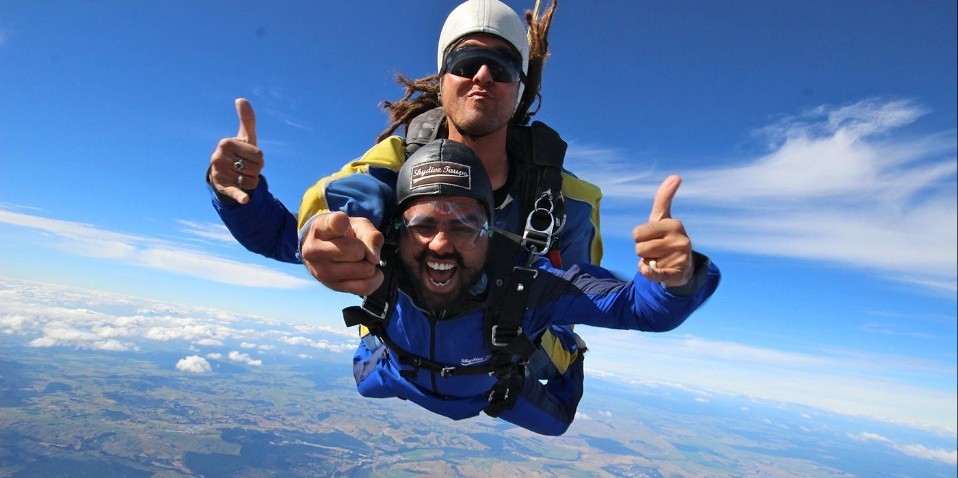 Skydiving in Taupo - Tandem skydive from 18500ft
ALL SKYDIVE TAUPO CUSTOMERS BOOKED THROUGH EVERYTHING TRAVEL WILL RECEIVE A FREE T-SHIRT AND BUFF VALUED AT $35 NZD
Description
From the moment you step in to the complimentary limousine in Central Taupo, until the moment your feet gently hit the ground after your jump, every minute of the Taupo Skydiving experience is jam-packed full of excitement.
The limousine ride will ensure you feel like a star as you are taken from the door of your Taupo accommodation, to the drop zone – a five-minute distance from town. On arrival, the star treatment continues as the friendly, professional staff make you feel safe and relaxed before your tandem skydive.
Aboard the plane, you will be able to view the spectacular Central Plateau of New Zealand and Lake Taupo – a small, window-framed taste of the view to come. When the plane reaches your chosen height (either 12,000ft, 15,000ft or 18500ft), you and your tandem partner will get into position at the open plane door. Your adrenaline really kicks in now and with your heart in your throat and your blood rushing through your ears, you jump…
If you felt like a star before, you will now feel like a falling star as you free-fall at 200km per hour! If you are brave enough to keep your eyes open, you will have a full 360° view of both coasts of New Zealand, the sparkling lake Taupo and the gorgeous Tongariro National Park below you. When the parachute opens, you can experience the dazzling view at a slower, calmer pace – a truly magical experience.
You will never forget the thrill and excitement of skydiving at Taupo, but you will want to relive it again and again (as well as share it with friends and family), so the skilled Taupo skydiving team will capture the entire experience for you. From the ground to the plane ride, the free-fall, canopy and landing – every minute of excitement will be saved for on an exclusive USB.
Trip Includes
Free return transfer in our limo from your accommodation in Taupo (upon request)
Free return transfer from your accommodation in Rotorua (upon request)
Tandem skydive from 12,000ft, 15,000ft or 18,500ft
Wide range of photos and video packages (additional cost)
Duration
Allow 2-3hrs round trip from Taupo township
Allow 4-5hrs round trip from Rotorua
Departures
Hourly from 9am (optional pick up from Rotorua at 9am)
Return transfers from your Taupo accommodation or meet at the drop zone located on the Ring Rd next to Taupo Airport (5 mins out of town)
Operates daily all year
Other Information
Earlier jump times may be available during the summer months. Jumps are conducted from sunrise to sunset. Contact us to enquire about an earlier booking during the summer months
The shuttle is scheduled to depart Rotorua at 9am but contact us to enquire about alternative times
Free wi-fi at reception
No age restrictions for the 12,000ft & 15,000ft skydives (all skydivers under 18yo will be asked for a signed document from a parent). We do not encourage under 10yo children jumping
18,500ft skydive has a minimum age of 17 years old
No child rate
Max weight is 100kg for 12000ft & 15000ft. Max weight of 90kg for 18500ft
Qualmark certified. Skydive Taupo have met stringent quality standards & environmental criteria according to NZ Tourism's official quality assurance organization
Photos & video package available for purchase on the day
Skydive Taupo's drop zone is 5 minutes from Taupo township with free car parking on site
As this is a weather dependent activity, we suggest you book your skydive as soon as you get to Taupo in case we need to reschedule your time/date
ALL SKYDIVE TAUPO CUSTOMERS BOOKED THROUGH EVERYTHING TRAVEL WILL RECEIVE A FREE T-SHIRT AND BUFF VALUED AT $35 NZD
Normal Retail Prices
9000ft: NZD$199.00
12000ft: NZD$279.00
15000ft: NZD$359.00
18500ft (max weight 90KG): NZD$499.00
Special Offer
Free T Shirt & Buff: NZD$30.00 value
All prices shown in NZD$.
Genuine Customer Reviews powered by
Service rating:
Thanks so much Damien (Damo M) and Jenny!!!

I found all the team members were really fantastic in their communication with each and every person present. It was great to see the additional time spent with our non-English speaking brothers and sisters and the immediate resources available for them to watch the information again in their language.

The team were very genuine in welcoming, supporting and encouraging us, which made the whole experience so much more memorable!!!

Product rating:
A priceless memory that no one can take away!!!
Service rating:
Amazing experience, service and team !!! Absolutely a must do !!

Product rating:
Excellent !! Loved it !!! The view is incredible ! Feeling of freedom and achievement !
Service rating:
Quite a wait but worth waiting for .Instructor Brett was awesome

Product rating:
Value for money but not a bargain
Service rating:
Was so easy to purchase the activities, great communication between myself and the team at everything New Zealand. Will definitely use again!!

Product rating:
The team at skydive Taupo were amazing, friendly and damn right hilarious! They definitely made you feel at ease and will recommend to everyone :) had such an amazing experience and time!!
Service rating:
excellent

Product rating:
Excellent
Service rating:
Very prompt, quick turnaround time. Helpful staff. Plenty of assistance.

Product rating:
Made to feel very comfortable with a conscientious sky diver.
Service rating:
Easy to book. Tickets and information clear are arrived within days. Great.

Product rating:
Skydive was excellent. But I think you need to drop the limo service. The limo has obviously seen better days and the package is great without the limo ride deflating the experience/
Service rating:
Great service

Product rating:
Great service
Service rating:
Need to know company for the skydive on the info page, but other than that, a good service

Product rating:
Amazing experience, business like staff, no nonsense
Service rating:
The staff inside were great however the instructors diving with us were very under enthuised and made us feel as if we were a burden on them and they disn't want to be there.

Product rating:
The skydive was anazing, but We felt like we could have paraglided down a little longer as it only took like 5 minutes after the parachute was released and we were told 10-15 minutes.
Service rating:
Gift

Product rating:
Very hospitable and helpful. Great Team
Service rating:
Friendly and put you at easy from the off.
Product rating:
Service rating:
Great options, easy to find what looking for. I had many questions and the team were always pleasant when returning my answers and also fast. Very happy.great service.

Product rating:
Awesome fun happy team! Great experience! Beautiful view ! Perfect! Loved the handycam option with choice of songs, really makes it.
Service rating:
easy to use

Product rating:
The staff were friendly helpful and excellent at reading the customers needs.
Service rating:
Great

Product rating:
Awesome
Service rating:
Excellent!

Product rating:
What an awesome experience, the crew, the atmosphere the jump it was Epic and I'll be back to do it all again! Thank you!
Service rating:
very welcoming friendly staff

Product rating:
an amazing skydive team at taupo
Service rating:
Very good, responsive to emails and generally very helpful!

Product rating:
Amazing experience. The video packages were rather expensive though. But otherwise great, would definitely do it again!
Service rating:
Was easy to book.

Product rating:
Very nice staff, great experience.
Service rating:
Good platform on your website! Well done!

Product rating:
Professional people! Great spot! Great facilities! Great service!
Service rating:
We wanted to go on the chair ride at Ruapehu sky field up to the cafe but it had been raining so the chair lift was not working and because of that the cafe was not open. When I look at this activity on the net it could have mentioned that these thing happen and to phone first. So we made that trip for nothing

Product rating:
The video was a bit expensive and not very long. would have been nice to have a lot move filming on the ground and to hear us talking before hand. The diver made it not as scary as it could have been so and as a first timer I appreciated that. In all a great experience.
Service rating:
A long wait was disappointing but overall good.

Product rating:
A long wait was disappointing but overall the experience was good . Cheers
Service rating:
Great service, with quick replies to emails. All in all a well organized outfit. I look forward to using this site in the future. Cheers.

Product rating:
Great location, and wonderful team who made the jump truly amazing. Thanks heaps guys, and girls!
Service rating:
Good

Product rating:
Super fun
Service rating:
Great service

Product rating:
Excellent!!! Will recommend to everybody!
Latest Questions about Skydiving - Skydive Taupo (Taupo)
Hello, can you please clarify what is the special? All the prices at checkout seem to be the same ones from the regular pricing table. So, I'm a bit confused on what is the special advertised here? Thanks, Ed
Comments
Hello

If we have booked a skydive experience through Everything New Zealand but it is cancelled due to weather and we cannot reschedule due to our travel itinerary, can I please confirm the full cost will be refunded?
Thank you
Comments
Hi there,
what is the maximum weight for a tandem skydive? some sites say 115kg and others 100kg?
Comments
Hi (re:chip lost from card; broke off!)
Sorry to trouble you.
I was paired with Dano, Deano (?) - great guy. The date I think was the 29th June, just prior to the second test All Blacks v Lions.
I was hoping that you might keep copies for awhile and, if so, would I be able to obtain a copy?
Naturally, I would cover the costs involved.
My son Shaun did the jump from the same group too.
I have the pink card but no chip! Poor effort on my part I am certain.
Thanks for your time.

Comments
how old do you have to be to do the sky dive

Comments
I just went scuba diving and my left ear did not equalize and it has been hurting the last few days but has gotten better recently. Is it alright to participate in skydiving
Comments
Hi there
I saw that you have pick up service from Rotorua to Taupo. I am just wondering any fix time I need to join if I need that pick up service. Thank you.
Comments
Hi,

I was just looking into doing a skydive over taupo and wondered how much it would cost for photos of the sky dive. Not too bothered about a video just the photos :)
Comments
Hello,
the skydive Costs 339$ and how Much Costs the Paket with Video and photos?
Comments
Comments
Hi i got given a skydive voucher for christmas. How do I book it in?
Comments
Hi If I book a jump for my partner and I and specify a date can we change it?
Comments
Hi, I own a go pro, would be able to film my own jump? Cheers
Comments
hello, my question,
how much is the price for fotos or a a video from sky diving?
Comments
Hi there,

I'm wanting to get a gift voucher for my friends birthday. Just checking first you do tandem sky diving with someone in a wheelchair? My friend did a tandem jump recently with a firm in Taupo, unsure if it was with you guys.

Cheers,
Catherine :)
Comments
Hi could you please tell me the cost for two people tandem jump @ 15000ft with video
Comments
Do you permit customers to use their own personal GoPro cameras? If not could it be attached to the instructor instead of the student?
I am desperately looking for a company that allows use of personal GoPro cameras
Comments
hi there
i am interested in skydiving and have some questions to ask you.
1,I wonder know the price involved the photos and videos or not? what about those price?
2 I will arrive at TAUPO on 15th May. However,I concorn about the weather.If it is bad, Can i cancel and get back my money coz I will stay there noly one day, then i will head to Aucland.

thank you
Comments
what is additional cost w/ camera/pics?
Comments

rating
94% of new customers that used Everything New Zealand to provide advice and securely book their NZ activities have let us know they've had a good or excellent experience with us. Thank you.