Easy to book - Secure Online Payments - Instant email confirmation - Flexible to make changes
Four Wheel Drive - Nomad Safaris Queenstown
Skippers Canyon Queenstown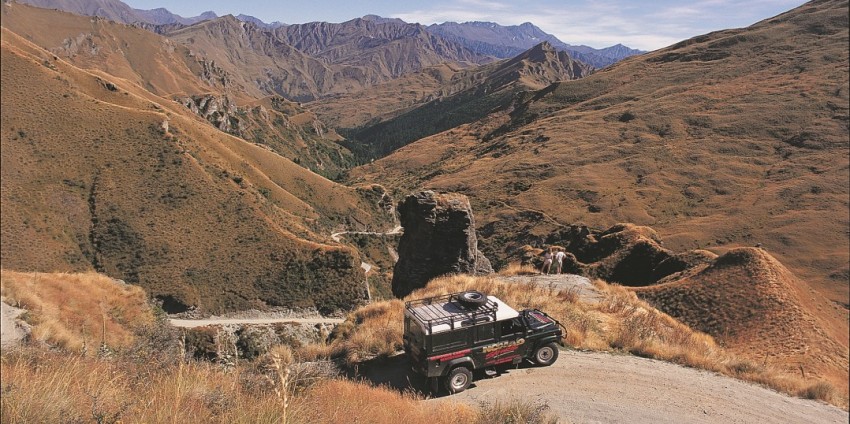 Skippers Canyon Four Wheel Drive Tour
Description
Long before Queenstown became known the world over as the adventure capital of the world, early settlers flocked to the region in search of gold and the incredible beauty of this untamed country. Today, most of the mountains, lakes and forests of the region remain uninhabited and untouched.
Nomad Safaris will take you to otherwise inaccessible areas on four wheel drive vehicles fully equipped with a safari. You'll travel deep into the heart of wild New Zealand free from the interference of crowds and coaches. A variety of four wheel drive trips are available to suit every preference.
4 Wheel Drive Options
Skippers Canyon
It is impossible to visit Skippers Canyon without being amazed and awed by the unique features of this weird and wonderful landscape, that has been sculpted by both man and Mother Nature. The Skippers Road was created by digging through solid rock to follow the Shotover River valley, and perches on the edge of precipitous cliffs which drop off into a dramatic river gorge below. This is the route the tour will take, exposing you to unbelievable views at each hairpin turn and then crossing the Skippers suspension bridge which, built in the 1990s, leads to the Skippers township.
Macetown (only available as a private charter)
The most daring of Nomad Safari's trips, this option will take you down a winding route originally meant to be crossed by packhorse and on foot. Today, Macetown can only be reached by off-road vehicles. Enjoy the thrill of making over twenty-five river crossings on the way. Follow the tortuous road, which goes from water level to high above the imposing Arrow Gorge, and marvel at the dramatically changing views and excellent photo opportunities. Macetown is now an eerie ghost town having been abandoned after the goldrush, and everything you will see is completely authentic, from the desolate houses formerly occupied by settlers to the abandoned machinery and equipment.
Private Charters
Those who want the exclusivity of a private charter can book a private tour with a guide in order to have full control over where to go and what to see. Each vehicle can accommodate up to six passengers so this is an ideal option for people travelling in groups.
Trip Includes
Return transfers from central Queenstown.
4WD trip.
Duration
Allow 4 hrs round trip from Queenstown.
Departures
8.30am & 1.30pm
Pick up from your hotel or central Queenstown
Operates daily all year
Other Information
All trips include gold panning
Private charters are available. Please contact us for more information
Wear sturdy shoes and bring a warm top, we stop for morning or afternoon tea, coffee & biscuits
Dont forget your camera
If you're after a Lord of the Rings experience then check out the Safari of the Scenes
Normal Retail Prices
Skippers Canyon:

adult NZD$195.00
child (under 15yrs) NZD$95.00

Private Charter (up to 6 people):

Skippers Canyon NZD$1125.00
Macetown NZD$1125.00
All prices shown in NZD$.
Everything Travel Group Review
These guys have been operating trips into these remote and uniquely diverse areas for as long as anyone can remember. If the views and dramatic scenery does not wow you, then the drivers knowledge of the local area and history surely will. Their vehicles are kept in pristine condition and their are plenty of stops for taking photos and having a walk around. For the most intense 4wd trip make sure you book Macetown, otherwise if you are after a divers historical tour then go for the Skippers Canyon tour.
Value for Money
Wow Factor
Environmental Care
Latest Questions about Four Wheel Drive - Nomad Safaris (Queenstown)
What age group is this situable for?
Is it suitable for pregnant women?
Comments
Hi, I will be having a day free in Queenstown as part of my south island tour on 22 Jan 2013. Glad if you can let me know if I can be accommodated in your pre-schedules. I am a solo traveler, but I will travel in a group. I will join the group in Christchurch. I would not know whether they would be interested to join me. I am interested in Skippers Canyon and Glenarchy.
we will be traveling to Queenstown in Feb 2013. We have 5 adults & 1 Child on board. Can we book a private chartered for a half day Glenorchy (Tour B) tour? If yes, how many days in advance should we inform you? Most likely, our tour driver will help us in this.
Comments

rating
95% of new customers that used Everything New Zealand to provide advice and securely book their NZ activities have let us know they've had a good or excellent experience with us. Thank you.