Parasailing - Taupo Parasail Taupo
6% off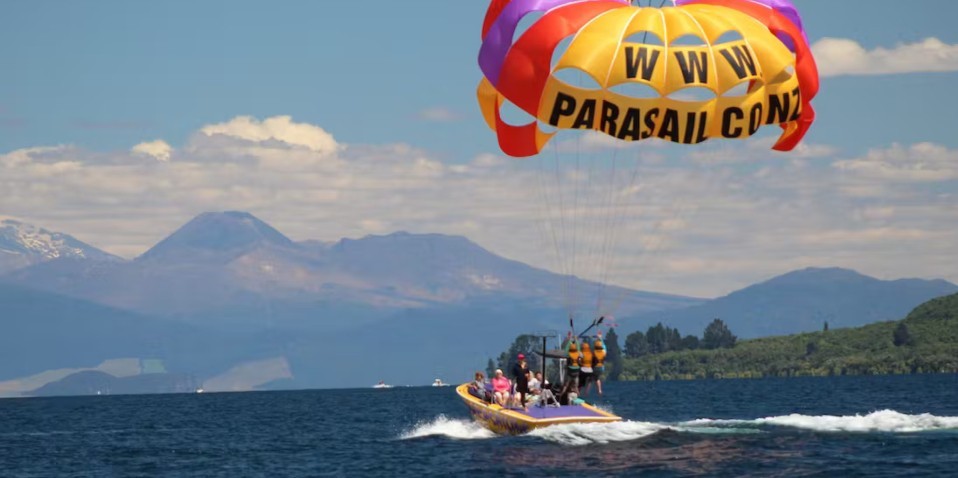 Parasailing in Taupo
Highlights
Taupo parasailing up to 1,000ft
Fly solo or with a friend (or two!)
Optional freefall descent
Panoramic views of Lake Taupo & surrounds
Description
Ever wanted to experience the thrill of New Zealand skydiving but just can't work up the courage to go through with such a high jump? If so, parasailing might be the perfect choice for you.
Enjoy the thrill of soaring up to 1,000 feet above beautiful Lake Taupo (the choice of height is yours), attached to the back deck of Taupo Parasail's purpose built nine metre winch boat. Departures are made hourly from the lakefront, and your take-off and landing will be from the back deck of the boat, meaning you can stay completely dry if you choose to, or experience a refreshing foot dip – just let your skipper know.
You will be amazed at the unbelievable beauty of New Zealand's most beautiful lake – Lake Taupo – from the soaring heights of the parasail. You even have the choice of sharing this gorgeous view with friends or family, as Taupo Parasail offer tandem and triple parasailing as well! In fact, parasailing in Lake Taupo is suitable for the whole family – from five years of age upwards – and you don't need any experience to enjoy this fun and exciting activity.
Imagine the feeling of gliding around smoothly above the stunning Lake Taupo, without a care in the world. For the thrill seekers who want an added, adrenaline pumping thrill, try the unique optional free fall – also known as Taupo's fastest elevator – where the boat is slowed just enough to allow you to parachute to the water's surface, before being quickly elevated back up to height. Take advantage of one of Taupo Parasail's free professional digital photo packages so that you can relive the excitement of your parasailing adventure for years to come.
The NZPA brings recognised safety standards to the New Zealand parasailing industry and Taupo Parasail are proud to be co-founder of this excellent association.
Trip Includes
Solo, tandem or triple 12 minute flight
Fly from up to 1,000ft high (decide on the boat)
Optional freefall
Optional foot dip
Free photo package (value at $50)
High speed boat ride
Duration
Allow 1 hour (12 minutes flight time)
Departures
Hourly from 9am to 5pm (last flight at 4pm)
Departs from the Taupo Boat Harbour, Berth 20, Lake Taupo
Operates during summer (Nov - April)
Other Information
Fly solo, tandem or triple
Maximum 8 passengers per trip
Dry take off & landing. Unless you want to get wet. Just let your skipper know!
Professional digital photo package available
Women's & men's apparel available on board
Minimum age to fly is 5 years old
Minimum weight to fly solo is 70kg. Max combined weight is 200 kg for tandem or triple flight
Normal Retail Prices
Solo Flight (min 70kg):
Tandem Flight (max 200kg):
Triple Flight (max 200kg):
All prices shown in NZD$.
Genuine Customer Reviews powered by
Service rating:
The staff very efficiently and helpful to solve my booking needs.

Product rating:
It was very fun and the staff on board is very fun and professional.
Service rating:
Prompt reply to a query I had

Product rating:
Great guys who know what they're doing
Service rating:
Everything new Zealand's website was easy to use and big sky parasailing was fantastic and everything ran smoothly. I encountered problems however when I rang up the day before like everything New Zealand advised me to to discover that big sky parasaing had not received a booking from everything New Zealand and had no idea what I was talking about but luckily were happy to rebook me at another time. Poor organisation on everything new Zealand's part but the overall experience was great!
Product rating:
Service rating:
We wanted to go on the chair ride at Ruapehu sky field up to the cafe but it had been raining so the chair lift was not working and because of that the cafe was not open. When I look at this activity on the net it could have mentioned that these thing happen and to phone first. So we made that trip for nothing

Product rating:
The ticket sent use to the wrong location. Needs to be updated. the woman on the phone did tell me the right place to go having a lot of activities on I had forgotten and when I phone for that information she had a real attitude about it which put a downer on it but the guys on the boat were great so that somewhat made up for it.
Latest Questions about Parasailing - Taupo Parasail (Taupo)
Can three people do the parasailing at the same time?
Hey ,
My partner and I are coming to Taupo Friday for his birthday. Would love to book the duo parasailing for us just wondering if I book and pay this now if the weather is raining is this refundable ?
Comments
Is there space for tomorrow morning for a family of 7
My daughter has limited vision and needs assistance to get on and off the boat etc. will she be able to go on a tandem ride with me and could we have an extra person just to help out?
Comments
Hi guys is the 139 price for all ages?I came and saw use down at the marina 2yrs ago and put 3 of my Grandsons which they loved.I have 14 grandkids and on a pension.So as each one has a special birthday eg,10,13,15.Last year I put another 6 up at $110 each.Im now wanting to book for another 3 to do it this Xmas they get this as their birthday and Xmas in one..IBut I'm going to be a cheeky Nana and ask if use would consider giving me a little discount as this would mean 12 have enjoyed the ride.
Hi I have a gift voucher I'd like to redeem for Parasailing - Big Sky Taupo. Gift Voucher Code: ENZXFMERUO06337
This expires on 18/12/22. Can I make a booking for January between 3rd - 6th 2023?
Hi,

My group is looking at 3 pax triple flight. Is it possible to give some leeway, we checked that our group total weight is around 220kg, not sure if that is ok with you guys. Thanks.
Can I buy an open ticket as a gift so the recipient can book a date suitable for them?
Comments
Is this ready for tomorrow morning for parasailing
Hi there how much is it for two people at at time?
Comments
Hi there, i was just wondering if you guys operate around the beginnning of October? we are thinking of coming over on the weekend of October 6th & 7th school break.

Thanks :)
Comments


rating
93% of new customers that used Everything New Zealand to provide advice and securely book their NZ activities have let us know they've had a good or excellent experience with us. Thank you.